Kiwi Lemon Mousse Recipe
From "Desserts 4 Today: Flavorful Desserts with Just Four Ingredients," by Abby Dodge (Taunton Press; $17.95)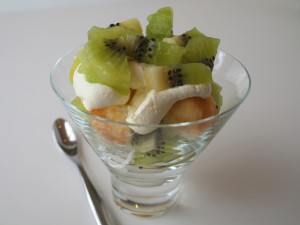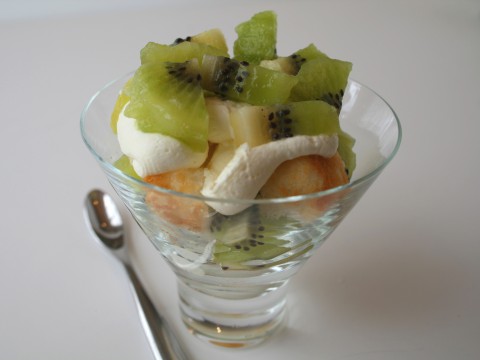 [1]
1 cup heavy cream
2/3 cup lemon curd (purchased, or make this version [2])
2 medium, ripe kiwis, peeled and coarsely chopped
6 whole soft ladyfingers, separated

(or use angel food cake torn into small pieces, says me)
Have ready 4 serving bowls or glasses and make room in the fridge. Set aside about 1/4 cup chopped kiwi for garnish.
Put the heavy cream in a medium bowl. Beat with an electric mixer until firm peaks form when the beaters are lifted (don't forget to stop the mixer before lifting!).
Add about two-thirds of the lemon curd into the whipped cream. Using a rubber spatula, gently fold in until well blended. Add the remaining curd and fold in just until some yellow streaks are still visible.
Arrange 3 ladyfingers, rounded side facing out, around the inside of each bowl or glass. Spoon about 3 tablespoons of the cream into the serving bowls or glasses. Top with about 2 tablespoons of the chopped kiwi. Spoon about 3 tablespoons cream over kiwis. Repeat layering with the remaining kiwi and cream. (You'll have a total of 3 layers of cream and 2 layers of kiwi, not including the garnish.) Cover and refrigerate until ready to serve for up to 1 day. Serve chilled, with the remaining kiwi on top.
Serves 4. (Note from me: This recipe can be made ahead several hours and refrigerated.)
Note from Shockinglydelicious: This lemon curd mousse is just like one I make that I call Lemon Whip [3]. Love it!
Also, feel free to substitute golden kiwi (yellowish colored) instead of the usual green kiwi. One better yet, maybe use one of each!