Print This Post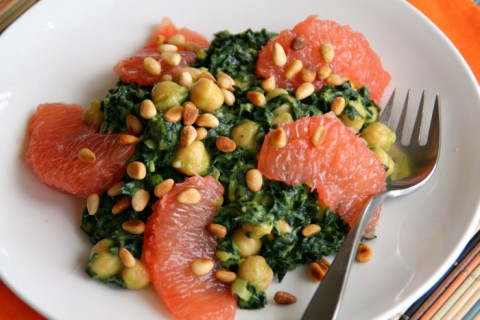 With a bag of avocados on the counter from my recent tour of a Southern California avocado farm, and Tuscan kale growing wildly in my vegetable garden out back, I was looking for a fresh salad recipe that might use both.
I found it on the blog K & K Test Kitchen, written by an adorable mother-daughter team – mom Kim, of Virginia, and daughter Kelsey, an economist from Canada.
Their Kale, Avocado and Grapefruit Salad looked like it had everything I was looking for, including in-season red grapefruit, one of my favorites in winter.
I was poking around the blog because it was my Secret Recipe Club  assignment this month. My job was to explore their blog, cook something wonderful from it, and reveal it today, along with the other members in the group.
I almost made their Roasted Cauliflower and Garlic Soup, and was sorely tempted by their Peanut Butter Granola (how good would THAT be with milk?), and the Peanut Slaw had my name on it, but in the end, I kept coming back to their  Kale, Avocado and Grapefruit Salad as an inspiration.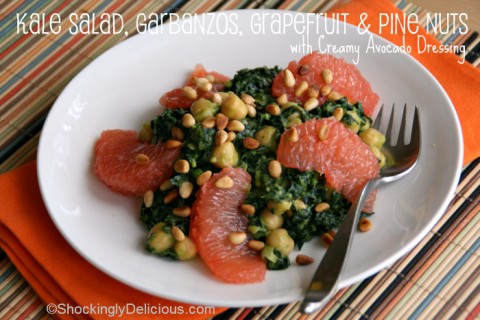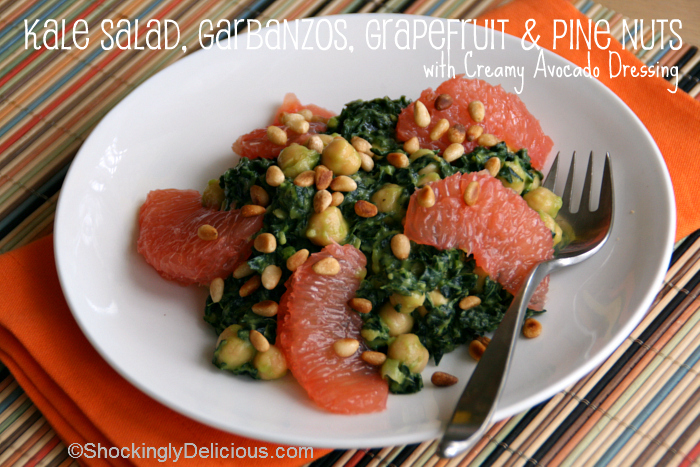 I tweaked the method and ingredients a little, and came up with a version that my teenage daughter loved as a snack and in her lunch. I saved some for my own lunch, and it was super satisfying, creamy from the avocado and with a bite from the ginger and grapefruit.
A winner! Thanks K&K!
Recipe: Kale Salad with Garbanzos, Grapefruit and Pine Nuts in Avocado Dressing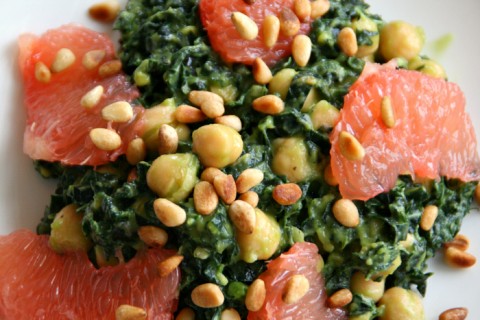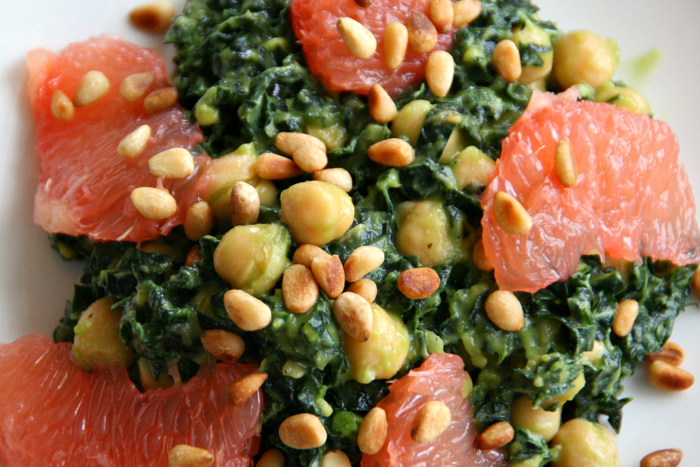 Summary: Creamy avocado dressing enrobes raw kale and garbanzos, decorated with sweet grapefruit and toasty pine nuts.
Ingredients
8 leaves Lacinato kale (aka Dino, Tuscan, Black or Cavolo Nero)
2 teaspoons lemon juice
2 ruby red or pink grapefruit, cut into supremes*
1 ripe California avocado, pitted, peeled and mashed
2 teaspoons minced fresh ginger
Pinch kosher salt
Grinding of black pepper
1 (15-ounce) can garbanzo beans, rinsed and drained
2 tablespoons toasted pine nuts
Instructions
Wash, dry and de-rib kale. Cut into very fine slices (chiffonade cut) and place in a big salad bowl. Add lemon juice.
Cut the grapefruit into supremes* (see note below), saving the accumulated juices, which should equal about 1/3 cup. Pour the grapefruit juice in with the kale and set the segments aside for later. With your clean hands, massage the kale and citrus juices together for 2-3 minutes; you will observe the kale getting softer and more pliable as it is massaged.
Stir the mashed avocado, ginger, salt and pepper into the kale. Stir in the garbanzos. Either refrigerate the salad to serve later, or mound it onto plates to serve. Decorate the top with the reserved grapefruit supremes and a sprinkling of pine nuts.
Serves 2-4, depending on appetites and whether it is a main dish salad or a side salad.
*Citrus supremes
Cutting citrus – usually oranges or grapefruit – into supremes is an elegant way to serve the segments. It removes the flesh from the membrane, and provides a beautiful slice. It might seem fussy, but once you do it a time or two, you'll get the hang of it. Here's a brief tutorial.
Preparation time: 20 minutes
Diet type: Vegetarian
Number of servings (yield): 2-4
Culinary tradition: USA (Nouveau)
I've made a number of delicious dishes from Secret Recipe Club over the months. Here's a list of what else I have chosen to make from others' blogs for reveal days, and what they have chosen to make from Shockingly Delicious, in case you want to choose something from these lists as your own inspiration in the kitchen.
Readers, you can see what other cooks in the Secret Recipe Club made this month, right below here in the array of photos. Click any of them to be transported to that particular recipe!