Print This Post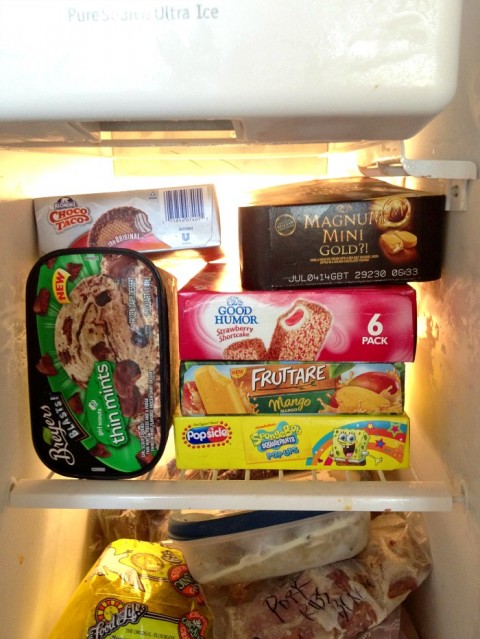 This is a Sponsored post written by me on behalf of Unilever Ice Cream. All opinions are 100% mine.
For my family, nothing, but nothing, says summer like popsicles and ice cream. Sure, I wax on about fresh seasonal fruit, which we eat a boatload of each week, but when we think of fun desserts, we invariably turn to popsicles or ice cream.
It was always that way for me, growing up, and that pattern is repeating with my own kids. If you have a popsicle and a friend, you pretty much have a party. (In fact, if you are actually throwing a summer party, serving popsicles will go over much better than some elaborate dessert.)
So I took my daughter and her great friend to Vons to load up on frozen delectables, and we had a love fest in the aisle, choosing old favorites and finding new ones. Here's what we found, and what boxes leaped by themselves (I swear!) into our cart: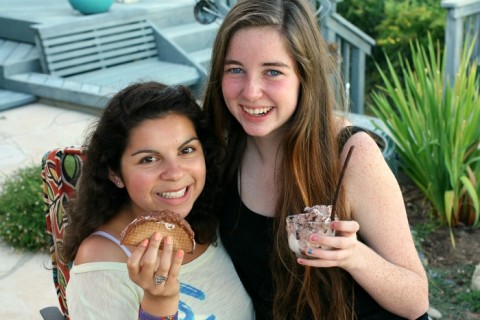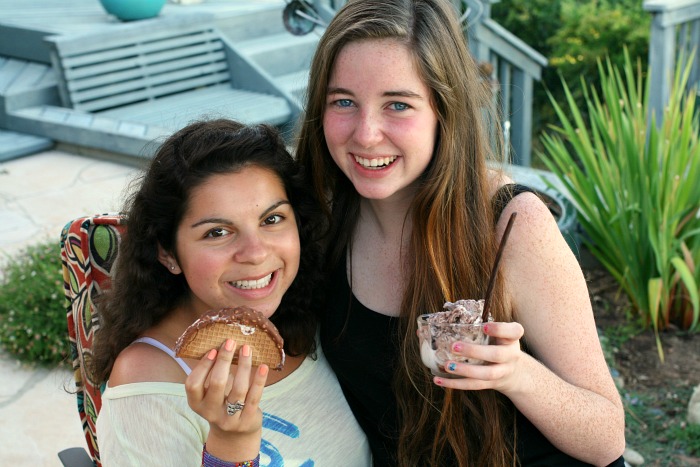 Klondike Choco Tacos: This was a surprise new treat for us, from the makers of the original Klondike. A sugar cone "shell" stuffed with vanilla ice cream with a chocolate swirl, coated in milk chocolate and dipped in peanuts? Both kids gobbled these up! Our friend Hillary chose Breyers Ice Cream in their new fabulous flavor Breyers Blasts! Girl Scout Cookies Thin Mints. Broken Thin Mints and fudge swirled into a minty ice cream? Yes please!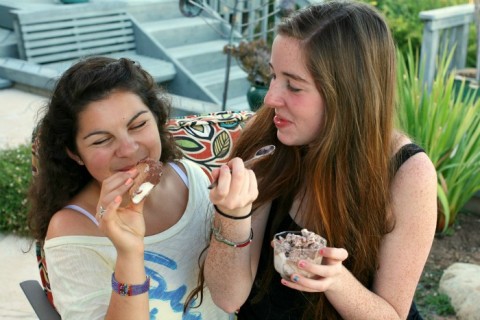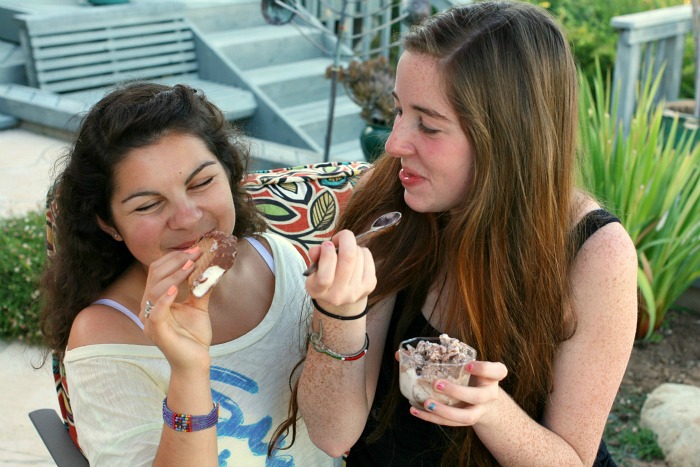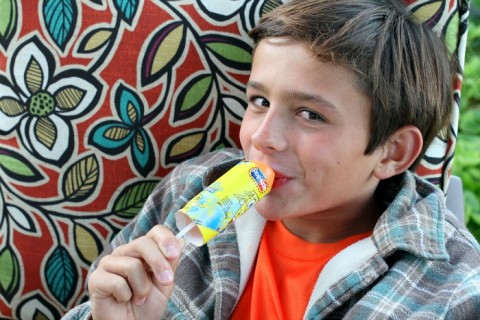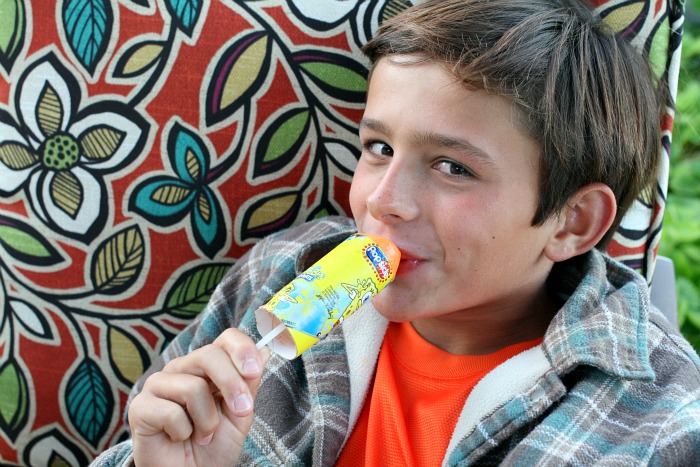 The girls were nice enough to indulge my son in his love for SpongeBob, choosing Popsicle brand SpongeBob Squarepants Pop Ups for him. He showed his appreciation by savoring it with lip-smacking sound effects, and then sneaking into the freezer and snagging a Choco Taco as a chaser! No fair. He got two.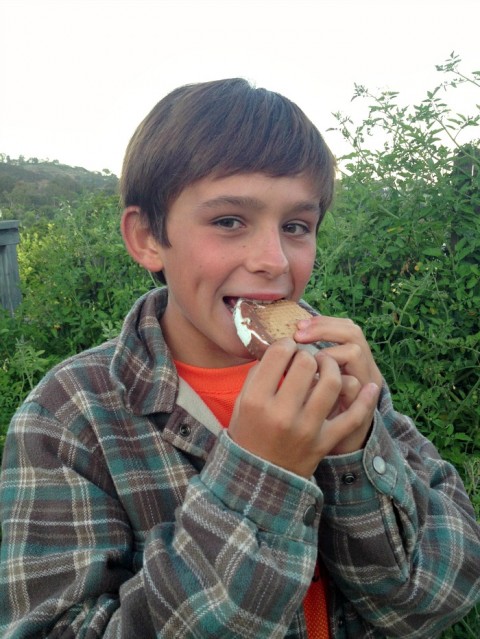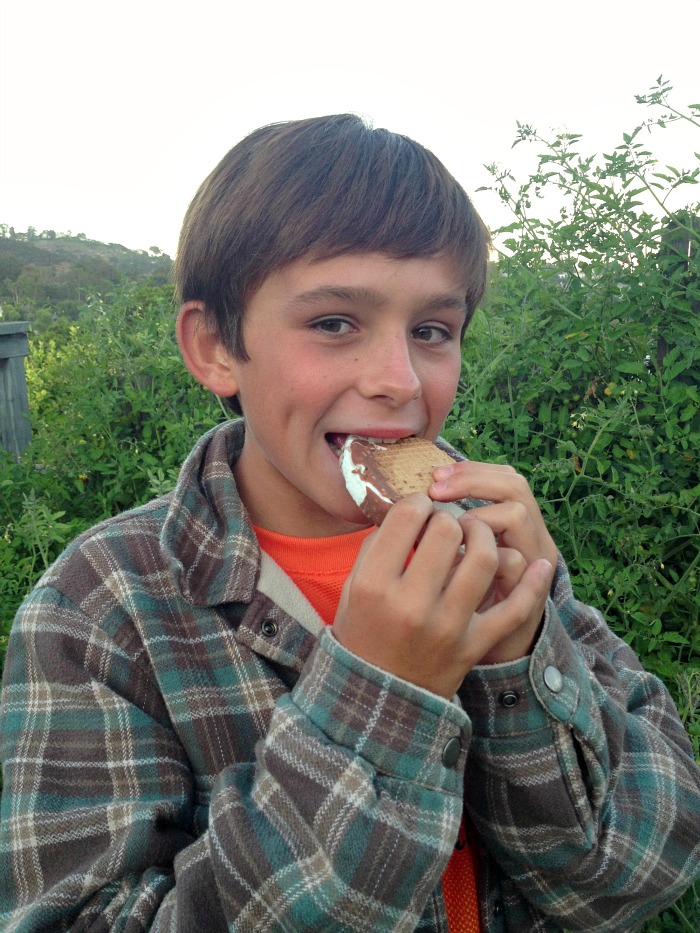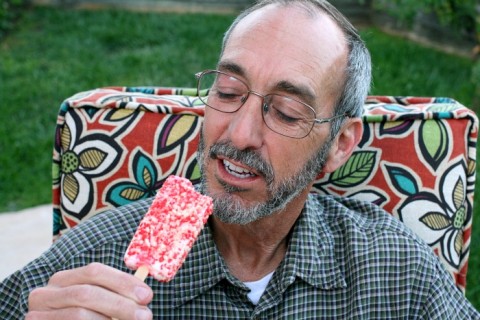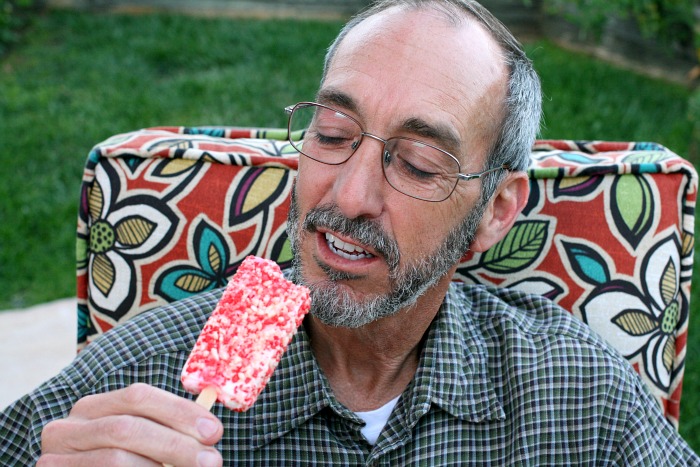 My husband loved the Good Humor Strawberry Shortcake popsicle – vanilla ice cream with a strawberry core, coated with shortcake. He stood ready to finish leftovers from anyone who couldn't eat their whole treat. There were no takers for that service.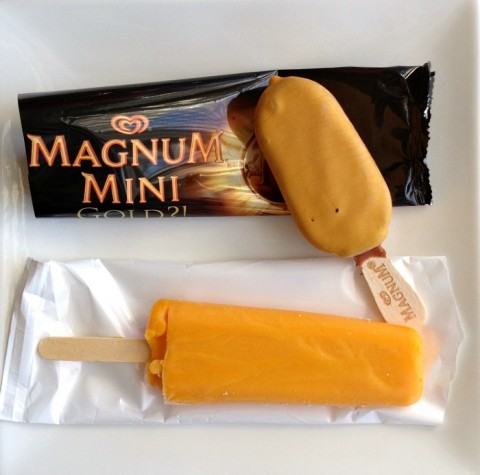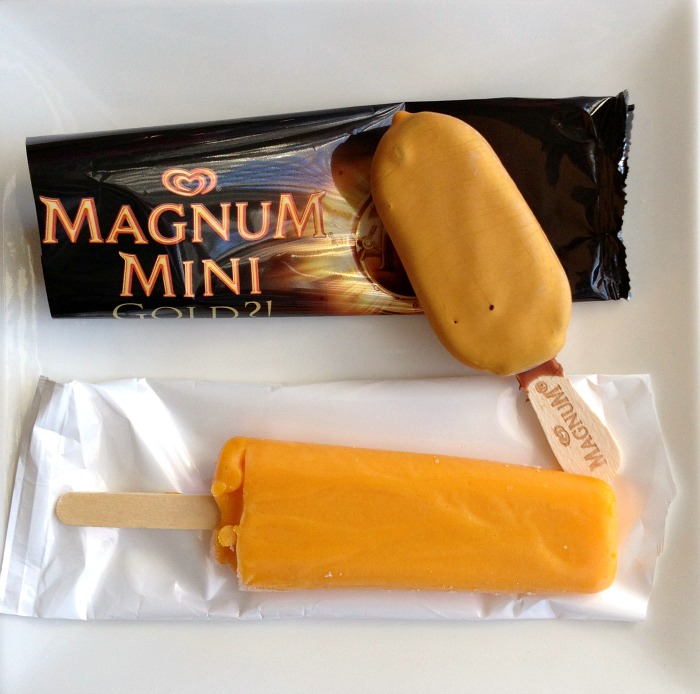 I loved two popsicles that were new to me. The Fruttare Mango popsicle was refreshing, had real mango in it, and was relatively sinless, at 60 calories each. And the Magnum Ice Cream  Mini Gold with vanilla bean ice cream with a sea salt caramel swirl dipped in a golden chocolatey coating…just the name alone tells you how satisfying that was. I appreciated that they come in mini versions, which I bought. You get more per package, and/or you can indulge more often.
What are YOUR favorite popsicles and frozen treats? Let me know because I'd love to try your favorites and introduce them to my family.
Unilever gave me a coupon for each of these treats so I could try them, but best of all, they gave me a set of 6 free coupons so one lucky Shockingly Delicious reader can skip down the frozen treats aisle like we did and bring home treats that will guarantee you are the most popular person at your house for at least a week!

Giveaway
UPDATE July 26: Maureen T. from Telford, PA is the winner in this contest. Congrats, Maureen, and enjoy your frozen treats! Thank you to everyone for participating, and cheers to a wonderful rest of the summer!
To have a chance at winning 6 free coupons for frozen treats from Unilever (Fruttare, Magnum Ice Cream, Good Humor, Breyers, Popsicle, and Klondike), simply do any or all of the following:
Leave a comment on this post telling me which of these Unilever Brands of ice cream that you would like to try, and why.
Like Shockingly Delicious on Facebook and leave a comment telling me you did.
Follow Shockingly Delicious on Twitter and leave a comment telling me you did and what your Twitter handle is.
Follow Shockingly Delicious on Pinterest and leave a comment telling me you did.
Follow Shockingly Delicious on Instagram and leave a comment telling me you did.
To participate in the giveaway you may do any of these, and each is considered a separate entry, so leave a separate comment for each one you do.
This giveaway is for one winner of 6 coupons (delivered via U.S. Post Office mail) good for free Unilever Brand ice cream products. These coupons expire in February 2014. This giveaway is open to those with mailing addresses in the USA only. Submissions will close at noon on July 26, 2013 PST.  Winner will be notified via email within 24 hours of the close of the giveaway, and given 24 hours to respond. If I do not receive a response in 24 hours, I will draw a new winner.
Ready, set, GO!