Print This Post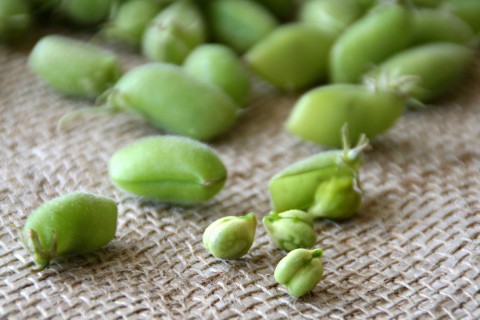 You heard it here first: Fresh garbanzo beans are the new edamame.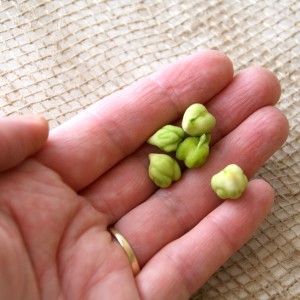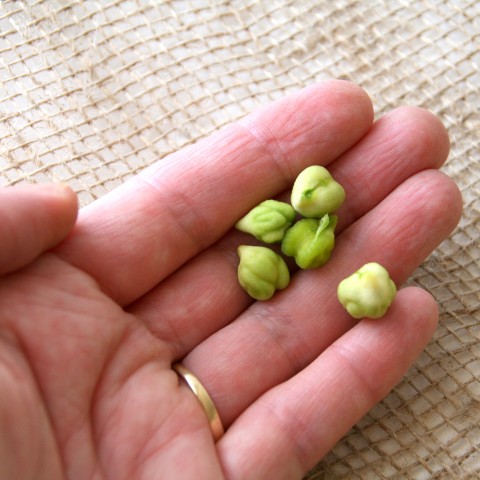 Vibrant green, a little fuzzy, fun to pop out of their thin, papery, puffy little shell and downright cute, fresh garbanzos are going to be your new favorite healthy snack, I predict. They can be eaten raw (they are reminiscent of a fresh pea), or added to stir fries along with other veggies, boiled like edamame, roasted or fried and seasoned. You may be familiar with canned cooked garbanzos (also called chickpeas), or dried garbanzos that must be rehydrated and then cooked before you use them. These are entirely different! Where to get them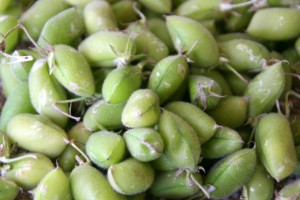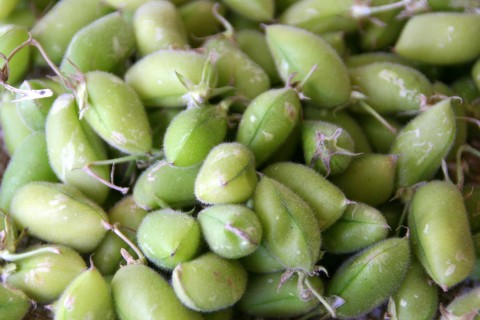 If you live in Los Angeles, you can drive on Alameda Street in downtown L.A. and they are sold by vendors on the side of the road, still attached to their branches. Buy a branch, take it home, and proceed. Or look in the fresh produce section of your grocery store. Melissa's Produce distributes them in wrapped 6-ounce packages, for about $2.49-$2.99. They're available year-'round and grown in Mexico, although they are starting to be grown in California. If you don't see them, ask the produce manager to order them for you. 10 things to do with fresh garbanzo beans
Pop them raw out of their shells (they have one or two green beans per pod), spritz with fresh lemon juice and sprinkle lightly with salt. Eat for a snack! TV time was never so healthy.
Boil them like you would edamame, in the pod, for a couple of minutes, remove from heat, drain, salt the pods lightly and eat as you would edamame in the pod, by sucking on the pod and squeezing the beans out with your teeth.
Rinse them, shake dry, put in a sauté pan with a little olive oil, put a lid on and cook for 5-8 minutes, stirring once in awhile so they don't burn. They'll char a little. Salt them and serve for a cocktail snack. Be sure to provide a little bowl for the pods.
Shell them and use the beans in a stir-fry with other vegetables.
Shell them and steam them like you would English peas.
Mash/blend them into hummus (instead of using canned garbanzos).
Mash (or not) and add them to guacamole for added fiber and protein. (They're about the same color as avocado flesh.)
Lightly coat the pods with olive oil, salt and pepper and place in a foil packet and onto a hot grill. Shake the packet a few times during the 10-minute cooking. When done, open the packet and eat them like you would edamame, by popping them out of their shell.
Stir-fry them with Indian spices: salt, chili powder, turmeric, garam masala, etc.
Try them in the savory snack below!
Recipe: Spicy Fresh Garbanzos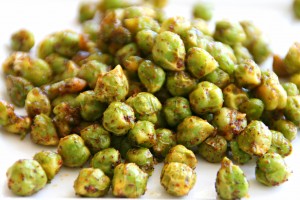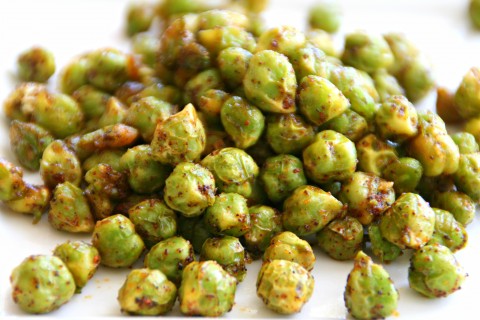 Summary: Seasoned with warm spices, these vibrant green fresh garbanzo beans are a world apart from the canned variety, and will be your new favorite healthy snack. Vegan cocktail snacks anyone?
Ingredients
2 teaspoons olive oil
6 ounces fresh garbanzo beans in the shell (about 2.2-2.5 ounces shelled beans)
Sprinkle of chili powder
Sprinkle of ground cumin
Sprinkle of salt
Instructions
Heat oil in a small frying pan. Add shelled beans and stir-fry for 3-5ish minutes, adding seasonings at the end of the time. Stir to mix everything well and coat the beans with the seasonings, and serve in a little bowl.
Serves 2-4, depending on appetites.
Quick notes
Salad: You can use these Spicy Fresh Garbanzos instead of croutons to jazz up a salad!
Storage: Store them in the package in the refrigerator vegetable crisper for a week or so. Much longer than that and they might grow cashmere.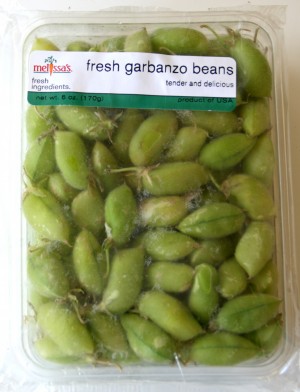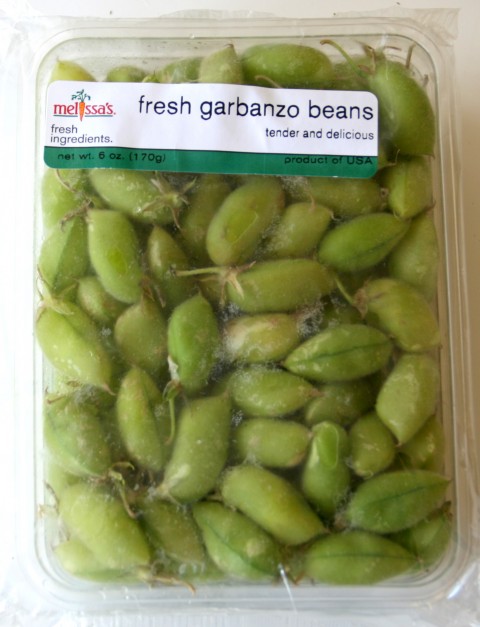 A sample of the fresh garbanzos was sent by Melissa's Produce.
Variations
Instead of chili powder, cumin and salt, sprinkle with truffle salt once you remove them from the heat.
Shelling time: 15 minutes Cooking time: 5 minutes Diet type: Vegan, Vegetarian Number of servings (yield): 2-4 Culinary tradition: Mexican