Print This Post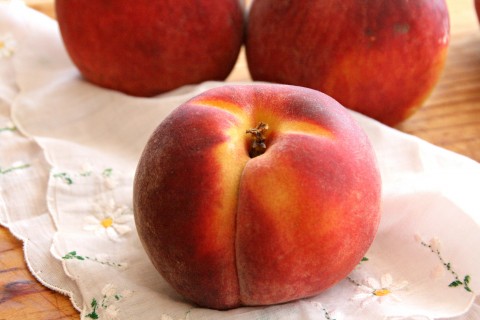 Can we send up a cheer for California tree fruit? Forget the jokes about this being the land of fruits and nuts. Literally, it is, thank goodness, and the rest of the country needs to stand up and salute!
50% nectarine, 50% peach and 100% deliciousness, Peach-a-rines, a new-ish fruit in the market, are a big draw for those of us who aren't fond of peach fuzz. It's a  hybrid from Central California's verdant farmland that is going national this year.
They cost about 65-90 cents each, and are grown in the Fresno/Kingsburg area. Their season is late May/June, so as with most seasonal produce, get them while the gettin's good!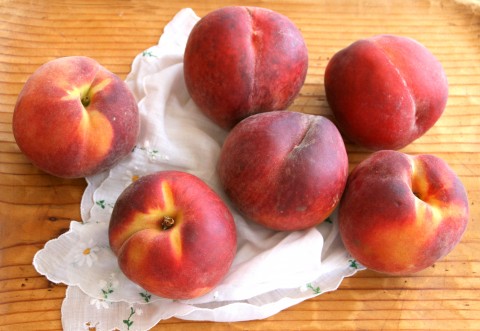 Eat them out of hand, the juice dripping through your fingers and down your arm. The best summer fruit always requires a shower afterwards.  😎
If you need to gild the lily (I'll wait while you look up that Shakespearean expression), try this extremely delicious Caramel Fruit Dip for Peach-a-rines, or any fruit you wish – apple slices, strawberries, plums, pears, etc.
Recipe: Caramel Fruit Dip
Summary: Creamy sweet and a perfect foil for fresh seasonal sliced fruit and/or not-too-sweet plain cookies, this goes together quickly and can be made ahead.
Ingredients
3/4 cup brown sugar
1 teaspoon vanilla extract
8 ounces cream cheese, at room temperature (I prefer using Neufchatel 1/3 reduced fat cream cheese)
Dippers: Fruit slices or plain cookies (not too sweet) such as shortbread or vanilla wafers
Instructions
Put sugar, vanilla and cream cheese in food processor, blender or electric mixer and blend until smooth. Serve as a dip with fruit slices in an array around it.
Makes about 1 cup dip.
Preparation time: 5 minutes
Diet type: Vegetarian
Number of servings (yield): 6-8
My rating 5 stars:  ★★★★★
A sample of peach-a-rines was sent by Melissa's Produce.