Print This Post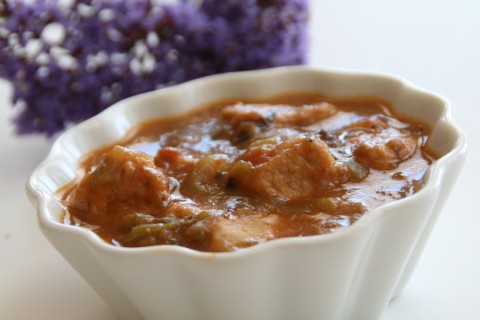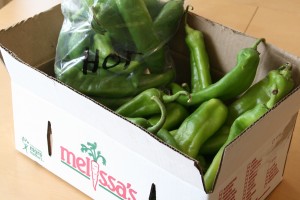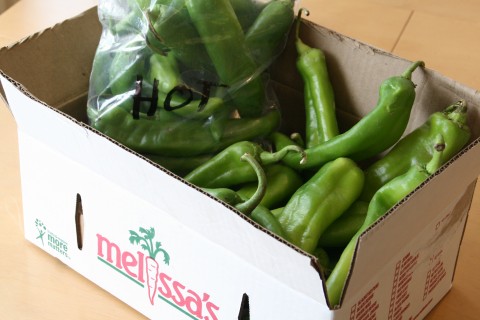 The bushel of Hatch chiles that arrived on my doorstep from Melissa's Produce demanded some serious thinking. After I roast and peel them, what is the best use for these beauties? My light bulb moment came when I mused that they are grown in New Mexico, so an authentic New Mexican treatment of them would be in order.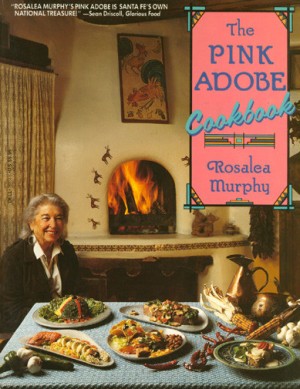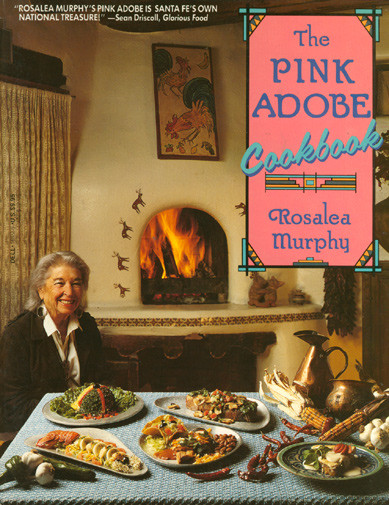 Off to my bulging bookshelf I went, for "The Pink Adobe Cookbook," by Rosalea Murphy. This 1988 classic features recipes from "the Pink,"  as it is called by locals in Santa Fe, where it has been open since 1944. Between Murphy's roots in New Orleans and San Antonio, and the natural Anglo-American, Hispanic and native American cultures that combine in Santa Fe, this book is a feast of authentic fusion. I had earmarked her Green Chile Stew way back when. Now, 23 years after I got the book, I finally had that recipe bubbling on my stove. Talk about delayed gratification! It was worth the wait!
Recipe: Pink Adobe Green Chile Stew
Summary: A fragrant, flavorful, comforting, authentic pork stew from the Pink Adobe Restaurant in Santa Fe that showcases Hatch green chiles from New Mexico.
Ingredients
2 tablespoons olive oil
2 pounds boneless pork, cut into 1-inch cubes
1/2 cup chopped onion

(I used 1 small onion)

1 clove garlic, minced

(I used 2 garlic cloves)

1/4 cup flour
2 cup peeled and chopped fresh tomatoes
2 cups roasted, peeled and chopped fresh green chilies or 2 7-ounce cans green chilies, drained and chopped

(I used 8 Hatch chiles that I roasted and skinned – 4 regular and 4 hot)

1 fresh jalapeno chopped

(I omitted this for fear of making it too hot for the family)

1 teaspoon salt

(I used ¾ teaspoon)

1/2 teaspoon freshly ground black pepper

(I used a few grinds of the pepper mill)

1/2 teaspoon sugar
1 cup chicken or beef broth

(I used chicken broth)
Instructions
Heat olive oil in 4-quart Dutch oven with cover. Add pork and cook until lightly browned. Add onion and garlic and stir with meat. Add flour and stir 1-2 minutes. Add tomatoes, green chiles, jalapeno (if using), salt, pepper and sugar. Mix to incorporate. Add broth. Lower heat. Cover pot and simmer for 1- 1 1/2 hours until meat is tender.
Serve with flour tortillas.
Preparation time: 15 minute(s) Cooking time: 70-90 minutes
Number of servings (yield): 6
Culinary tradition: USA (Southwestern)
My rating 4 stars:  ★★★★☆ 1 review(s)