Recipe: Pink Adobe Green Chile Stew
Summary: A fragrant, flavorful, comforting, authentic pork stew from the Pink Adobe Restaurant in Santa Fe that showcases Hatch green chiles from New Mexico.
Ingredients
2 tablespoons olive oil
2 pounds boneless pork, cut into 1-inch cubes
1/2 cup chopped onion

(I used 1 small onion)

1 clove garlic, minced

(I used 2 garlic cloves)

1/4 cup flour
2 cup peeled and chopped fresh tomatoes
2 cups roasted, peeled and chopped fresh green chilies [1] or 2 7-ounce cans green chilies, drained and chopped

(I used 8 Hatch chiles that I roasted and skinned – 4 regular and 4 hot)

1 fresh jalapeno chopped

(I omitted this for fear of making it too hot for the family)

1 teaspoon salt

(I used ¾ teaspoon)

1/2 teaspoon freshly ground black pepper

(I used a few grinds of the pepper mill)

1/2 teaspoon sugar
1 cup chicken or beef broth

(I used chicken broth)
Instructions
Heat olive oil in 4-quart Dutch oven with cover. Add pork and cook until lightly browned. Add onion and garlic and stir with meat. Add flour and stir 1-2 minutes. Add tomatoes, green chiles, jalapeno (if using), salt, pepper and sugar. Mix to incorporate. Add broth. Lower heat. Cover pot and simmer for 1- 1 1/2 hours until meat is tender.
Serve with flour tortillas.
Preparation time: 15 minute(s) Cooking time: 70-90 minutes
Number of servings (yield): 6
Culinary tradition: USA (Southwestern)
My rating 4 stars:  ★★★★☆ 1 review(s)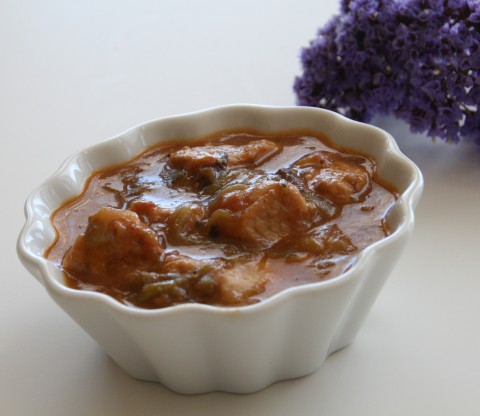 [3]