Print This Post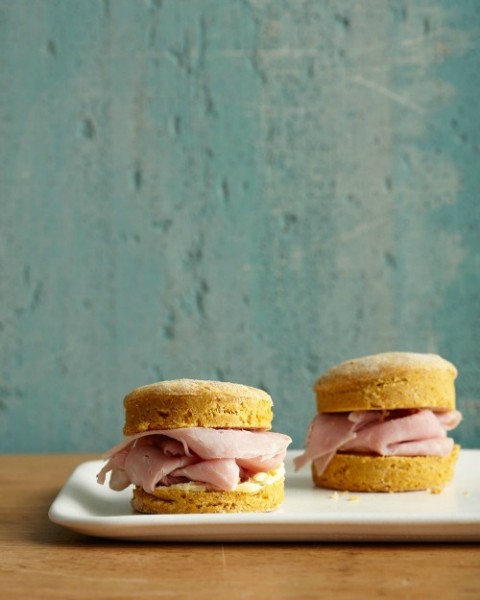 I know more and more people who are going gluten-free, either because they have celiac disease, or have detected they have sensitivity to gluten, or are making a lifestyle choice and thus are trying to avoid it.
Since gluten is present in wheat, barley, rye and possibly oats, it can be a challenge to find replacements for once-beloved baked goods. Trash cans across the land are littered with the discarded remains of muffins, biscuits, scones, waffles, bread, coffee cakes and the like that have more in common with cardboard than with the tender crumb of the original versions.
Gluten gives structure and texture to baked goods, and without it they can be dry, tough, gritty and off-flavor, depending on the substitutes used.
Successful gluten-free baking requires a combination of substitute starches, additional leaveners, perhaps extra eggs, and a few special ingredients and techniques – smaller or narrower pans, etc.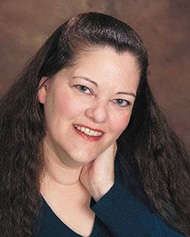 Guiding us through the confusion with a sure, steady hand is expert baker Linda J. Amendt, whose new book "Gluten-Free Breakfast, Brunch & Beyond," (2013; The Taunton Press; $19.95) is not only a map of the new baking landscape, but a bible. (Hint: This would be a wonderful gift for a gluten-free family member, friend or relative.)
She starts you off with a simple Gluten-Free All-Purpose Flour, and uses it to quickly segue you and your wooden spoon into a yummy Applesauce Bread, Herb Muffins, Cheddar Cheese Biscuits, and Blueberry Scones, for example. Pumpkin Pancakes and Sour Cream Waffles, French Toast Stratas and coffee- and crumb cakes are next on the agenda, followed by yeast breads and sweet rolls.
For the main-dish minded, frittatas and omelets give way to quiches and savory stratas. You could eat your way through this book one recipe, one day, and one breakfast/brunch at a time. I intend to do just that!
Let's start with her Gluten-Free Sweet Potato Biscuits, just in time for October's Twelve Loaves challenge to make something bready with root vegetables. Since sweet potatoes are available year-round, you can have a taste of fall any day you like.
All of you talented bread bakers out there are going to be delighted to learn that you have a chance to win one of three copies of this excellent cookbook.
3 Cookbooks  in the Giveaway!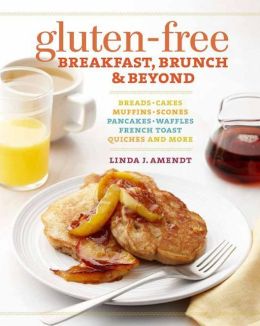 The Taunton Press is giving away a copy of the book to three lucky Shockingly Delicious readers. To enter, simply do any or all of the following: 
Leave a comment on this post telling me of your successes (or failures?) when making gluten-free breakfast and brunch items. What are you proud of, what didn't work so well.
Like Shockingly Delicious on Facebook and leave a comment telling me you did.
Follow Shockingly Delicious on Twitter and leave a comment telling me you did and what your Twitter handle is.
Put me (Dorothy Reinhold) in your Google+ circles and leave a comment telling me you did and what your Google+ name is. You can find me on Google+ here.
To participate in the giveaway you may do any of these, and each is considered a separate entry, so leave a separate comment for each one you do.
This giveaway is for three winners of "Gluten-Free Breakfast, Brunch & Beyond," by Linda J. Amendt.
U.S. only: Open to those with mailing addresses in the USA only.
Deadline: Submissions will close at noon Pacific Time on Tues. Oct. 8, 2013.
Notification: Winner will be notified via email within 24 hours of the close of the giveaway, and given 48 hours to respond. If I do not receive a response in 48 hours, I will need to draw a new winner.
There is more legal fine print here.
Ready, set, GO enter to win!
And now, let's bake some easy Sweet Potato Biscuits.
Recipe: Gluten-Free Sweet Potato Biscuits
Summary: A pretty orange color and a nice touch of spice highlight these easy, tasty sweet potato biscuits. Halve and fill with a slice of ham, top with a scrambled or fried egg and a dash of maple syrup for a hearty breakfast sandwich.
Ingredients
1 1/2 cups Gluten-Free All-Purpose Flour (see recipe below); more for dusting
1/2 cup cornstarch
2 tablespoons firmly packed brown sugar
1 tablespoon baking powder
1 teaspoon ground cinnamon
3/4 teaspoon xanthum gum
1/2 teaspoon baking soda
1/2 teaspoon table salt
1/2 teaspoon grated nutmeg
1/8 teaspoon ground ginger
6 tablespoons (3/4 stick) cold unsalted butter, cut into pieces
1 large egg
1 cup mashed, peeled cooked sweet potatoes (2 medium)
6 tablespoons whole milk
1 tablespoon unsalted butter, melted (optional)
Instructions
Heat the oven to 400°F. Line a baking sheet with parchment paper.
In a large bowl, whisk together the flour, cornstarch, brown sugar, baking powder, cinnamon, xanthum gum, baking soda, salt, nutmeg, and ginger until well combined. Add the butter pieces. Using a pastry blender, a fork, or two knives, cut in the butter until the mixture resembles coarse crumbs. Make a well in the center and set aside.
In small bowl, using a wire whisk, lightly beat the egg. Stir in the mashed sweet potatoes. Gradually whisk in the milk. Pour the liquid mixture into the well in the flour mixture all at once and stir with a fork just until the dry ingredients are moistened and the mixture comes together into a soft dough.
Place the dough on a board or other surface lightly dusted with gluten-free all-purpose flour. With lightly floured hands, gently pat into a flat disk about 3/4 inch thick. Using a 2-inch biscuit cutter dipped in flour, cut out as many biscuits as possible. Gently gather the scraps into a ball, pat out, and cut out more biscuits. Place the biscuits about 1 inch apart on the prepared baking sheet. Brush the tops of the biscuits with melted butter, if desired.
Bake until the biscuits are golden brown, 15 to 20 minutes. Immediately transfer to a wire cooling rack. Serve warm.
Makes about 12 biscuits.
Source
"Gluten-Free Breakfast, Brunch & Beyond," by Linda J. Amendt. Recipes and photo used with permission from The Taunton Press. The publisher sent a copy of the book for review, and is providing the winners with copies. 
Preparation time: 15 minutes
Cooking time: 20 minutes
Diet type: Vegetarian
Diet tags: Gluten free
Number of servings (yield): 12
Culinary tradition: USA (Southern)
To make the biscuits, you will need her Gluten-Free Flour recipe, below.
Recipe: Gluten-Free All-Purpose Flour
Summary: A good gluten-free all -purpose baking flour to substitute for regular all-purpose flour when baking gluten-free recipes.
Ingredients
4 cups finely ground or stone-ground white-rice flour
2 cups stone-ground brown-rice flour
2 cups tapioca flour or tapioca starch
1 cup potato starch (not potato flour)
Instructions
In an extra-large bowl or container, combine the rice flours, tapioca flour, and potato starch. Whisk together until the ingredients are thoroughly blended. Use a large spoon to bring the flour from the bottom of the bowl up to the top and whisk again. Repeat a few times to make sure the flours are evenly distributed throughout the entire mixture.
Store the flour in an airtight container or zip-top storage bag at room temperature for up to 1 month. For longer storage, keep the flour in the refrigerator or freezer. Allow the flour to come up to room temperature before using.
Lightly stir the flour before measuring. Spoon the flour into the measuring cup and level off the top with a straight-edged utensil, such as the back of a knife.
Makes 9 cups.
Source
"Gluten-Free Breakfast, Brunch & Beyond," by Linda J. Amendt. Used with permission from The Taunton Press.
Preparation time: 5 minutes
Diet type: Vegetarian
Diet tags: Gluten free
Number of servings (yield): 9 cups
Culinary tradition: USA (General)
Our Twelve Loaves bakers this month are: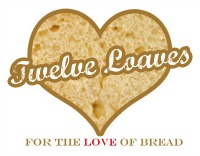 Would you like to join us in baking your favorite October root vegetable bread recipe for #TwelveLoaves this month? Here's how:
1. Wording: When you post your Twelve Loaves bread on your blog, make sure you mention the Twelve Loaves challenge in your blog post; this helps us to get more members as well as share everyone's posts. Please make sure your bread is inspired by this month's theme – root vegetables – with a yeast or quick bread, either a single loaf or individual breads. This includes muffins, scones, flatbreads, crackers, pretzels, etc. What's considered a root vegetable? Try onion, carrots, beets, yam, radish, beet, garlic, parsnip, yam, potato, sweet potato, turnip and fennel.
2. Link it up: Please link your post using the linky tool at the bottom of my blog. It must be a bread baked to this Twelve Loaves theme.
3. Deadline: Post your Twelve Loaves bread that you baked in October 2013 on your blog by Oct. 31, 2013.
Would you like to bake along with us? #TwelveLoaves is a monthly bread baking party created by Lora from Cake Duchess and we welcome new members. #TwelveLoaves runs so smoothly thanks to the help of Paula from Vintage Kitchen Notes and Renee from Magnolia Days. Follow @TwelveLoaves on Twitter to see what's freshly baked, and follow our Pinterest board.
Happy baking!