Print This Post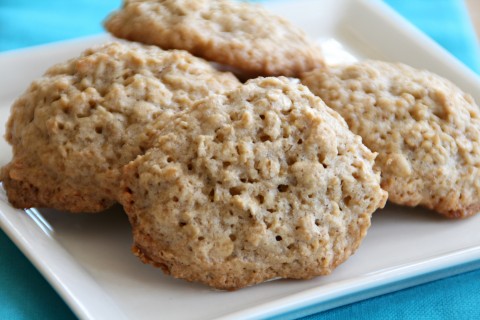 This is a fabulous, caramely, butterscotchy, oaty, chewy, gluten-free cookie. They're missing what is usually a key ingredient in most cookies – wheat flour – but no one will be the wiser, and in fact, you may actually like these better than your standard version oatmeal cookies. At my house, they are now preferred.
And at the Mother's Day brunch I attended, these were an unqualified hit!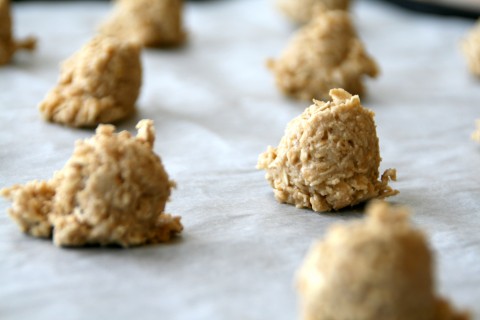 One other attribute about this recipe is it goes together very quickly, and makes a small batch. So when you simply must have a homemade cookie, you can whip these out pretty quickly.
The fact that they have no flour will appeal to those who cannot tolerate wheat in their diets. They also may be appropriate for those who have Celiac disease. Celiac disease is an autoimmune digestive disease that damages the membrane of the small intestine and interferes with absorption of nutrients from food. It is triggered by eating the protein called gluten, which is found in wheat, barley and rye. Think of it this way: Gluten is the elastic protein in wheat, barley and rye, and that elasticity is what holds bread together, why cakes rise high, and what gives bread products a wonderful chewy, doughy texture. Gluten is the glue.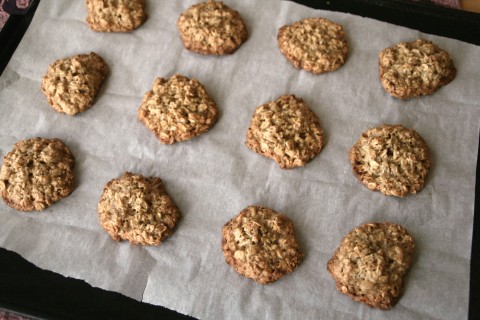 When people with celiac disease eat foods containing gluten, their immune system responds by damaging the small intestine, and then the body is unable to absorb nutrients into the bloodstream, which can lead to malnourishment. Celiac disease is also known as celiac sprue, nontropical sprue, and gluten-sensitive enteropathy.
Celiacs will want to search out certified gluten-free rolled oats for this recipe (Bob's Red Mill is a nationally available brand).  Even though ordinary oats don't contain gluten, most oats produced in this country are contaminated for a couple of reasons — because they are made in factories that also produce wheat (from flour on the conveyor belts, which will cross contaminate), or they are stored next to wheat grains, and they are grown in fields next to wheat (this allows wheat spores to float over and contaminate the oats with their gluten). In fact, if oats are grown in the same field that grew wheat the season before, that might be a basis for contamination as well.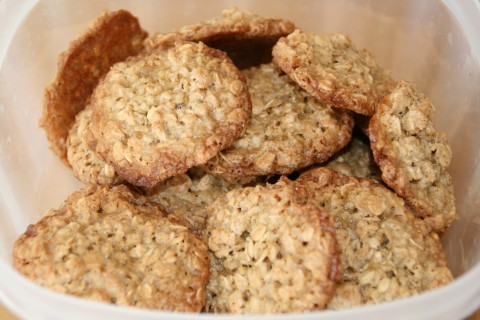 So those who must should seek out certified gluten-free oats. (And, as always, consult your physician if appropriate.) The rest of us can use regular old-fashioned rolled oats.
Recipe: Flourless Caramel Oat Cookies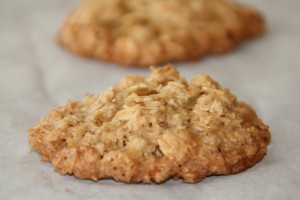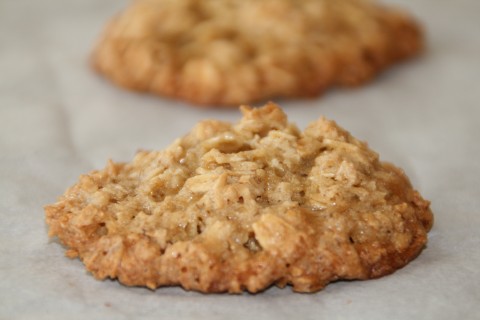 Summary: A fabulous caramely, butterscotchy, oaty, chewy, gluten-free cookie. Prepare to like these better than your standard version oatmeal cookies.
Ingredients
1/3 cup unsalted butter
1 1/2 cups rolled oats (not quick cooking variety) Be sure to buy certified Gluten-Free oats if it is important to you
1/2 cup granulated sugar
1/4 cup dark brown sugar, firmly packed
1/8 teaspoon salt
1 teaspoon vanilla extract
1 egg
Instructions
Melt the butter. Place all ingredients in a medium-size bowl and mix gently by hand, or at lowest speed with an electric mixer. Mound into a ball of dough. Chill the dough 25 minutes (this is an important step) or overnight if more convenient.
Meanwhile, heat oven to 350 degrees. Prepare two baking sheets by lining with parchment paper. (Parchment paper is a must, or the cookies will fuse onto the baking sheet.)
Form the chilled dough into 1-inch scoops or balls (a small cookie scoop works well for this), and place on baking sheet. The cookies won't rise, but will spread out very slightly. Bake for 13-14 minutes or until the edges are browned and the tops of the cookies are medium golden. (Both sheets may be baked at the same time; switch racks and turn sheets back to front at the halfway point.)
Remove from oven and cool well on the baking sheet (about 10 minutes) before removing using a spatula. The cookies should peel off the parchment easily.
Makes 2 dozen cookies.
Source
Adapted from a recipe by Marcy Goldman, a professional baker and food writer based in Montreal.
Preparation time: 8 minutes for mixing, 25 minutes for chilling
Cooking time: 14 minutes
Diet type: Vegetarian
Diet tags: Gluten free
Number of servings (yield): 12-15
Culinary tradition: USA (General)
My rating 5 stars:  ★★★★★