Print This Post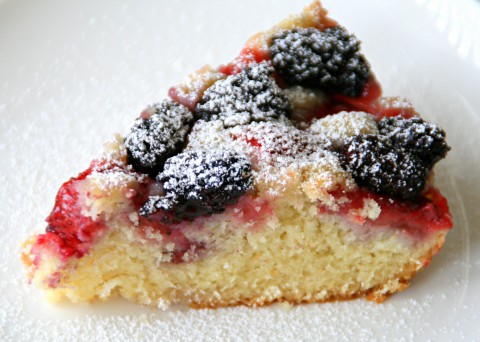 Some things are of-the-moment perfect.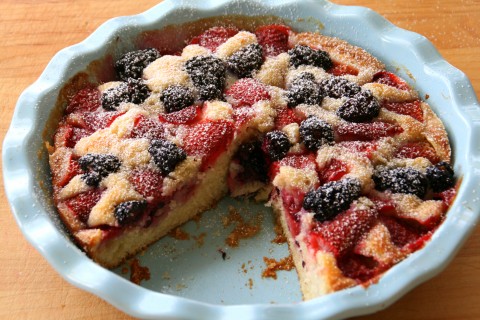 This Fresh Strawberry Cake is one. The berries are absolutely ripe and in season, the warming weather makes us yearn for fresh fruit, and most of all the need is upon us for a Memorial Day dessert, or a graduation cake, or a thank-God-school-is-almost-out treat, or even an I-survived-another-week brunch cake.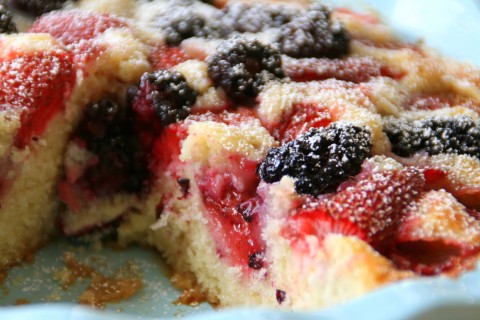 Make it for any of those reasons, or all of them. You deserve it!
I'll let the pictures do the rest of the convincing. Try not to drool on your keyboard.
Recipe: Strawberry-Blackberry Cake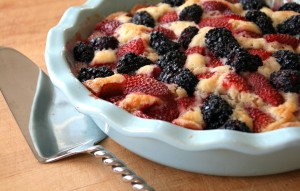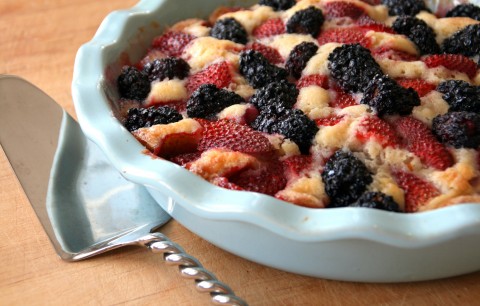 Summary: A bit like a baked strawberry shortcake, this easy dessert or brunch cake is perfumed with vanilla and Fiori di Sicilia, a specialty extract redolent of floral citrus and vanilla. The berries on top bake into little jam pockets.
Ingredients
6 tablespoons unsalted butter, softened to room temperature, plus more for pie plate
3/4 cup sugar + 2 tablespoons for topping
1 large egg
1/2 cup milk
1 teaspoon pure vanilla extract
1/4 teaspoon Fiori di Sicilia (or substitute orange extract)
1/2 teaspoon salt
1 1/2 teaspoons baking powder
1 1/2 cups all-purpose flour
12 ounces fresh strawberries, hulled and halved
6 ounces fresh blackberries
Garnish: powdered sugar or freshly whipped cream
Instructions
Heat oven to 350 degrees. Butter (or mist with nonstick spray) a 10-inch pie plate, a 9-inch deep-dish pie plate, or a 9-inch Springform pan.
Put butter and 3/4 cup sugar in the bowl of an electric mixer. Mix on medium-high speed until pale and fluffy, about 3 minutes. Reduce speed to medium-low and mix in egg, milk, vanilla and Fiori di Sicilia. (The cold milk will likely cause the butter to clump. Don't worry.)
Reduce speed to low; add salt and baking powder and mix well. Add flour and mix until combined. Scrape batter into buttered pie plate; an offset spatula works well to smooth batter into pie dish. Arrange strawberries on top of batter, cut sides down and as close together as possible; sprinkle blackberries on top. Sprinkle remaining 2 tablespoons sugar over berries (don't reduce the sugar for topping because that's what makes the berries jammy).
Bake cake 10 minutes; reduce oven temperature to 325 degrees and bake another 1 hour, until cake is golden brown and firm to the touch. Remove from oven and let cool in pie plate on a wire rack. Cut into wedges and dust with powdered sugar at serving time, for pretty.
Cake can be stored at room temperature, loosely covered, up to 2 days. It will remain moist.
Makes 1 10-inch cake; 8 servings.
Source
The original seems to be at Martha Stewart Living, June 2005, followed by an adaptation at Smitten Kitchen, and another adaptation at Food On Paper  and probably a few dozen more I haven't seen yet. The best recipes are those that can be successfully tweaked by each cook as she sees fit, aren't they? The version above is my adaptation. What will you do to make this cake your own?
Variations
For July 4th, why not make it red, white and blue, with strawberries, blueberries and then some whipped cream on top at serving time?
Try using Trader Joe's jarred (drained) morello cherries instead of strawberries, and add ½ teaspoon almond extract
You could add a handful of mini chocolate chips to the cake batter.
You could use raspberries and strawberries.
Preparation time: 10 minutes
Cooking time: 70 minutes
Diet type: Vegetarian
Number of servings (yield): 8
Culinary tradition: USA (General)
My rating 5 stars:  ★★★★★