Recipe: Fiery Frico Cheese Crisps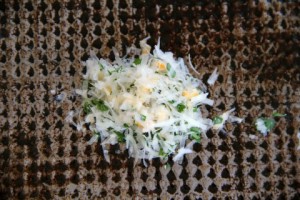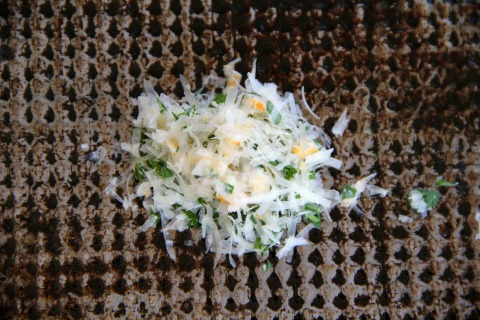 [1]Summary: Feisty Tabasco flavors rich, nutty Parmigiano flecked with parsley in these Frico Italian Cheese Crisps, perfect for an hors d'oeuvre or salad garnish.
Ingredients
1 cup grated aged Parmigiano-Reggiano cheese (or Grana Padano if you can find it)
½ teaspoon Tabasco® Original Red Sauce
4 teaspoons finely minced fresh Italian parsley (flat parsley)
Instructions
Heat oven to 325 degrees F. Lightly mist a baking sheet, or use parchment or a Silpat sheet. [2]
In a small bowl, using your hands, mix the cheese, Tabasco and parsley, until well blended. If the Tabasco creates little clumps, tease them apart with your fingers to spread out the fire. [3]
Drop the cheese into 12 mounds on the baking sheet and spread out/flatten them slightly. [4]
Bake for 10 minutes. Remove sheet from oven, allow to rest for 1 minute, and then remove crisps with a sharp spatula to a rack to cool further. If you allow them to cool on the sheet, they might cement themselves to it. [5]
Makes 12 crisps. Serves 4.
Source
Dorothy Reinhold | Shockingly Delicious
[6]Tabasco note
These crisps have a pronounced but not unbearable heat. If you feel a bit wimpy, reduce the Tabasco by a snitch. Tabasco® Original Red Sauce has a Scoville Unit Rating of 2,500-5,000. (Tabasco Habanero has a Scoville of 7,000.) Scoville units are a standardized way of measuring the capsaicin in peppers.
Preparation time: 10 minutes
Cooking time: 10 minutes
Diet type: Vegetarian
Diet tags: Gluten free
Number of servings (yield): 4
Culinary tradition: Italian
My rating 5 stars:  ★★★★★ 
Disclosure

: I was compensated for this post by the McIlhenny Co., the makers of Tabasco. All opinions are my own, and this recipe is a Shockingly Delicious original.