Print This Post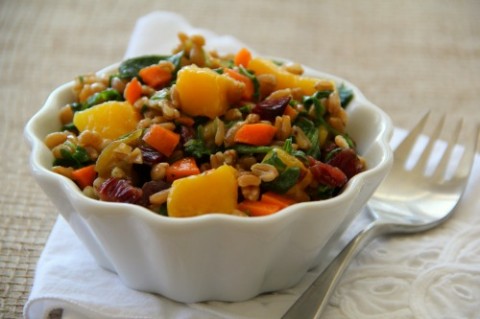 I know you don't know Bryan but it doesn't matter, because ANY birthday party deserves the gift of this delicious grain salad.
I discovered the great trick of keeping cooked farro or other grains in the refrigerator so they are at the ready to assemble a quick salad, side dish or breakfast, and so I was ready when my husband asked what we were bringing to this event. "Farro salad," I answered, and I set to work making it as colorful as my fruit basket and vegetable drawer allowed.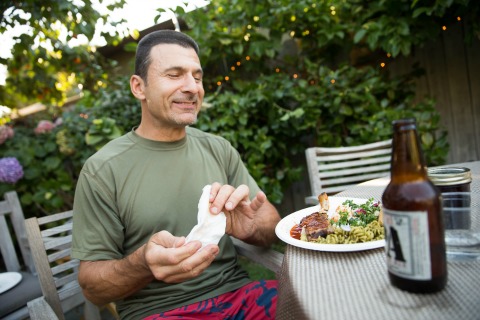 Bryan is one of the good guys. A good friend and mountain-biking and backpacking partner to my husband and our family, a wonderful neighbor if you believe his own neighbors (and I do), and a role model for young people, whether they are his own children or yours. We are lucky to have him in our lives.
If you have someone in your life like that (and I'll bet you do), celebrate him with this salad, whether it is his birthday or not.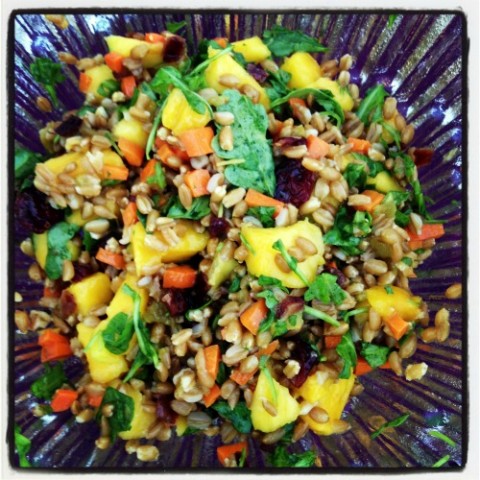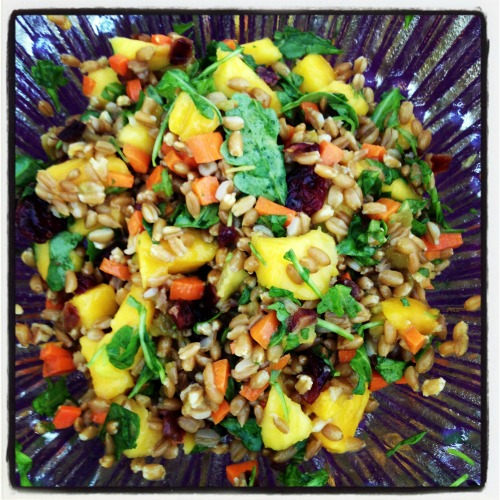 I particularly love this iphone shot of the salad from the buffet table, the dark tablecloth and evening shadows reflected in the facets of the glass serving bowl. Doesn't it look like a burst of excitement?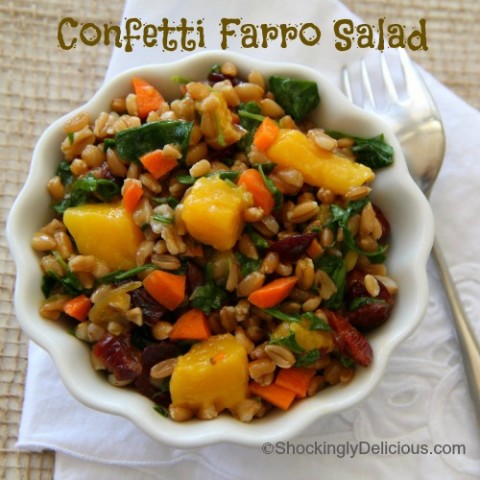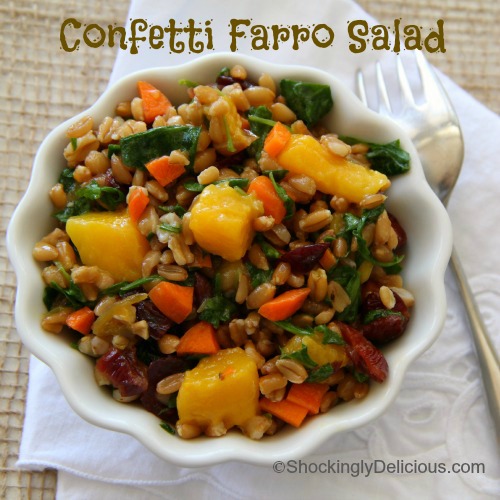 Carpe diem, and carpe the farro!
Recipe: Confetti Farro Salad
Summary: Naturally sweet, chewy, spicy, refreshing side dish or salad for the buffet table. Your guests will come back for seconds!
Ingredients
2/3 cup dried sweetened cranberries (such as Craisins)
3-4 cups cooked farro, cooled (I used Bob's Red Mill brand)
2 carrots, peeled and finely diced
1 Keitt mango, peeled and diced
3 cups packed baby arugula, chopped
3 roasted Hatch chiles, peeled, seeded and diced
Dressing
3 tablespoons extra-virgin olive oil
1 tablespoon Meyer lemon juice
½ teaspoon Tabasco
1 tablespoon finely minced preserved lemon peel (or substitute a pinch of salt and grated rind of a lemon)
Instructions
Add cranberries to a glass or plastic 2-cup measure, cover with water by 1 inch, and heat in the microwave on high for 60 seconds. Remove and allow to stand so cranberries hydrate while you prepare the salad.
In a large bowl, add farro, carrots, mango, arugula and chiles.
In a small jar, add all dressing ingredients and shake vigorously to combine. Pour dressing over salad, and toss gently to coat ingredients without mangling the mango.
Place in your prettiest bowl and serve.
Serves 10.
Source
Recipe by Dorothy Reinhold | Shockingly Delicious
Farro tip
To cut down on the time for cooking farro, soak it in water overnight. Place farro in a bowl and cover with water by at least 1 inch. Farro will expand slightly as it soaks. When ready to cook, drain farro, add it back to the pot, cover with fresh water by an inch, and simmer until done. I have found that farro I soak overnight cooks in about 10-12 minutes, as opposed to unsoaked farro, which cooks in 30-30+ minutes.
Preparation time: 10 minutes
Number of servings (yield): 10
Culinary tradition: USA (General)
My rating 5 stars:  ★★★★★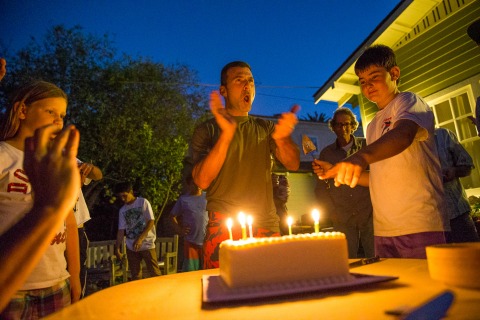 Disclosure: Bob's Red Mill provided the farro, Frieda's Specialty Produce provided the Hatch chiles and Melissa's Produce provided the Keitt mango for recipe testing. Professional photographer Ken Scott shot the birthday photos.