Print This Post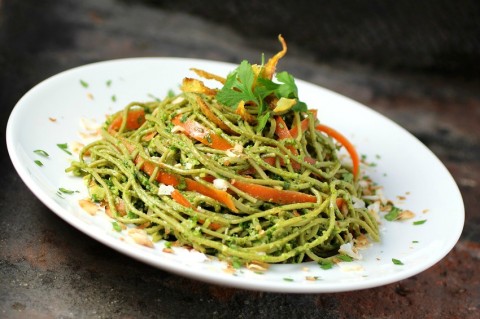 If you've been trying to stay away from wheat — perhaps you are diagnosed celiac or you just choose to limit that grain in your diet — this one's for you.
People avoiding wheat often say they miss their pasta night, and now there are a variety of bean and pulse-based pastas to make dinner choices easier. These new wheatless pastas play right into the hand of people limiting their carbs, too, or those like me who aren't celiac but are just getting more carb-aware the older we get.
I have a recipe today for Edamame Spaghetti with Kale Cilantro Pesto that will show you how pasta made from green soybeans (aka edamame) can be both a nutritious and delicious meal, not to mention colorful and fun.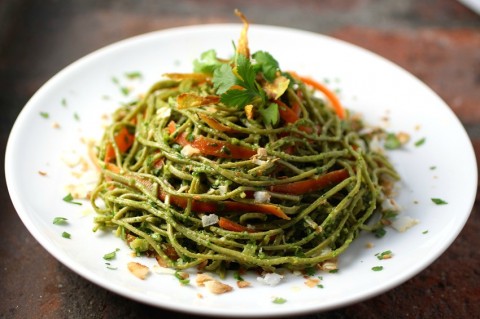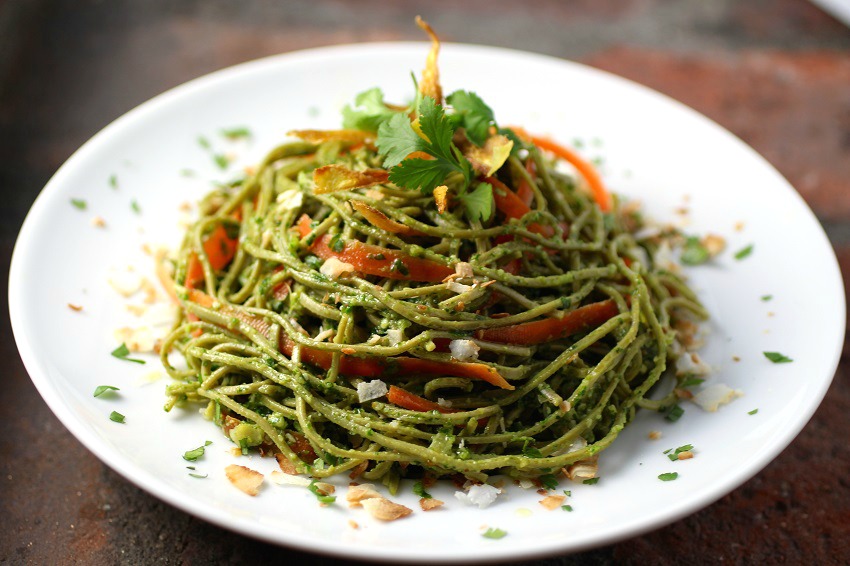 Photo Credit: Lori Stokoe
There are big flavors in here — cilantro, garlic, coconut, ginger. Good thing, because there's no way we are giving up flavor, even if we've given up wheat.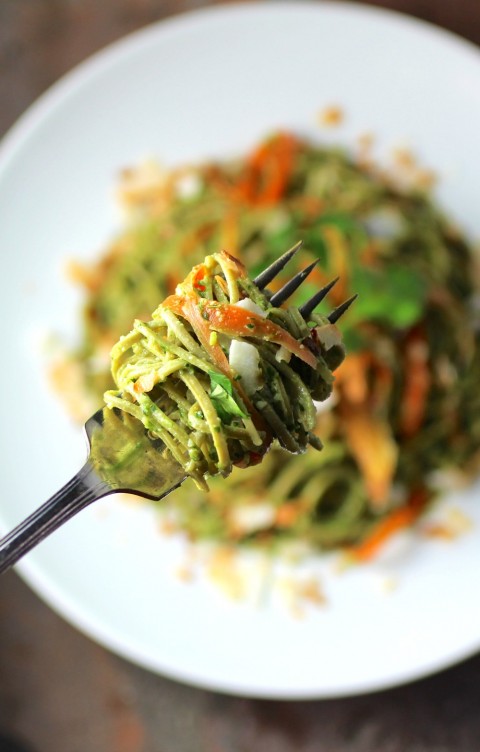 Photo Credit: Lori Stokoe
Edamame Spaghetti with Kale Cilantro Pesto
Nutritious spaghetti noodles made from edamame get dressed in a kale-cilantro pesto and topped with big flavors from coconut and ginger.
Ingredients
Pesto

1 cup chopped kale, tightly packed
1 cup cilantro, tightly packed
1/4 cup slivered almonds, toasted
1 garlic clove
1 serrano chile
1 tablespoon lime juice
Pinch of salt
1/4 cup grated Parmesan cheese
1/2 cup olive oil
.

Spaghetti

1 knob ginger, peeled and sliced into shards
Olive oil (for ginger)
1 (8-ounce) box Explore Cuisine Edamame Spaghetti
2 carrots, sliced into ribbons
1/4 cup shredded coconut, toasted
Directions
Blend first seven ingredients (kale through salt) in a food processor. Add cheese. Stream in olive oil while machine is running. Turn off and set aside.
Saute ginger in a bit of olive oil, until crispy. Set aside.
To a large pot, add 8 cups water and bring to a boil. When boiling, add Edamame Spaghetti. Cook for 4-6 minutes, until al dente or firm to the bite. Drain and rinse.
Toss together spaghetti with carrots and pesto. Portion into 4 shallow, wide bowls. Sprinkle with ginger and toasted coconut.
Serves 4.
Notes
Recipe source: Explore Cuisine
Vegan alternative: Omit Parmesan cheese. Use a dairy-free vegan version, or a bit of nutritional yeast if you like, in its place.
https://www.shockinglydelicious.com/edamame-spaghetti-with-kale-cilantro-pesto/
Copyright Dorothy Reinhold | ShockinglyDelicious.com. All rights reserved.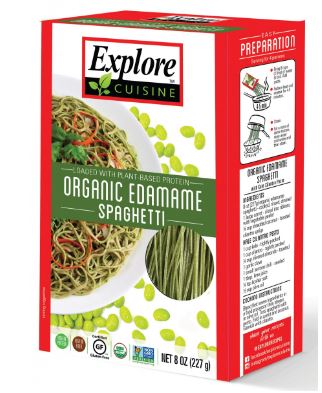 The Edamame Spaghetti packs quite a nutritional punch, with half of the daily protein (25 grams!) and fiber (11 grams!) requirements in one serving.  It's gluten-free, of course, non-GMO and vegan, has 11g net carbs per serving, and is low on the glycemic index. It has one ingredient: organic green soybeans, aka edamame. I'd encourage you to branch out with your dinner routine and try it! The company that sells it, Explore Cuisine, has a number of other interesting organic wheat-free pastas, including red lentil spaghetti, chickpea fusilli and green lentil lasagne. Eat the rainbow, indeed!
If you like this recipe, pin the image below to your Pinterest board to find it later!

Disclosure: Explore Cuisine sent the pasta samples for review, and gave permission for me to reprint their recipe. Photos by Lori Stokoe.

Hungry for more? Follow Shockingly Delicious on…
FACEBOOK   |   PINTEREST   |   INSTAGRAM   |   TWITTER
…for all the latest recipes, ideas and updates!