Print This Post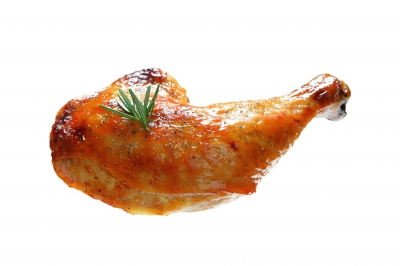 In Southern California, we fire up the grill virtually any day of the year. If there's a nip in the winter air, we don't care, we just throw on a jacket and get 'er done.
Not so easy for much colder climes. In much of the rest of the country, grilling is quite seasonal, and you must give the grill a rest during late fall, winter and even early spring. In some states, your grill hibernates under a few feet of snow. So Memorial Day marks the beginning of grilling season for many folks.
Regardless of the exact date you begin grilling, there are a few new barbecue sauces recently introduced to the market, and friends, you need to know about them. It's a tough job to help you stay current on your 'cue, but luckily for you, I'm up to the task.  😎 (The manufacturers sent me the sauces to taste and review.)
Let's run down the list, one by one.
1. Island-inspired sauces
Fresh from the folks who make that addictive King's Hawaiian bread are four new BBQ sauces that will spice up your life. Original Sweet Pineapple (tangy, vinegary BBQ zest and sweet pineapple bite), Smoked Bacon (chunks of smoky bacon in a tangy sweet sauce), Big Island Lava (bold red Jalapeños, spicy island flavor, and a hint of sweetness) and Kona Coffee (a light blend of real Kona coffee). No surprise here, they happen to go really well on a burger or hot dog that you're planning to put on a King's Hawaiian bun. No high fructose corn syrup, artificial color or flavors or preservatives. $3.99 for a 15-ounce bottle, being rolled out to stores now. 
2. Tangerine Hatch Chile
The newest flavor from the maker of Not Ketchup is Tangerine Hatch Chile Not Ketchup, an all-purpose sauce made with no added sugar, sweetened only with real fruit (apples, dates, tangerines). It's tangy, just slightly but not overly sweet, with oomph from onion, Hatch chile peppers and garlic, and it is divine on grilled fish or shrimp, chicken, pork or even tofu steaks. Pro tip: I eat it on my hard-boiled eggs, too. The company motto is "dip differently," and so you can experiment with this and what you like to use it for, or in. Note that it is very tangy, and tastes different than the overly sweet sauces you might be used to, so please adjust your taste buds for this one. Trust me, you will be rewarded with a sophisticated adult flavor! It's gluten-free, vegan and perfect for people following paleo, low-carb, low-sugar and diabetic diets. $10 for a 13-ounce bottle at Amazon or notketchup.com, or check here for local stores in California and Texas.
3. Tangerine Sriracha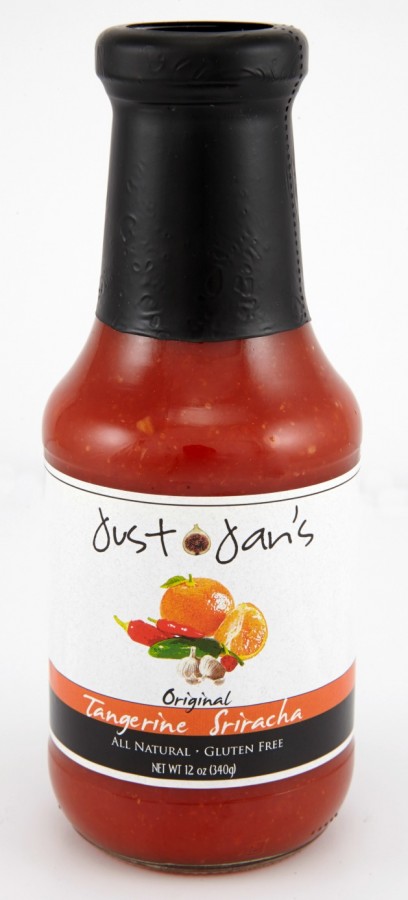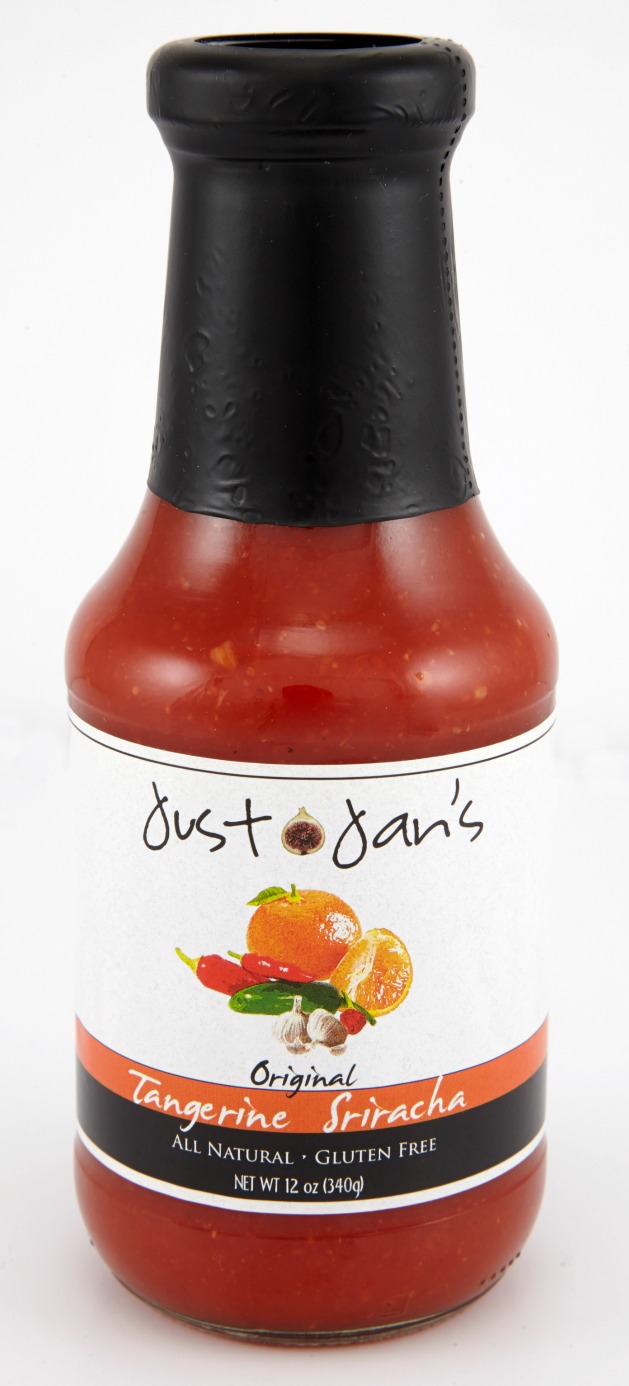 You may have heard me chat about producer Just Jan's, whose delicious preserves are made with 14% less sugar than most others (that's why they cannot be called jams). New from her is Original Tangerine Sriracha, a spicy hot, vibrant red-orange sauce that will make your taste buds zing and ting and ping. This is hot, friends, so I would advise going slowly with it until you determine your own level. I tried it next to original rooster sauce (sriracha), and liked Tangerine Sriracha better. It's a bit sweeter, with a more complex flavor — bright with vinegar, savory from garlic, hot from red chiles — although both are about equal in overall heat. And it was just named a finalist for a 2016 Sofi Award for outstanding new product. Pro tip from Jan of Just Jan's: "It makes one hell of a Bloody Mary! Use some Tangerine Sriracha in place of the Tabasco and/or horseradish, then however much tomato juice you want, a little lime juice, Worcestershire and VODKA!" (I like how she wrote vodka in all caps, eh? You could leave it out and make a virgin Mary just fine.) About $8 for a 12-ounce bottle; available on Amazon or at JustJans.com.
4.  Thaifusions
A mother-son team is behind these fresh tasting, unique sauces. Chef Max Borthwick and his mom Toi, a native of Thailand, created these authentic Thai sauces in their Seattle home kitchen and the name Thaifusions describes their family — Thai mother and Scottish-Irish father. When Toi came to the U.S. in 1970, there were no Thai ingredients to be found, so she made her fish sauce from scratch, fermenting it in the backyard in large clay pots. The sauces are now made in a commercial facility in Seattle, and they have the classic Thai characteristic flavors of sweet, spicy, tangy and salty. Mango Ginger Grilling Sauce (bright tropical flavors of mangoes, ginger, coriander and chiles), Chile Pineapple Grilling Sauce (sweet heat from pineapple, garlic and jalapenos) and Peanut Grilling Sauce (a bold, savory sauce of roasted peanuts, organic coconut milk, curry spices and red chiles for a real kick) can be basted onto your food on the grill, or used as a dip for spring rolls and dumplings. $16.95 for a 14-ounce jar at Williams-Sonoma.
Of course, if you don't have an outdoor barbecue, don't fret. Use any of these sauces for any meats or poultry you're roasting in the oven, or on your indoor grill (like a George Foreman or such), too. Or heck, haul out the slow cooker and use them in there. Make them work for YOU!
Pin the image below to your Pinterest board to remind yourself of these sauces throughout grilling season.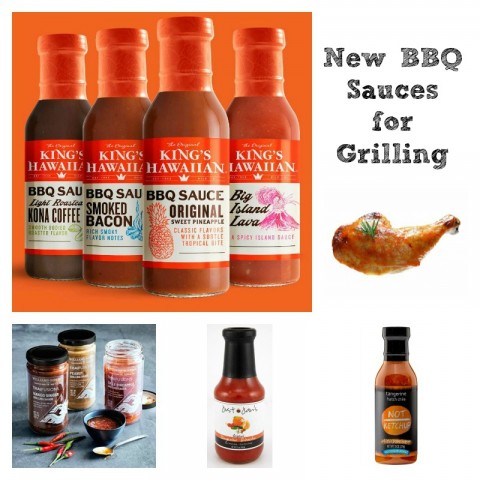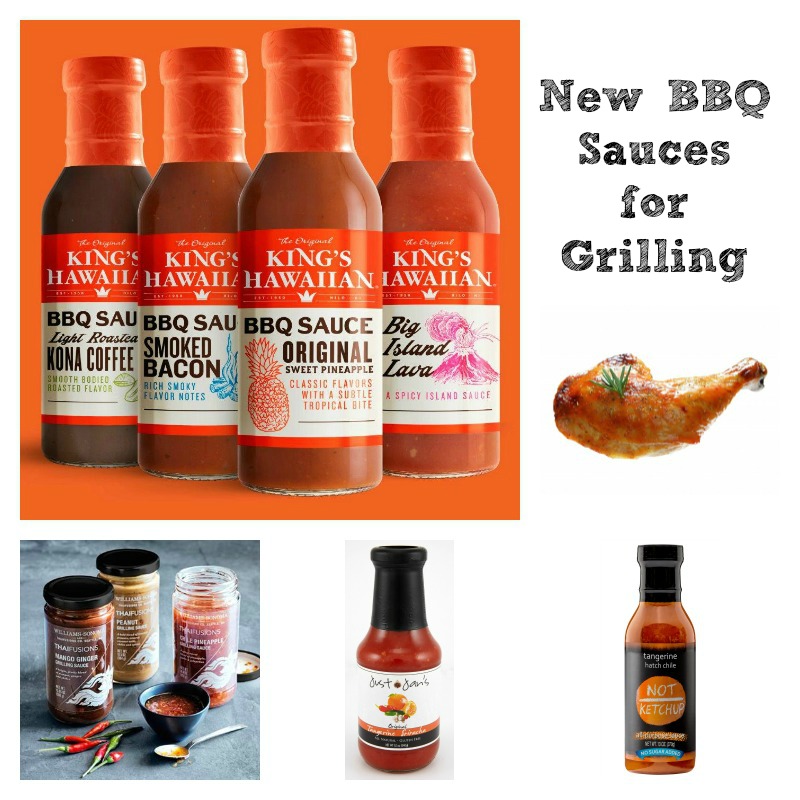 Disclosure: King's Hawaiian, Not Ketchup, Just Jan's and Thaifusions sent the sauces for review.