Print This Post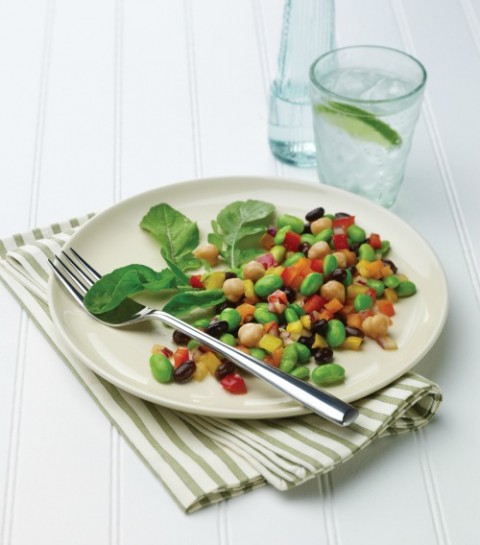 A couple of weeks ago I gave you a wonderful recipe for a healthy and delicious Orzo, Lentil and Fig Salad. I hope you've made it by now, because I have another great salad for you today.
C'mon healthy eaters, or those who are striving to include more healthy meals as long as they are also delicious. That would be me.
I enjoy perusing special diet-friendly cookbooks for the healthy eating lessons within and of course, for the great recipes I can glean.
My latest infatuation is with an Edamame Salad from the cookbook "Healthy Calendar Diabetic Cooking (2nd edition)" by Lara Rondinelli-Hamilton, RD, LDN, CDE and chef Jennifer Bucko Lamplough (2012; American Diabetes Association; $21.95).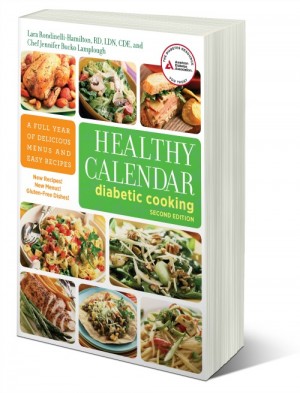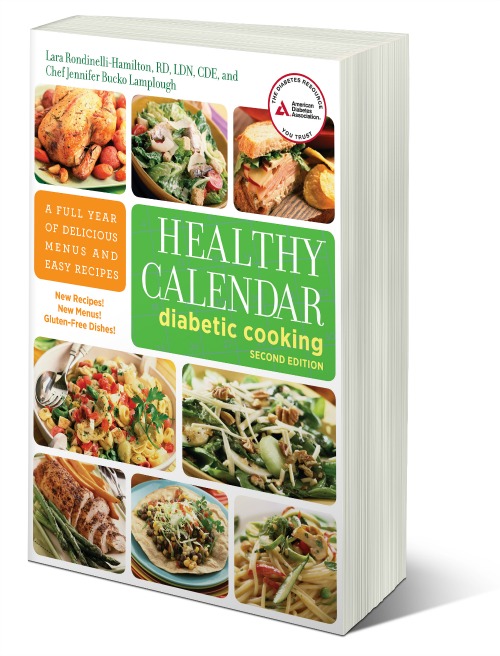 My whole family, including the kids, loves edamame, chickpeas and black beans – the backbone of this salad – so I knew we had a winner. It adds some colored bell peppers for a rainbow, and onion for a sharp flavor, along with a sweet-sour dressing that relies on a reduced amount of oil in favor of some broth. (Good trick!)
Like the prior salad, this one doesn't even hint of "special diet." The recipes for Chili Lime Shrimp, Spicy Sweet Potato Fries, and egads, Chocolate Mousse Pie, are also whispering to me from this book.
If you, like me, want to include more healthy recipes and meals, you've come to the right place. The American Diabetes Association has launched #30DaysofFamilyHealth all this month, and 12 food writers, including me, are participating. Go to Kitchen PLAY to see all of our healthy and delicious recipes, and you can shop for this and other ADA books here.
Discount: Shockingly Delicious readers get a 25% discount off all books in the ADA online store with the code KITCHEN2013, through Oct. 4, 2013.
Giveaway!: In addition, the ADA is hosting a fabulous giveaway on the Kitchen PLAY Facebook page in conjunction with #30DaysofFamilyHealth. Five winners will receive their choice of three of the five cookbooks involved in the series plus a $50 Visa gift card. (Hint: this is a fun puzzle promo, where both the ADA and KP pages must be "liked" to reveal the prizes.)
Recipe: Edamame Salad
Summary: Protein-rich without meat, this sprightly salad is a rainbow of color and flavor. It is best when made the day before and allowed to marinate overnight.
Ingredients
1 16-ounce bag frozen, shelled edamame, thawed

(I used Ready-to-Eat Shelled Edamame from Melissa's Produce)
Dressing
3/4 cup apple cider vinegar
1/4 cup fat-free, low-sodium chicken or vegetable broth
3 tablespoon olive oil
2 tablespoon Splenda Sugar Blend
1/2 teaspoon paprika
1/2 teaspoon salt (optional)
1/2 teaspoon ground black pepper
Salad
1 yellow bell pepper, small dice
1 orange bell pepper, small dice
1 red bell pepper, small dice
1 small red onion, small dice
2 (15-ounce) cans black beans, drained and rinsed
1 (15-ounce) can chickpeas (garbanzo beans), drained and rinsed
Instructions
Cook edamame according to package directions. Drain and rinse in cold water to stop cooking process. Set aside.
In a large salad bowl, whisk together dressing ingredients.
Add cooked and cooled edamame and remaining salad ingredients to dressing and toss gently to coat.
Refrigerate for at least 1 hour before serving.
Source
"Healthy Calendar Diabetic Cooking (2nd edition)" by Lara Rondinelli-Hamilton, RD, LDN, CDE and chef Jennifer Bucko Lamplough (2012; American Diabetes Association; $21.95). Recipe and photo reprinted with permission.
Exhanges / Choices
1 Starch
1 Vegetable
1 Lean Meat
1 Fat
Calories 210
Calories from Fat 65
Total Fat 7.0 g
Saturated Fat 1.0 g
Trans Fat 0.0 g
Cholesterol 0 mg
Sodium 120 mg
Potassium 590 mg
Total Carbohydrate 26 g
Dietary Fiber 9 g
Sugars 6 g
Protein 12 g
Phosphorus 200 mg
Preparation time: 15 minutes
Cooking time: 6 minutes
Diet type: Vegetarian
Diet tags: Low calorie
Number of servings (yield): 10
Culinary tradition: USA (Nouveau)
Disclosure: This post is sponsored by the American Diabetes Association in conjunction with Kitchen PLAY. Melissa's Produce sent the edamame for recipe testing.