Print This Post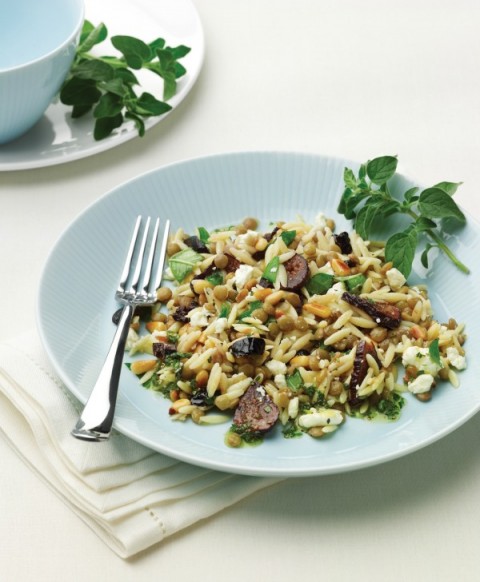 Delicious, healthy recipes turn up everywhere. Just keep your eyes open.
For example, I like to browse cookbooks written for a specific health audience. Even if I don't have that certain condition they're writing about, or no one I'm cooking for has that particular disease, I like to glean what I can from the health and wellness advice, including the merits of that particular eating plan.
So "The Stress Free Diabetes Kitchen," by Barbara Seelig-Brown (2012 American Diabetes Association; $18.95) is right up my alley. Here's a book that gives you useful pantry, fridge and freezer staples to allow you to cook healthfully, in a less stressful way. The author is host of the cooking show, "Stress Free Cooking," so we bow to her expertise!
Although no one in my immediate family suffers from diabetes, it has reared its head among my grandparents; I don't take it lightly. I found more than one idea in each of her chapters that would delight my family, and no doubt will show up on our menus in the days to come. None of it sounds like "diet food" to me.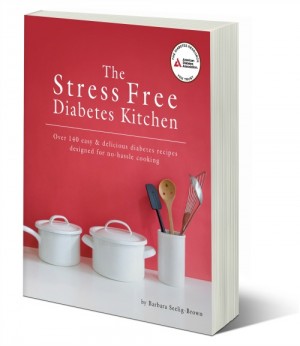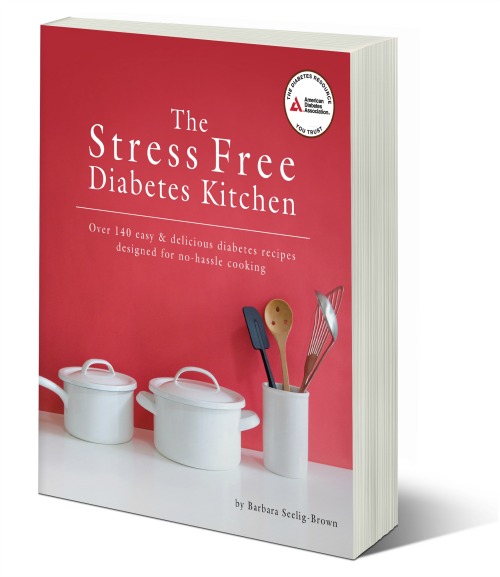 Listen to these: A Basil Spinach Cream (the trick is nonfat cottage cheese instead of mayo!) looks great as a dip or perhaps even a pasta sauce. Cream of Broccoli & Garlic Soup with Asiago & Speck eschews actual cream in favor of a Yukon Gold potato to thicken. An Asparagus & Havarti Quiche goes crustless and employs 2% evaporated milk and fat-free sour cream to good effect. Roasted Root Vegetables with Garlic puts underappreciated parsnips and turnips on the table, and roasting is a great vegetable prep idea. Porcini Mushroom Sauce for Pasta will satisfy meat cravings. Bloody Mary Cornish Hens makes me laugh at the creative idea, but crave the result. And Asian Pork & Bok Choy "Lasagna" is so inventive it is on my menu for next week! Did we forget dessert? She didn't. I can't decide between the Lemon Chiffon with Fresh Berries or the Fresh Picked Apple Crunch Cake.
These are recipes you'll make not just because you should, but because you WANT to.
The one that shouted my name loudest is this Orzo, Lentil & Fig Salad. It includes so many of my favorite ingredients – protein-packed lentils, oil-cured olives, Mission figs, feta, toasted pine nuts and basil and oregano off my window sill.
A bonus is that I can whip it up a day or two ahead of time. That makes weekday suppers all the better, and easier. Dare we say…stress-free?
Recipe: Orzo, Lentil and Fig Salad
Summary: Delicious, healthy flavors of the Mediterranean star in this inventive pasta-lentil salad studded with figs and feta. This recipe is great for picnics, make-ahead meals, or brown bag lunches.
Ingredients
8 ounces uncooked Orzo (rice shaped pasta), or the pasta shape of your choice
1 cup uncooked lentils, preferably French or small dark green
1/2 cup oil-cured black olives, pitted and chopped
1/2 cup dried mission figlets, sliced
1/2 cup crumbled, fat-free feta cheese
1/2 cup toasted pignoli nuts (pine nuts)
Additional herbs for garnish (basil)
Dressing:
3 tablespoons white balsamic vinegar
2 cloves garlic, minced
1 tablespoon fresh oregano, chopped
1/2 cup fresh basil leaves, torn
Fine sea salt
Freshly ground black pepper
6 tablespoons extra virgin olive oil
Instructions
Cook orzo according to package directions, about 9 minutes.
Cook lentils in 3 cups water until tender, about 20 minutes.
Make dressing: Place balsamic vinegar in bowl. Add garlic, oregano, basil, a pinch of sea salt, and a few grindings of pepper. Slowly whisk in olive oil. Set aside.
Mix orzo, lentils, olives, figs, cheese, and nuts together in a large bowl. Add dressing and stir gently to combine. Taste and adjust seasonings.
Garnish with fresh herbs before serving.
Source
"The Stress Free Diabetes Kitchen," by Barbara Seelig-Brown (2012; American Diabetes Association; $18.95). Recipe and photo reprinted with permission.
Exchanges / Choices
2 Starch
1 Fruit
1 Lean Meat
3 Fat
Calories 395
Calories from Fat 180
Total Fat 20.0 g
Saturated Fat 2.2 g
Trans Fat 0.0 g
Cholesterol 0 mg
Sodium 435 mg
Potassium 415 mg
Total Carbohydrate 44 g
Dietary Fiber 8 g
Sugars 10 g
Protein 13 g
Phosphorus 250 mg
Preparation time: 15 minutes
Cooking time: 30 minutes
Diet type: Vegetarian
Number of servings (yield): 8
Culinary tradition: USA (Nouveau)
If you, like me, want to include more healthy recipes and meals, you've come to the right place. The American Diabetes Association has launched #30DaysofFamilyHealth all this month, and 12 food writers, including me, are participating. Go to Kitchen PLAY to see all of our healthy and delicious recipes, and you can shop for this and other ADA books here. Discount: Shockingly Delicious readers get a 25% discount off all books in the ADA online store with the code KITCHEN2013, through Oct. 4, 2013.
Giveaway!: In addition, the ADA is hosting a fabulous giveaway on the Kitchen PLAY Facebook page in conjunction with #30DaysofFamilyHealth. Five winners will receive their choice of three of the five cookbooks involved in the series plus a $50 Visa gift card. (Hint: this is a fun puzzle promo, where both the ADA and KP pages must be "liked" to reveal the prizes.)
Disclosure: This post is sponsored by the American Diabetes Association in conjunction with Kitchen PLAY.