Print This Post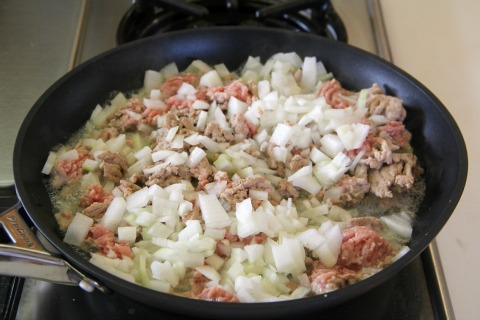 1. Favorite skillet: My #1 most-used pan is my 12-inch nonstick skillet. I use it every single day, often several times a day, for a variety of uses — cooking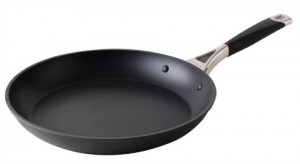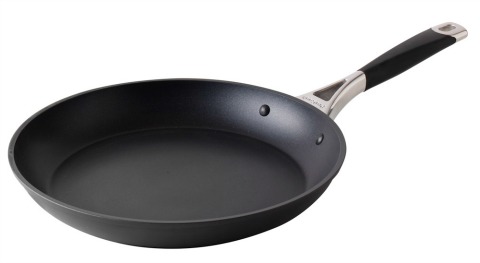 onions, browning meat, toasting nuts, one-skillet meals, a quick saute for fish, stir-frying vegetables, you name it. If it is eligible to be cooked, it has probably seen the inside of my skillet. My favorite skillet of the last 5 years (!) is the ProCook Elite Forged 12″ Frypan. It's exactly the kind of workhorse every family needs — extremely high quality, sturdy, useful, with an excellent nonstick interior. A honeycomb steel base gives good heat distribution, and the silicone grips stay cool. It's oven-worthy up to 500 degrees F. ProCook is a British cooware company. They have two U.S. stores (Kittery, Maine and Merrimack, New Hampshire), and an online store, too. $90.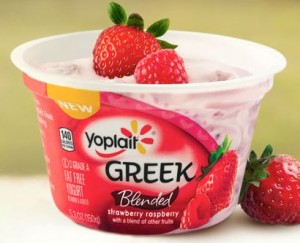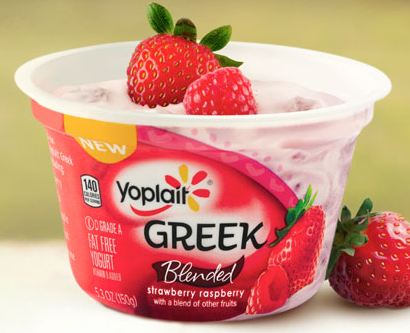 2. New Greek yogurt: Nearly half of all yogurt sold in the U.S. is Greek yogurt, and Yoplait has gotten into this super hot category with a new product, Yoplait Greek. They offer six fat-free flavors – Blueberry, Coconut, Pineapple, Strawberry Raspberry, Tangerine and Vanilla – all with 150 calories or less per serving and 100% more protein than regular yogurt (11g of protein per 5.3 oz. versus regular non-Greek yogurt's 5g of protein). We fell in love with the Strawberry Raspberry, which also has cherries and cranberries to augment all the red goodness. It's gluten-free and gelatin-free, as well. Yum! $1.29 per 5.3-ounce cup.


3. Surf's up! We're deep into the surf culture here in beach land, so this new bamboo surfboard serving/cutting board is beyond perfect, brah.  It's made from beautiful bamboo wood with two-tone inlays, and makes a unique server for appetizers or party foods, cheese, or whatever you can imagine! (The other night my menehune used it to serve sushi, and we congratulated ourselves on the irony.  😎 ) Bambo is one of the fastest growing, sustainable natural materials on the planet; it's durable, lightweight, and pretty, which makes it a good alternative to endangered exotic hardwoods. The Surfboard comes in two sizes: 23" x 7.5 x 5/8"  ($24.99) and the Li'l Surfer, 14.5" x 6" x 5/8" ($12.99), from Totally Bamboo. We're amped on it. It's totally chocka, dude.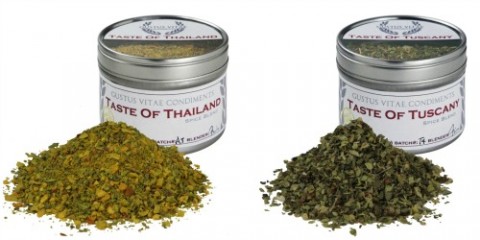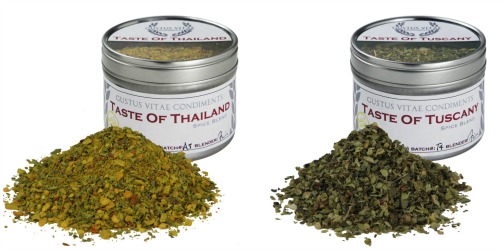 4. New herb blends: If you're an adventurous home cook, no doubt you have a shelf of herb and spice blends that you collected here and there. Do you ever use any of them up? I am nearing the bottom of two blends from a new artisan spice company in Venice, Calif. called Gustus Vitae Condiments. Their salt-free Taste of Thailand and Taste of Tuscany are so delicious and versatile, I found myself using them all the time. Thailand (ginger, basil, 3 peppers, cumin, cardamom, garlic, sugar, onion, cilantro, turmeric extract and garlic oil) went on chicken thighs in the oven three weeks in a row, and on also was a good rub for oven-roasted sweet potatoes. Tuscany (basil, oregano, 3 peppers, garlic, fennel and rosemary) got thrown into mashed potatoes, onto steak, in cooked pasta, on roasting vegetables, etc. These are seriously good, well balanced flavors, and you will use them all the time. The company employs American-made tin, recycled paper and magnets (they stick to your fridge!) in the packaging, and uses primarily American (mostly Californian) grown ingredients. $8 each.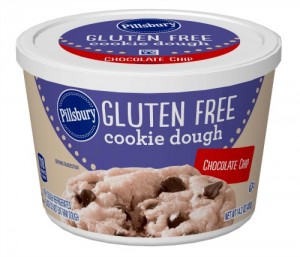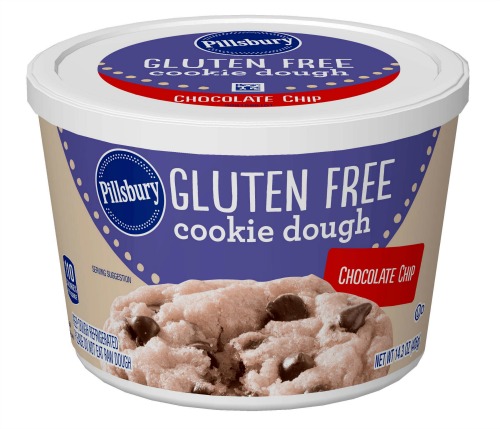 5. Gluten free cookie dough: Let's face it, this new Pillsbury Gluten Free Chocolate Chip Cookie Dough is dangerous. It's so good, you won't be able to tell it's not regular dough. It made wonderful, classic chocolate chip cookies! I should be able to tell you how many cookies I got from the container, except I caught my teen daughter and her friend with spoons, the open tub, and happy faces one night. So let's just say it's worthy of eating raw, as well. I think you could also stir chunks of it into vanilla ice cream to make a very good cookie dough ice cream. I'm not saying I did that, and I'm not saying I didn't. Sold for $4.49 in 14.3-ounce tubs in the refrigerated case at the grocery store. You have been warned.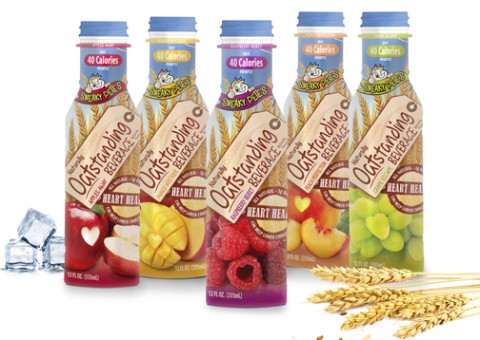 6. Oat bran drink: Let's get this straight…there's a brewed oat drink that has the same amount of soluble fiber as a bowl of oatmeal (3g), is low-sodium(15mg), low-calorie (40 per 12 oz.), has no preservatives or artificial colors, and tastes refreshing. Yes, we said oats! Sneaky Pete's Oat Beverage comes in apple, mango, peach, raspberry and grape, sweetened by natural stevia, erythritol and evaporated cane juice. We enjoyed it straight up, over ice, but it can also be heated for a comforting drink. I think it would be good as the liquid in a green smoothie, since green smoothies often need a touch of sweetness to counteract the bitter greens.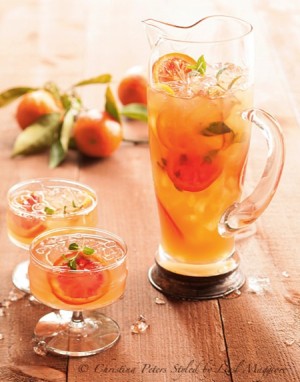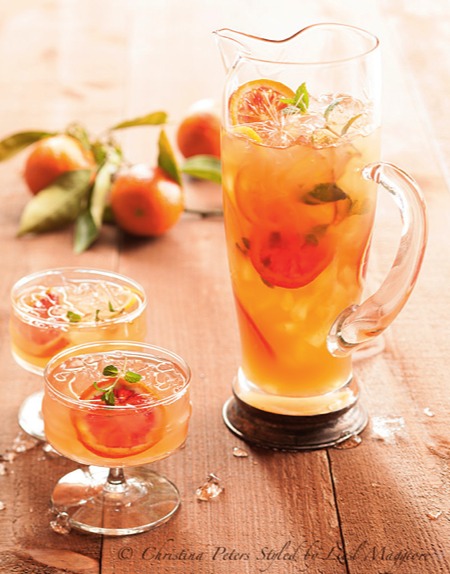 7. Food photography: Food bloggers, of course, are lifelong students of food photography. One of the best professional food photographers in the business lives nearby in L.A. Christina Peters teaches classes through her company, MDR Photography, and now she has established a helpful food photography blog. I took her class in natural lighting, and can say with authority that she has an uncanny way of reaching even students with the thickest skulls. (That would be me.) F-stop, ISO, shutter speed…she discusses it all on her blog. If you want to improve your photography, you owe it to yourself to spend some time there.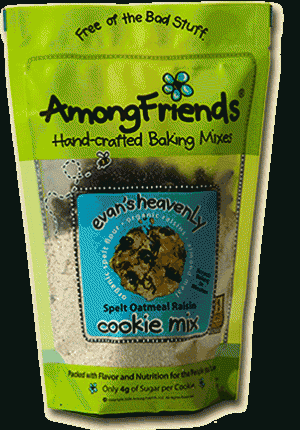 8. Hand-crafted baking mixes: Speaking of cookies, the phrase "healthy cookie" should not be an oxymoron. A new "clean" baking mix, Evan's Heavenly Spelt Oatmeal Raisin Cookie Mix, puts the lie to the notion that cookies have to be junk food, with higher protein and fiber, and lower sugar and a low glycemic index. This makes a very good oatmeal raisin cookie with flax, almond meal and spelt — an ancient grain that is having a resurgence now. I followed the directions on the package, except I used half light olive oil and half coconut oil in place of the butter called for. They were wonderful! About $6.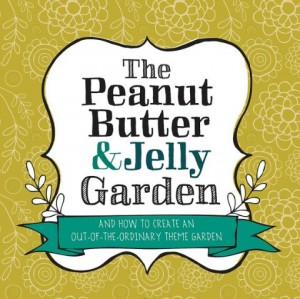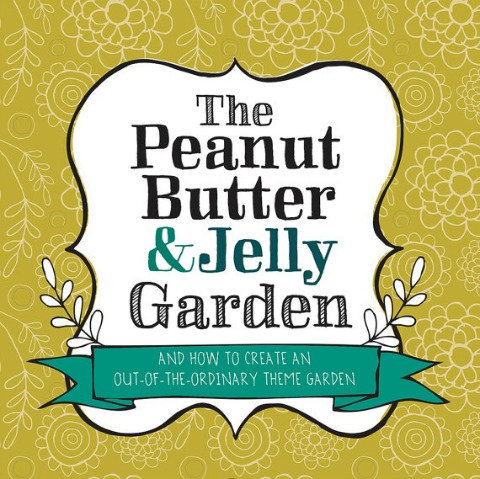 9. Garden design: When we would like to create or update our landscaping or garden, most of us don't know where to begin. We get distracted by stuff (the table, the fence), and decisions like what plants to choose, how much water everything needs, etc. A new ebook called "The Peanut Butter and Jelly Garden," by professional landscape architect and artist Lisa Orgler, solves all of it. She guides gently, taking you artistically through a real example of how to choose your theme, colors, planting materials, hardscape and other matters of taste and practicality. It comes as a PDF, and includes 67 full color pages. This will allow you to be creative, but still have a plan — the best of both worlds. She's a wonderful resource, and you can download it free here.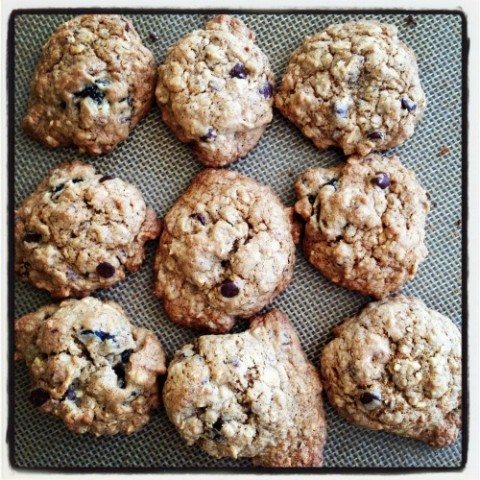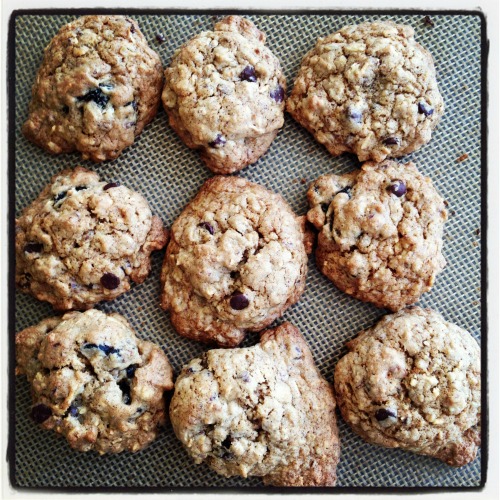 10. Cereal cookies: If "you are what you eat," then lately I am three kinds of oats, dried cherries, shredded coconut, flaxseed, almonds, sunflower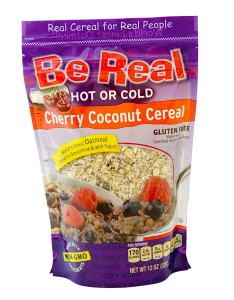 kernels and cinnamon. That's what's in Be Real Cherry Coconut Cereal, which I have been eating as a delicious cold muesli in the morning with milk, until I discovered what a good cookie it made! You use the cereal as the base, and with a couple of additional ingredients, voila, you emerge with a tasty, not-too-sweet, interesting oat cookie. Of course, adding flour adds gluten, so if that's a concern for you, then just eat Be Real as a cold or hot cereal. A 12-ounce package is about $4. Here's the cookie recipe, if you dare. I think you should.
Recipe: Be Real Cookies
Summary: Be Real Cereal makes a delicious base for a healthy oat cookie.
Ingredients
3 ounces (6 tablespoons) canola or vegetable oil
5 tablespoons dark brown sugar, packed tightly
2 1/2 tablespoons white sugar
1/2 teaspoon vanilla extract
1 egg
5 tablespoons whole wheat flour
6 tablespoons all purpose flour
1/2 teaspoon baking soda
1 1/2 cups Be Real Cherry Coconut Cereal
3 tablespoons mini chocolate chips (optional)
Instructions
Heat oven to 350 degrees. Mix sugars and canola oil together on low speed in your mixer, for 3-4 minutes.
Add the vanilla, followed immediately by the unbeaten egg. Mix a couple of minutes or until it is as smooth as possible. If there are a few specks of brown sugar still visible don't worry about it.
Stir the flours and baking soda together and add it to the oil and sugar mixture. Mix until it is smooth. Add the cereal. This is a heavy, dense batter. Mix until everything is combined. If you would like to make these chocolate chip cookies, mix the chips into the batter.
On an ungreased cookie sheet use a rounded teaspoon of batter for each cookie. Bake at 350 degrees for 7-8 minutes or until they are LIGHTLY browned on top. Allow them to cool for 2-3 minutes before removing them from the cookie sheet. Place them on a baking rack to cool.
Makes 30 cookies.
Preparation time: 10 minutes
Cooking time: 8 minutes
Diet type: Vegetarian
Number of servings (yield): 30
Culinary tradition: USA (General)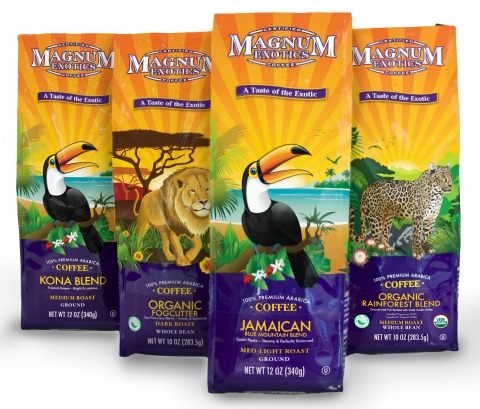 11. Exotic new coffee: Step aside, Starbucks, there's a new coffee in town. It's Magnum Exotics, a new high-end global coffee line introduced at Bristol Farms stores in California, with plans for the rest of the country next year. With four new globe-trotting Arabica blends, this isn't any old generic home brew. There's cool, clean Jamaican Blue Mountain, nutty and bright Kona Hawaiian blend, Organic Rainforest Blend and smoky Organic Fogcutter. Magnum Exotics are committed to fair price, direct trade, community development, fair labor conditions, democratic and transparent organizations, and environmental sustainability. That's a mouthful, and so is the taste. $9.99.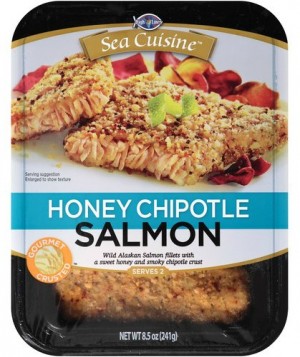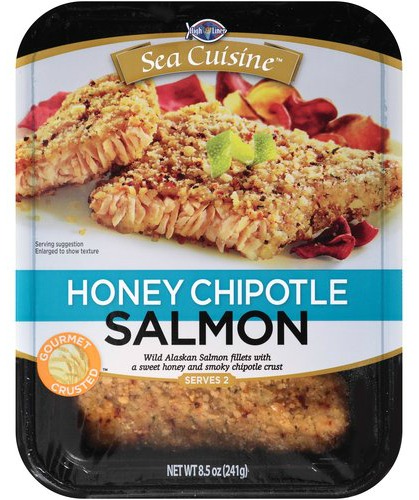 12. Easy fish: Chef Stefan Richter introduced me to the brand Sea Cuisine, and now my family is in love with their Honey Chipotle Salmon. It goes from the freezer to the table in 20 minutes, or if you remember to transfer it from the freezer to the refrigerator in the morning, you can cut the baking time down to 13 minutes. It's a touch sweet, a tad hot, with a very light crunchy coating. We are eating it as a fillet with vegetable side dishes, or on a bun in a fish sandwich. Brain food! Look for it at Wal-Mart, Ralphs and other grocery stores.
Disclosure: ProCook, Yoplait, Totally Bamboo, Gustus Vitae Condiments, Pillsbury, Sneaky Pete's, Be Real Cereal, Among Friends, Magnum Exotics and Sea Cuisine sent products for review.