Print This Post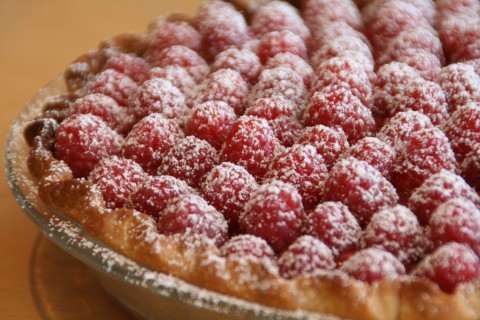 The most popular post on my site is my Fresh Blueberry Pie, and with good reason. It celebrates the berry at the height of the season, nearly au naturel. Oh, and it's pie. Let's not forget that.
With memories of that swirling deliciously in my head, I wondered if I could duplicate the magic with raspberries. Would it work and, most importantly, would it be scary good like the blueberry pie?
Yes and yes!
When life hands you fresh raspberries during raspberry season, please make this pie. It's the best raspberry pie this pie girl has eaten.
Recipe: Dorothy's Fresh Raspberry Pie
Summary: A berrylicious Fresh Raspberry Pie showcases supremely fresh berries at the height of the season. The only thing baked here is the pie shell!
Ingredients
3/4 cup sugar
3 tablespoons cornstarch
1/4 teaspoon salt
2/3 cup water
2 teaspoons Chambord (raspberry liqueur)
5 3/4 cups fresh raspberries, divided use (best made with fresh, not frozen berries)
1/4 teaspoon almond extract
2 tablespoons butter (not margarine)
1 teaspoon finely grated lemon zest (yellow only, not white part)
9-inch pie crust, blind-baked and cooled
Instructions
In a medium saucepan, combine sugar, cornstarch and salt. Blend in water, Chambord and 2 cups raspberries. Bring to a boil, stirring and smashing half the berries deliberately (use a potato masher a few swipes if you like). Boil, stirring constantly, until mixture is very thick, a minute or so. Remove from heat and stir in almond extract, butter and lemon zest. Cool. (See note below about fast cooling.)
Gently fold in 2 1/2 cups raspberries, coating them well. Scoop into cooled baked pie shell. Arrange remaining 1 ¼ cups of fresh berries over top (there may be a few left over, but I want you to be sure to have enough). Cover with plastic wrap and chill at least 3 hours, or overnight if needed.
Serve plain, or with whipped cream, vanilla ice cream or frozen yogurt. To serve, remove pie from refrigerator and serve chilled or let it sit on the counter for a few minutes to take the chill off (my preference). Sift powdered sugar over top for pretty.
Serves 8.
Preparation time: 30 minute(s)
Cooking time: 15 minute(s)
Number of servings (yield): 8
Culinary tradition: USA (Nouveau)
My rating 5 stars:  ★★★★★ 1 review(s)
Note: A quick way to cool the filling before adding the rest of the raspberries is to fill a large salad-type bowl with ice and water. Partially submerge the hot pot with the cooked raspberries in this cold bath, stirring every once in awhile, and in 5 or so minutes it will be sufficiently cooled to continue with your recipe. You can also just set the pan on an unused burner while it cools off, but the cold water bath is much faster and lets you get your pie in the refrigerator more quickly if time is important.
A word about the pie shell: Let's be practical. If what stands between you and this pie is your fear of making and rolling out pie dough, then buy a pre-rolled shell. For this, I prefer Pillsbury in the red box in the refrigerated section at the grocery store. Don't give it another thought; just buy the shell and make this pie and celebrate yourself as the culinary queen you are!