Print This Post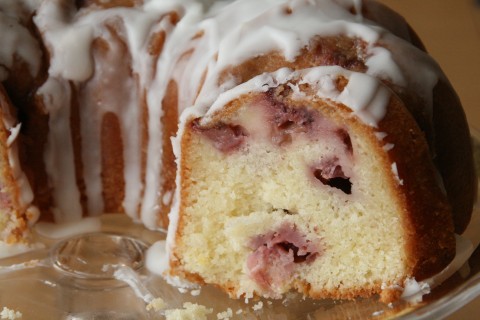 Delicate and delicious, sturdy and substantial — can a cake be all of these things at once?
This one can. Mostly delicious, though, with strawberries at the peak of their season studding a fragrant cake made tender with yogurt.
The less said about this one, the better, so you have more time to scamper into the kitchen and make it.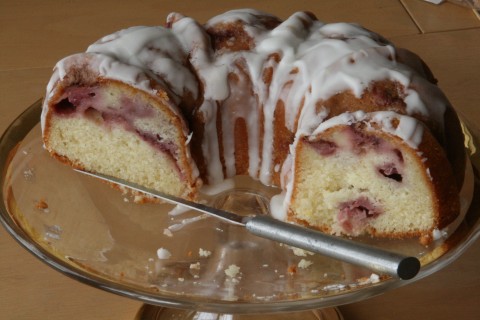 Eat with your eyes!
I wrote a Malibu Taste column about this cake here at Malibu Patch, so you can read more about it there if you like.
But really, go turn the oven on and let's get in the kitchen. Time's a' wastin.'
Recipe: Fresh Strawberry Yogurt Bundt Cake
Summary: A delicious, addictive, fresh strawberry Bundt cake with Greek yogurt, topped with a lemon glaze to keep it moist.
Ingredients
2 1/2 cups all-purpose flour
1/2 teaspoon baking soda
1/2 teaspoon salt
Zest of 1 lemon
1 cup (2 sticks) butter, at room temperature*(see note above about butter)
2 cups sugar
3 eggs
1 tablespoon lemon juice
1 teaspoon almond extract
8 ounces plain or vanilla Greek yogurt
12 ounces fresh strawberries, diced
GLAZE
1 1/4 cups powdered sugar
1-2 tablespoons lemon juice
Instructions
Heat oven to 325 degrees. Grease and flour a 10-inch Bundt pan and set it aside.
In a bowl, stir together flour, baking soda and salt. Mix in the lemon zest and set aside.
With an electric mixer, cream together the butter and sugar until light and fluffy. Beat in the eggs one at a time, then stir in lemon juice and almond extract. Alternate beating in the flour mixture and the yogurt, mixing just until incorporated. Gently stir strawberries into the batter.
Pour the batter into the Bundt pan. Bake for 70-75 minutes, or until a wooden pick inserted into the center of the cake comes out clean.
Allow to cool 25 minutes in the pan, then turn out onto a wire rack and cool completely. Once cooled, whisk together the powdered sugar and lemon juice in a small bowl. Drizzle glaze over top of the cake, letting it drip down the sides.
Makes 12-16 slices.
Quick notes
If I have them, I use Meyer lemons for the juice and the zest, for an extra special flavor. If not, ordinary lemons are fine. If you use unsalted butter, add another ½ teaspoon salt to the recipe.
Preparation time: 15 minutes
Cooking time: 1 hour 15 minutes
Diet type: Vegetarian
Number of servings (yield): 12-16
Culinary tradition: USA (General)
My rating 5 stars:  ★★★★★ 
I'll save a piece for you.