Print This Post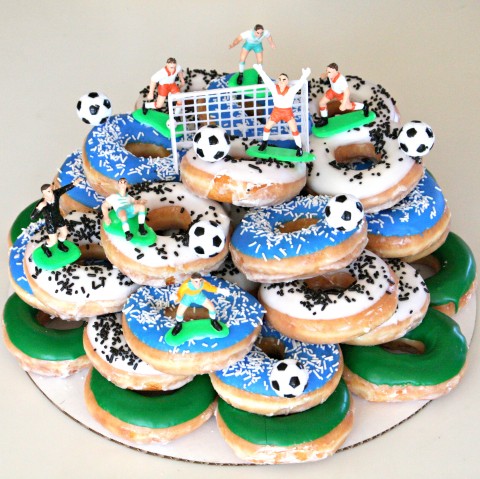 You'll have a HUGE WIN with a Donut Cake, which is simply decorated donuts arranged in stacked tiers. My son considers this Donut Soccer Cake the best cake of all time.
It pains me to say this, but….
Best. Birthday. Cake. EVER!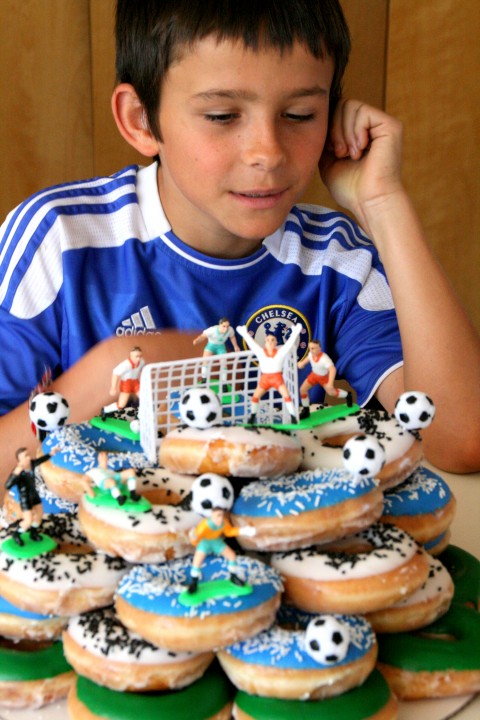 We foodies pride ourselves on hand-making all birthday cakes, no matter how humble. We know that a homemade cake is far superior to a store-bought cake, no matter how fancy the store. It just is.
So imagine, if you will, my pain, when I asked my about-to-be-10 son what flavor cake he wanted for his party.
"Not to hurt your feelings, Mom, but could I have a donut cake?"
Gulp.
What's that, I wondered?
"You go to the Krispy Kreme store and order it!" he chirped.
Acccck! And let me say that again, only louder for those in the back row…ACCCCK!
I swallowed my pride, we ordered it, and on party day, picked up this lovely creation — 36 regular glazed donuts, then frosted with colored frosting on top of that, some with sprinkles, stacked up in rows, topped with some soccer figures the manager bought at Michaels. We gasped at how cute it was when we saw it.
PROS of the Donut Cake
Easy — pick up the phone or visit the store.
Personalized — you choose the donut varieties you like, the frosting colors, the decorative elements and the size.
Easy to serve — there are no knives needed to cut it.
No fussy kids — each partygoer grabs a donut after you blow out the candles. Party kids can choose whatever color suits them, rather than begging the cake cutter for a frosting rose, a small piece, a big piece, an end piece, a middle piece, whatever.
CONS of the Donut Cake
None, other than the obvious two, listed below.
Insulin shock. Can we say double frosting (the regular glaze topped with colored frosting).
Leftovers. You don't want these left on your counter at home. Because then you will eat them. And eat them. And eat them, until they are gone. Advice: make the partygoers eat them all! Or send little bags of donuts home with people.
OVERALL: A huge win!
How to make the Donut Cake yourself
1. If you are the donut-making sort, you could no doubt make this Donut Cake from scratch yourself.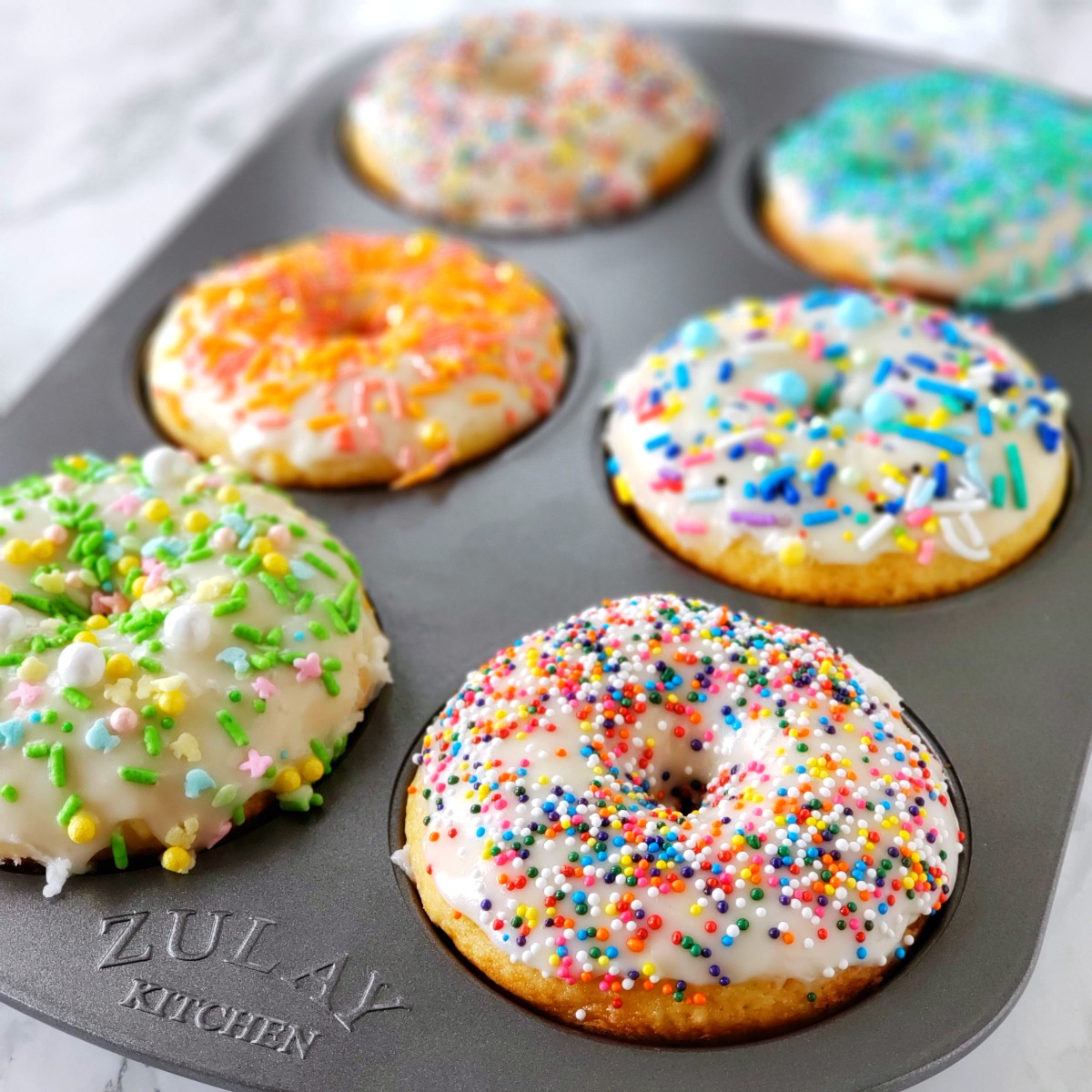 2. Make a basic donut, such as this Baked Donut version. ⇑ Flavor it vanilla, or use another extract (lemon? almond?) favored by your party person.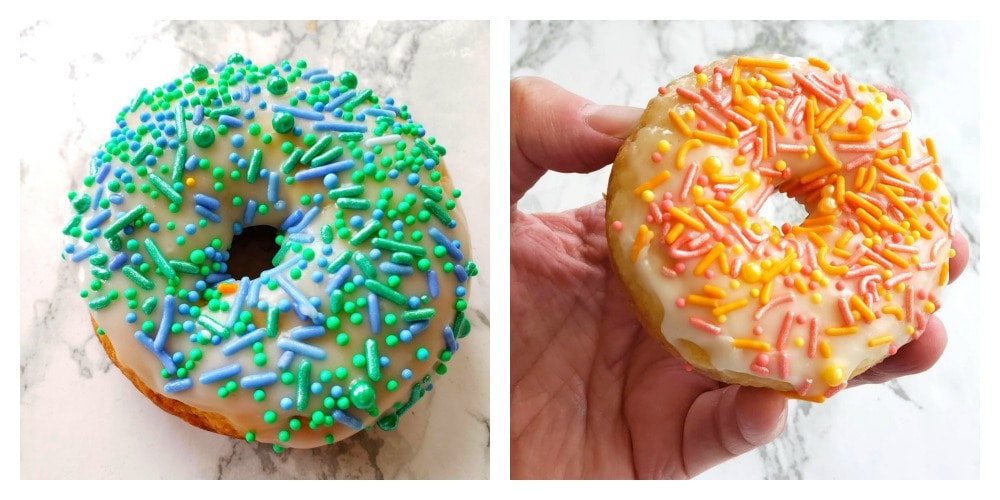 3. Decorate it as you like, with whatever colors suit the party person.
4. Stack by making a big circle on the bottom tier, then a smaller circle atop that, and an even smaller circle atop that. Decorate with candles and little figures on top if appropriate.
Pin the image below to your Pinterest board to save this idea!
Thanks for visiting…are you hungry for more? Follow Shockingly Delicious on…
FACEBOOK | PINTEREST | INSTAGRAM | TWITTER
…for all the latest recipes, ideas and updates!
This post may contain affiliate/referral links. It is a way for this site to earn advertising fees (at no cost to you) by advertising or linking to certain products and/or services that I approve and prefer.