Print This Post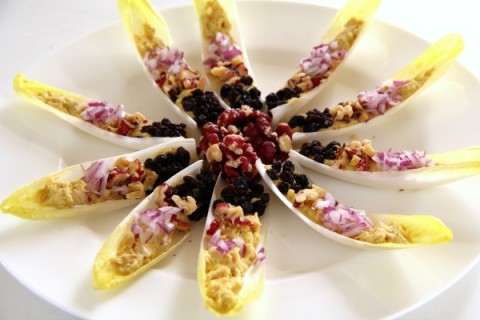 When I make appetizers for a party, I'm thinking of several things.
They should be substantial enough so that those imbibing won't get tipsy before dinner. They need to have some heft to them.
They should be easy to pick up and eat, without fussing with forks.
These days, they might need to be allergy-friendly, such as lactose-free. For example, it's easy enough to make anything more delicious by throwing, say, cheese on it, but if everything has cheese on it, some people are left out of the fun.
They should be pretty.

Always

. Pretty food is fun to eat.
So when Green Valley Organics announced they had come out with a new product – real dairy lactose-free cream cheese – and asked me to create a recipe that showed it off — I immediately thought of an appetizer. That's what we all need a lot of in November/December, eh? I've used endive spears lately for a couple of different appetizers…
…and I wanted to use endive again. It follows my appetizer rules 2 and 4.  😛
Even though I am not lactose-intolerant, I really like the Green Valley Organics Lactose-Free Cream Cheese (available at Whole Foods). It has a clean, slightly tart dairy flavor, and lacks nothing in the taste department, so it's a win-win. It's also a bit softer than regular brick cream cheese, so suits those recipes where you are asked to soften the cream cheese before using; you won't have to soften this cream cheese. I also like the packaging, since if you don't use it all, you can easily snap the lid back on, which is problematic with brick cream cheese wrapped in foil. A couple of other key reasons I think it tastes good: It contains no additives, fillers, gums or added sugar, and has live and active cultures; it's also kosher and gluten-free.
My inspiration for this appetizer was sunflowers.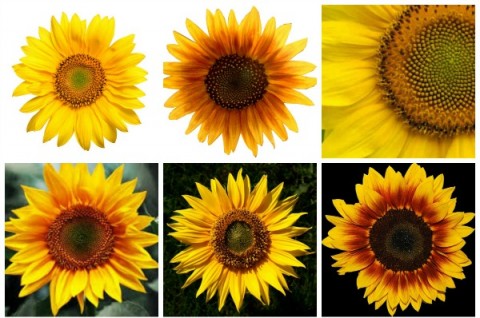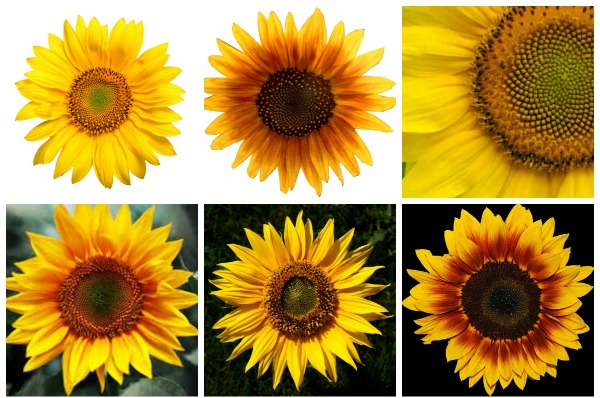 How do you think I did?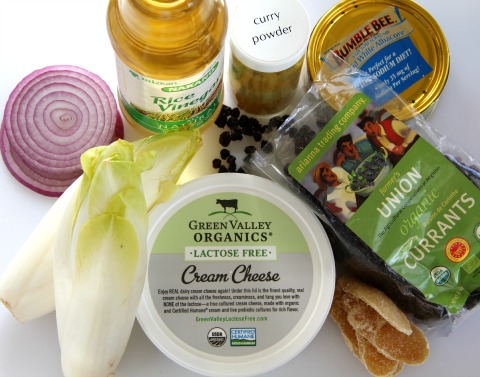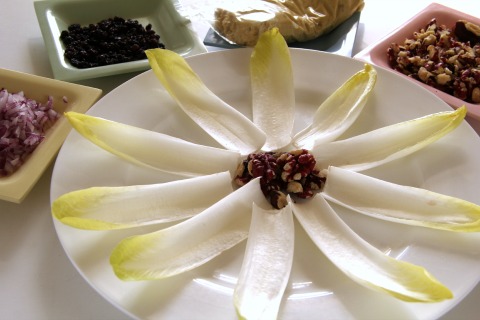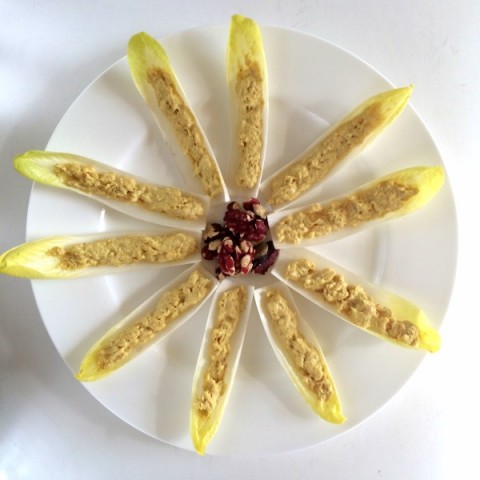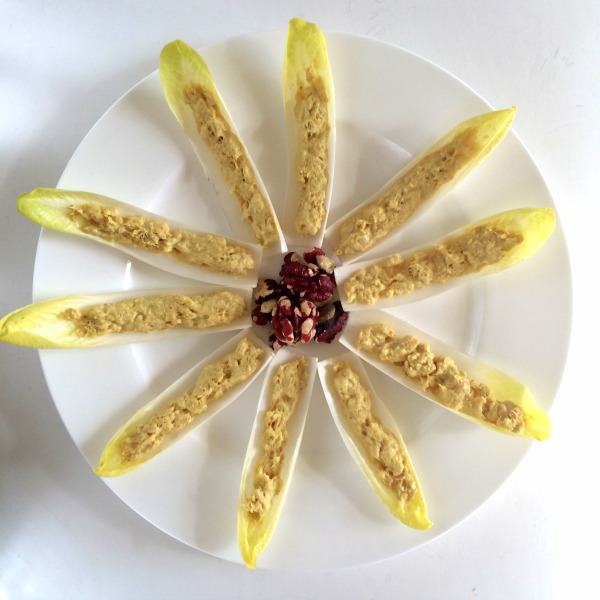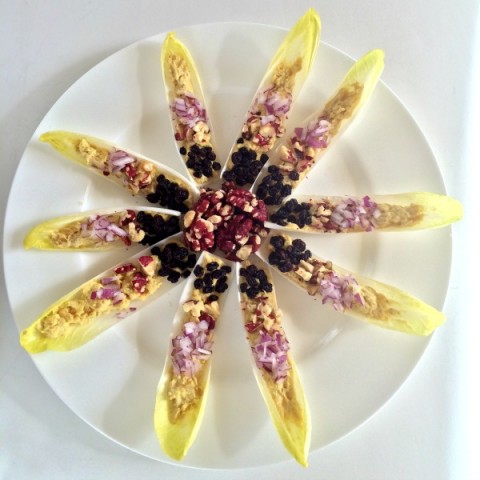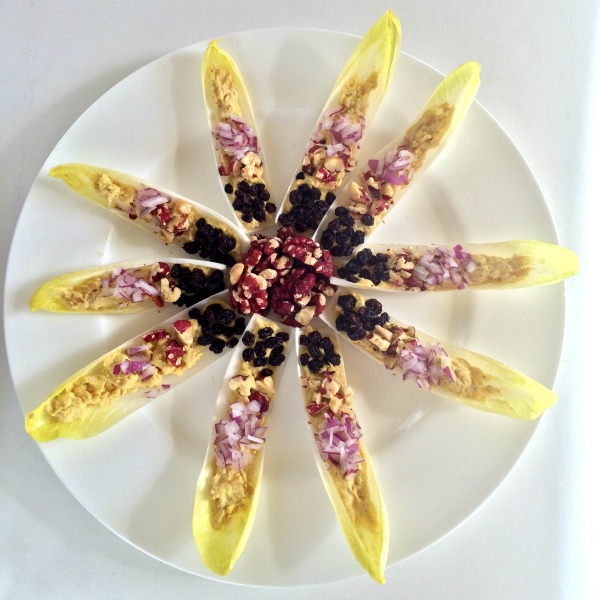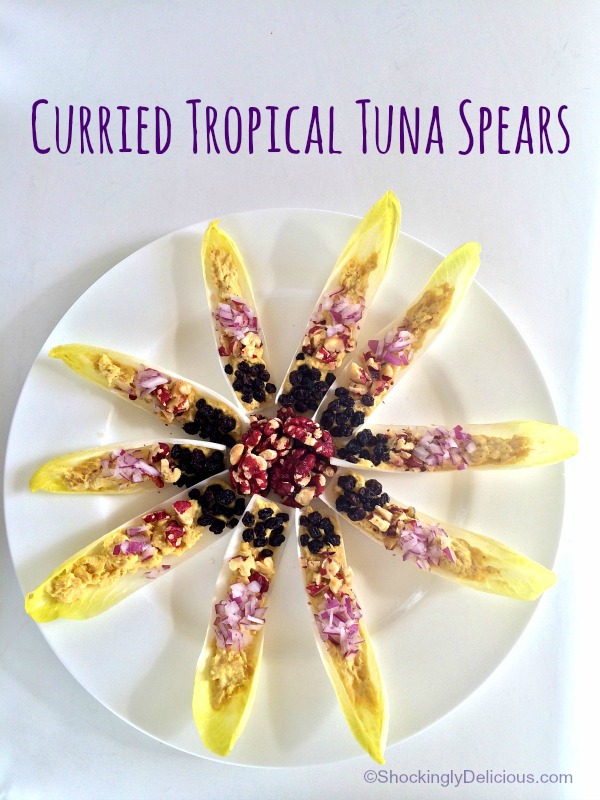 Curried Tropical Tuna Spears
Lively additions of candied ginger, curry, onion, currants and walnuts make this tuna endive appetizer one to remember!
Ingredients
1 (8-ounce) container Green Valley Organics Lactose Free Cream Cheese
2 (5-ounce) cans tuna in water, well drained (I used low-sodium tuna; suit yourself)
1 1/2 teaspoons curry powder
2 teaspoons rice vinegar
1 1/2 teaspoons Dijon mustard
3 tablespoons finely minced crystallized ginger
3-4 drops Tabasco Habanero or other hot sauce
4 heads endive

Garnishes

1/4 cup minced red onion
1/4 cup currants
1/4 cup chopped Red Walnuts (or nut of your choice), plus extra walnut halves for the center of the "flower"
Directions
Make the tuna mixture:

In a bowl, add ½ cup cream cheese (save rest for another use), tuna, curry powder, rice vinegar, Dijon, ginger and hot sauce. Mix well to combine. (I used a KitchenAid mixer to mix it all well on low speed, but you can certainly do it by hand if you like. Just get it well mixed.)
Spoon some of the tuna mixture into a small zipper-top plastic bag, zip it shut and snip off a bit of one corner. This is now your piping bag.
Cut ¼ inch off the end of the endive heads, and peel endive leaves off. Arrange endive leaves on a big plate, in a flower petal pattern. Get garnishes (red onion, currants, chopped walnuts) ready.

Make the spears:

Squeeze out a line of tuna mixture along the center of each endive leaf. Sprinkle currants at the end near the center of the flower, followed by walnuts, followed by red onion (or whatever order you prefer).
You can certainly plate these on a horizontal platter, but you won't get the same sunflower effect. The taste, however, will be just as wonderful!
Make as many as you like. If you have leftover tuna mixture and you're done making spears, mix in some chopped onion and currants and store the leftover tuna in the refrigerator. Make a sandwich out of it the next day, or serve a scoop of it atop some greens for a nice salad. Sprinkle with walnuts.
Makes 30-40. Serves 16-20, depending on appetites.
Notes
Recipe source: Dorothy Reinhold | Shockingly Delicious
https://www.shockinglydelicious.com/curried-tropical-tuna-spears/
Copyright Dorothy Reinhold | ShockinglyDelicious.com. All rights reserved.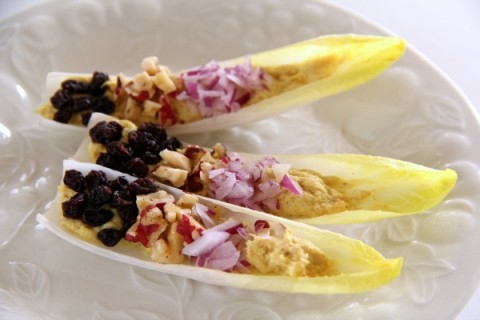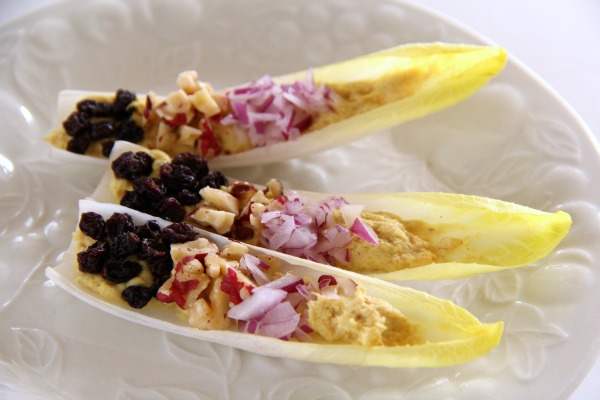 Other recipes that use this cheese: