Print This Post
Today please welcome my long-time friend Cassy Muronaka. I've invited her to show us her expertise on how to air-dry persimmons. Cassy and I met when we did some heavy lifting in the journalism trenches at Southern California newspapers more than a decade ago. Her post below makes me miss her even more!

By Cassy Muronaka
Last year when I posted on Facebook a photo of my persimmons drying in my living room, Dorothy asked me why I did it that way, and more importantly, HOW I did it. She pestered me for the better part of a year, and now that it is persimmon season again, I'm happy to share with you my technique.
It is borne of necessity.
My Fuyu persimmon tree produces an abundance of fruit, and over the decades, I have constantly sought ways to preserve the harvest. It also kills me to let perfectly good fruit go to waste just because I can't keep up with it.
Some years ago when I discovered that dried persimmons taste like dried dates, I became a much bigger fan of persimmons than I previously had been. So during the last several years my dehydrator has been very busy drying Fuyus that I simply sliced up and layered on dehydrator trays. The results I ate and gifted to friends who like them; I even sent some to France one year.
Planting a persimmon tree in the back yard was not my idea. I inherited it. My husband and I live in the house in which he was raised, and it was his father – a Japanese-American, like my husband – who put it in the ground half a century ago. His foresight has been my good fortune.
Hoshigaki
Now the tree's fruit are about ripen, and for the second year in a row, I have abandoned the dehydrator in favor of a technique that goes back hundreds of year, long before electric hydrators were invented. It's called "Hoshigaki." This process involves skinning the fruit and hanging the fruit to air-dry in a sunny window for several weeks.
It's not any harder than using a dehydrator. As long as you can tie a knot to a tree branch end, you can dry a Japanese persimmon.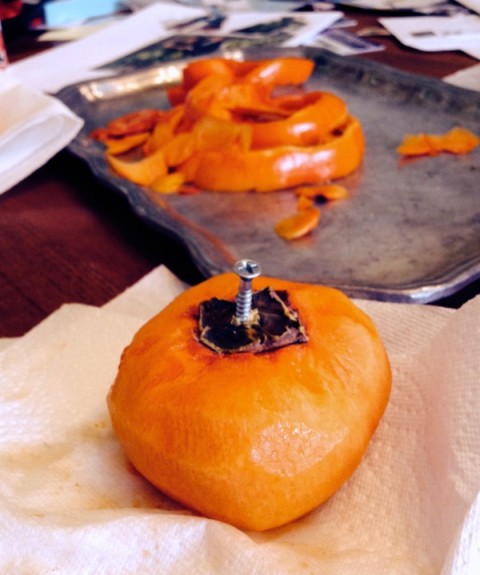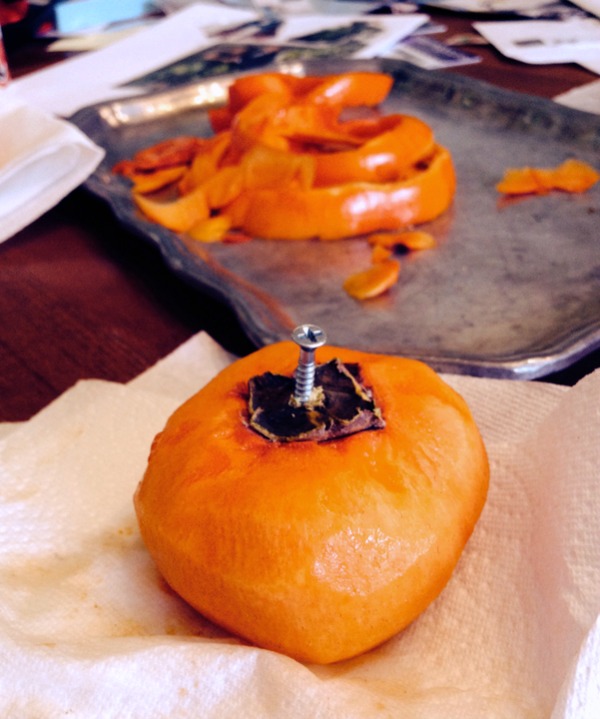 If you don't have a branch end on any of your persimmons, a metal screw can be inserted into the top into any persimmon. I raided my husband's tool chest for a few of these last year. I also stole the metal towel rack out of his bathroom.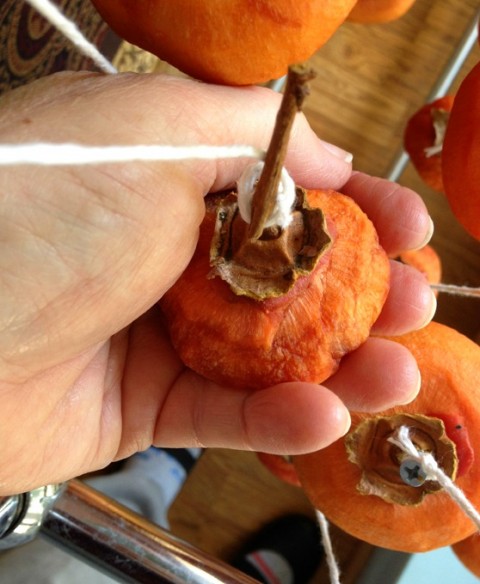 Once a week I "massage" my persimmons to move the sugar around in the fruit. For me, this simply involves a couple of encouraging squeezes.
The fruit take about 3-4 weeks to air-dry, so the technique is not for those who require instant gratification. The final product looks darker and collapsed.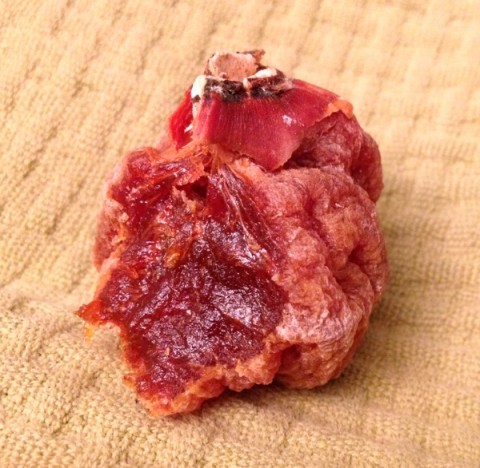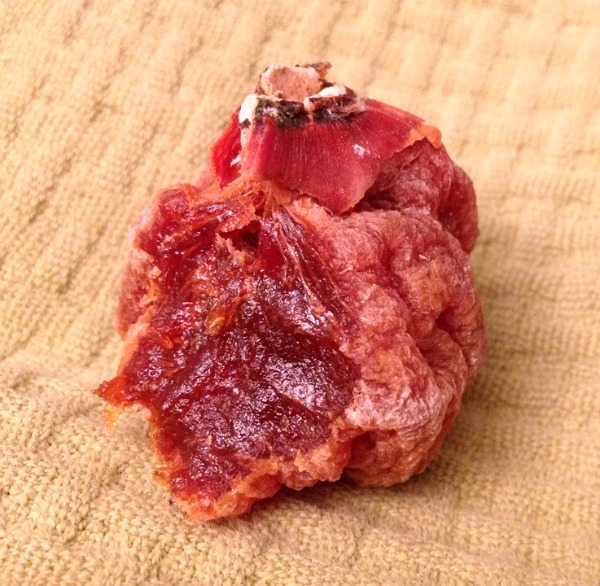 Unless you have a big picture window and a lot of poles from which to string your persimmons, you probably won't end up with more than 20 or so of them. But hey, you didn't really do much work, did you?
If you have a Japanese or Japanese-American friend, he or she will understand the amount of time that went into creating Hoshigaki, and appreciate the gift of one or two of the fruit.
Although I use Fuyu persimmons because that's the variety of tree I have, many Japanese use Hachiya persimmons to dry for Hoshigaki. It's true when the persimmons finish dehydrating, the v-shaped Hachiyas look prettier than the shriveled-up Fuyus. [For a discussion on persimmon varieties, go here.]
But the difference is only cosmetic. They both taste like thick jam when you take a nice, big bite.
Dried Persimmons: Hoshigaki
Drying persimmons the traditional way produces a shriveled fruit with a jammy interior, much like a date. It's called Hoshigaki.
Ingredients
Fuyu persimmons with a bit of branch attached to each
Small metal screws (if there is no branch attached to the persimmons)
Kitchen twine
A portable towel rack, clothing rack or some other structure from which to hang the fruit so it doesn't touch
Directions
Using a small paring knife, remove the skin from each persimmon.
If the persimmon has a branch attached, tie twine to the branch and hang it over the rack. Repeat with other persimmons.
If the persimmon has no branch attached, insert a small metal screw into the top of the persimmon, and attach the twine to that screw.
Allow persimmons to hang for 3-4 weeks, gently massaging them once a week to distribute the sugar in the fruit.
At the end of the drying period, remove twine and metal screw (if using), and store them in a covered container or zipper-top plastic bag (much as you would store dates).
They will be darkened and shriveled, and jammy when you bite into them.
Enjoy, and be sure to give some away as gifts from your kitchen!
Notes
Recipe source: Cassy Muronaka
https://www.shockinglydelicious.com/drying-persimmons-the-traditional-way-hoshigaki/
Copyright Dorothy Reinhold | ShockinglyDelicious.com. All rights reserved.
Other ways to hang your Hoshigaki
Here are some examples from around world, showing Hoshigaki hanging every which way! (Photos from Wikimedia Commons.)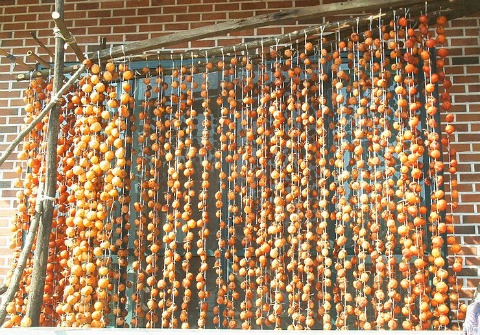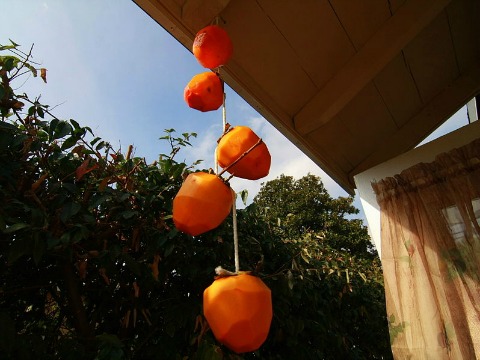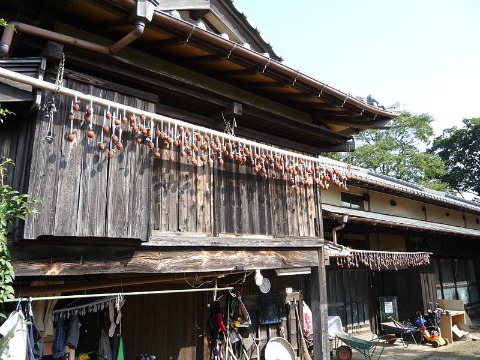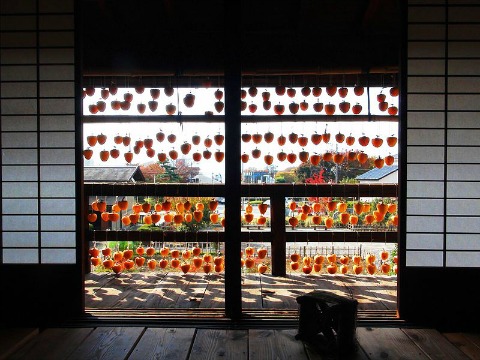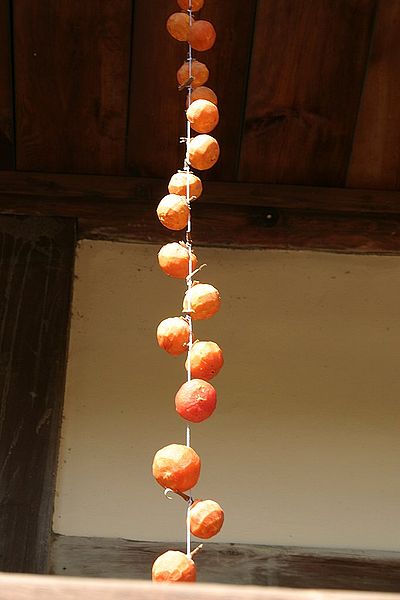 ——————————-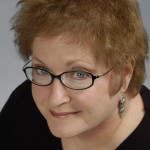 Cassy Muronaka spent many years working in journalism, at the Los Angeles Times, United Press International, the Las Vegas-Review Journal, and the San Gabriel Valley News Group, as both reporter and photographer. She taught college, freelanced for magazines, and ran a blog before beginning work on a novel set in Las Vegas.