Print This Post
Clusters of tiny, dusty red fruit cling to spindly trees on this sweaty October afternoon, looking a bit like bunches of grapes rather than the groups of Lilliputian apples they are.
Each the size of a golf ball, these tiny, crisp and sweet apples are one of the best tasting yet perhaps least known apple varieties, called Crimson Gold.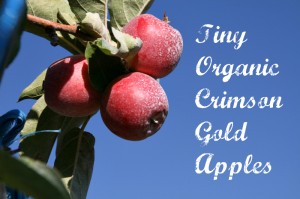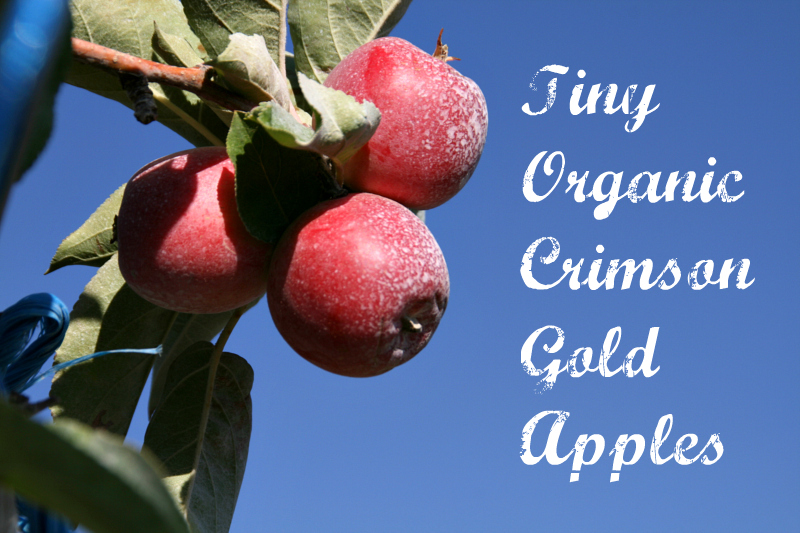 Gaze at the trees and they don't look like the fully-leafed, top-heavy, iconic apples trees of your imagination. Then look at the fruit and you can't believe something this miniature can taste this magnificent.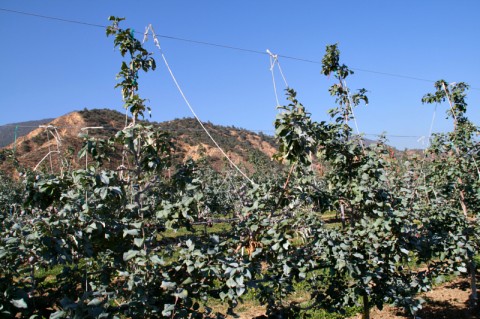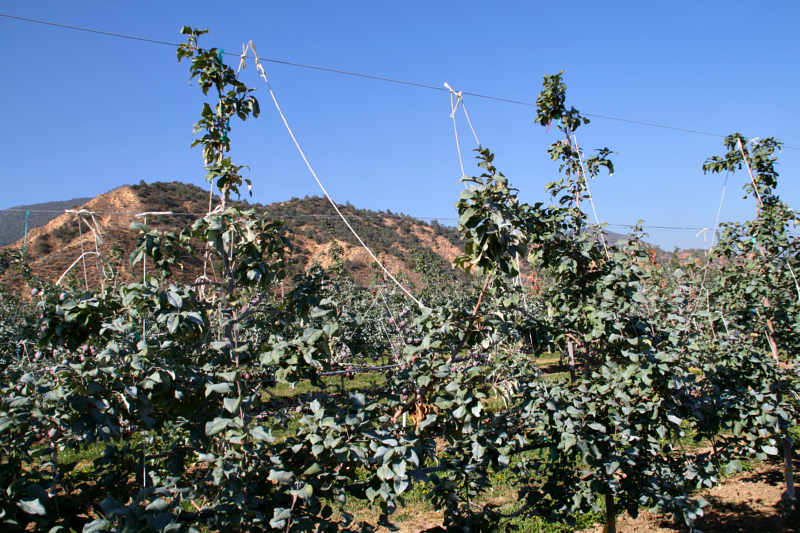 Hot as these 80+ degree days are, overnight at Cuyama Orchards, temperatures dipped into the low 40s. This 40-degree thermal mood swing makes Byron Albano happy, because it improves the sugar and color of his apples. A good balance between natural sugars, acids and tannins is what sets apart a great apple from a merely adequate apple. These organic Crimson Golds have that balance perfected, along with a good crunch.
Byron is the youngest son in the Albano family, owners of Cuyama Orchards, the largest organic apple grower in Southern California. The farm is on the eastern side of the California coastal range, about 60 miles north of Santa Barbara in the Cuyama Valley, and about 2 ½ hours by car from Los Angeles.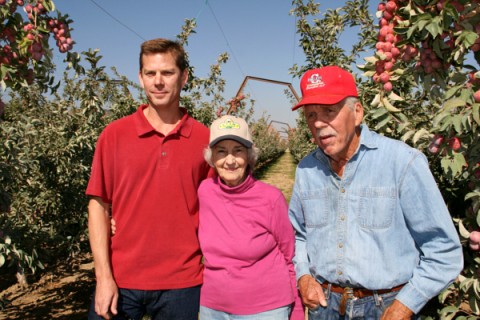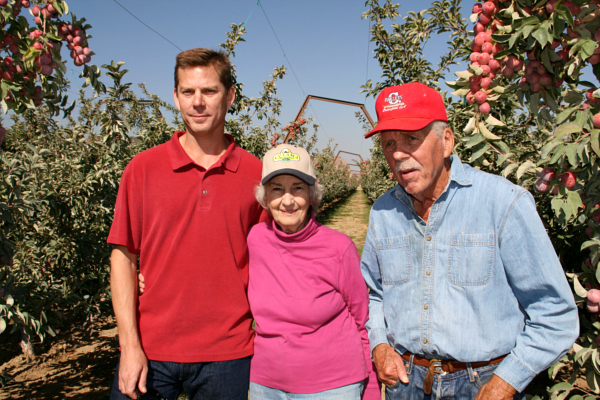 Family backpacking trips brought the Albanos to the remote region, and parents Howard and Jean Albano bought the land in 1980 to farm. Howard, now 80, calls himself "an Idaho farm boy who never got farming out of my system." Byron, now marketing director for Cuyama Orchards, recalls the farm at first was "pretty run down, with lots of original vegetation." They started by growing hay for horses, and segued into apples later after noticing that a hippie commune nearby was successfully growing apples. Today they farm 300 acres of apples.
Cuyama Orchards has been organic for the last 15 of its 30 years, growing 10 varieties of apples. If you ask Byron, he can name them all, in order of picking: Gala, Sweeties, Honeycrisp, Early Fuji, Granny Smith, Crimson Gold, Standard Fuji, Pink Ladies, Arkansas Blacks and Yellow Newtown Pippins. That's a lot of apples – some 1,000 bins, with 900 pounds of fruit per bin!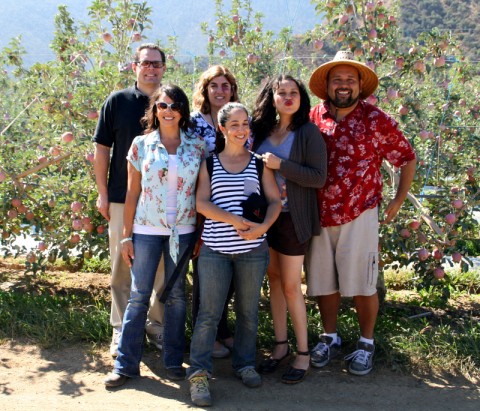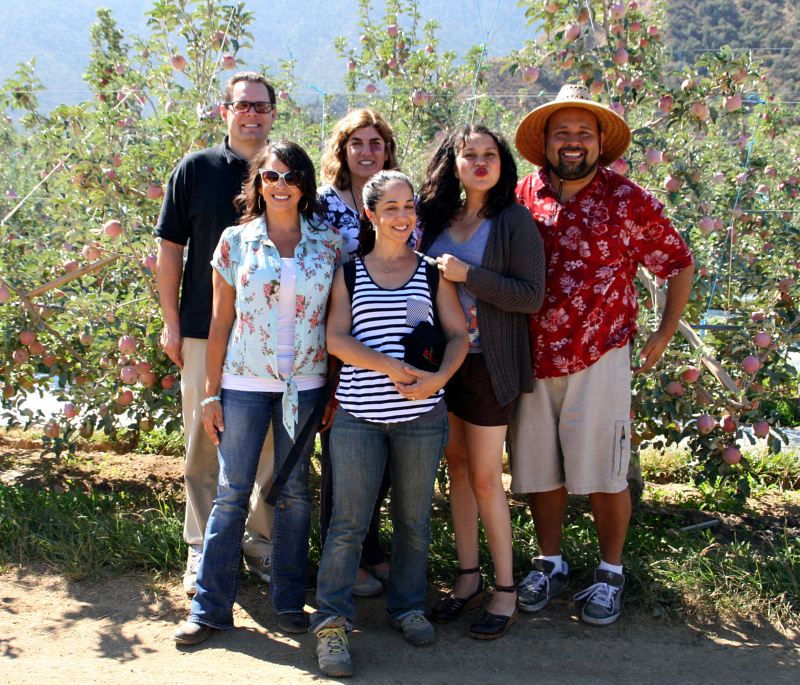 A group of food writers was lucky enough to visit Cuyama Orchards Wednesday on a farm trip with Melissa's Produce. Field workers clipped apples from the spindly branches as Byron Albano explained the process to us.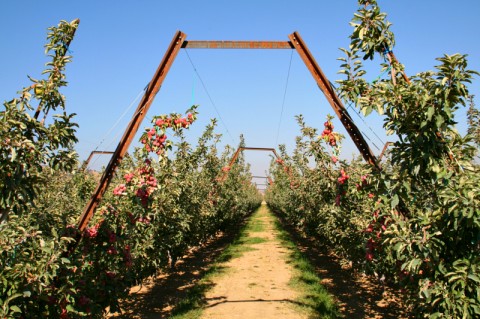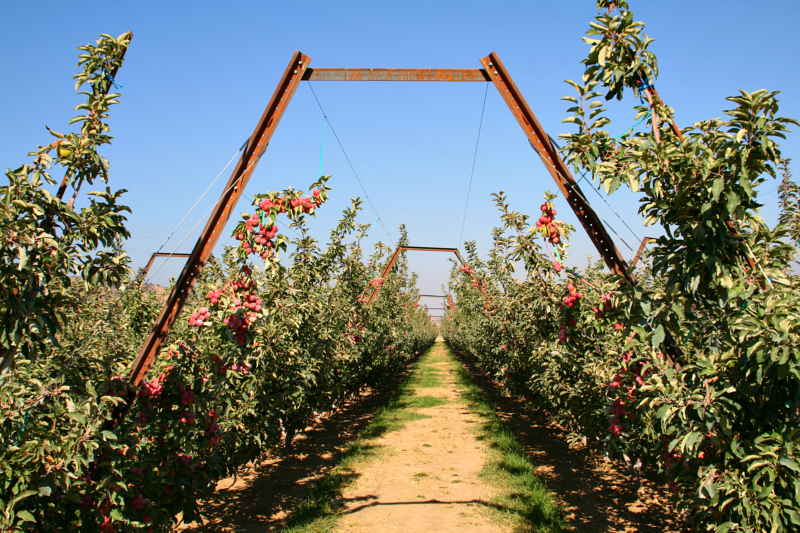 The trees are often grown on a metal V trellis for labor efficiency and better light penetration. They're carefully and minimally pruned to allow maximum sunlight to hit all parts of the branches and fruit, not pruned to encourage height or leafy fullness. Consequently, the trees look a bit spindly to our non-farmer eyes. "Light on the fruit is important," Byron explains.
"You can't grow wood and fruit at the same time," says Byron, as we nod with new understanding. So fruit it is!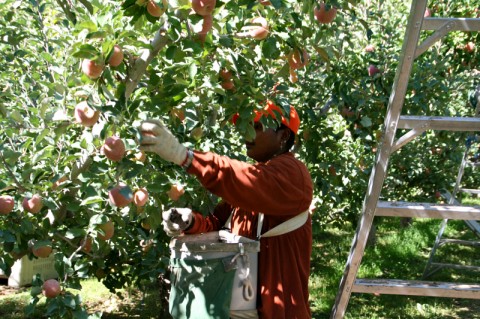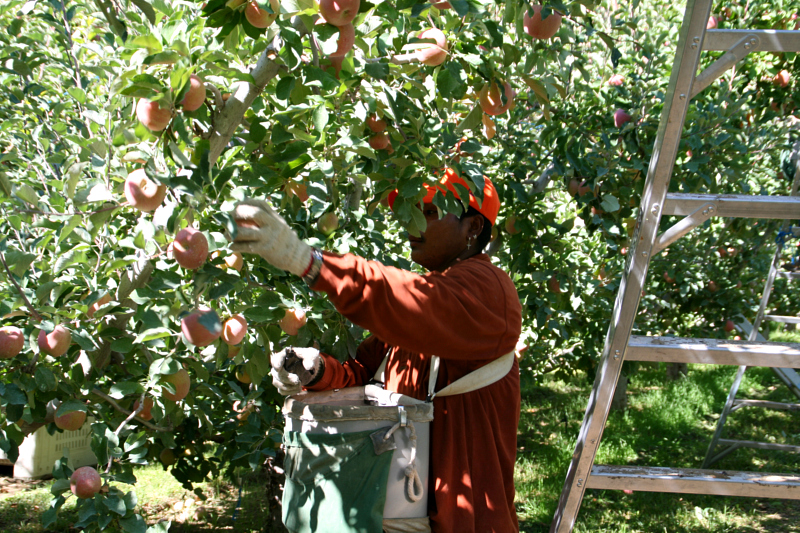 The trees are formed by grafting a branch of the chosen variety onto dwarf root stock. It's dwarf to keep them small and shorter, which allows for easier picking. Although the farm workers have ladders, much of the fruit is pickable without a ladder.
There's a small window of time when the apples are perfectly pickable – sweet and mature enough, yet not over sweet or overripe. The Crimson Golds are at about 17 brix (a scientific measurement of sweetness) during our visit, with 17-18 being ideal, he says. If you let them on the trees too long, they'll get to 21 brix, which will be super sweet, but without the same taste character, Byron notes. Too sweet isn't good for an apple. The fruit needs acids to balance the flavor and add interest.
A little secret: the Crimson Gold is actually a sweet crabapple. Crabapples are usually small and sour, with the fruit used in pickling or for jelly, but never eaten raw. But since most people associate crabapples with sour, this sweet variety needed a new name to set it apart. Crimson aptly describes the lovely outer color; gold hints at the warm, sweet taste. Crimson Gold it is!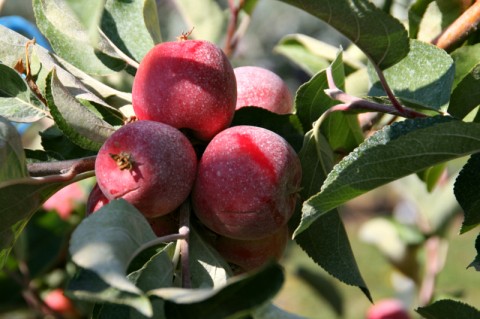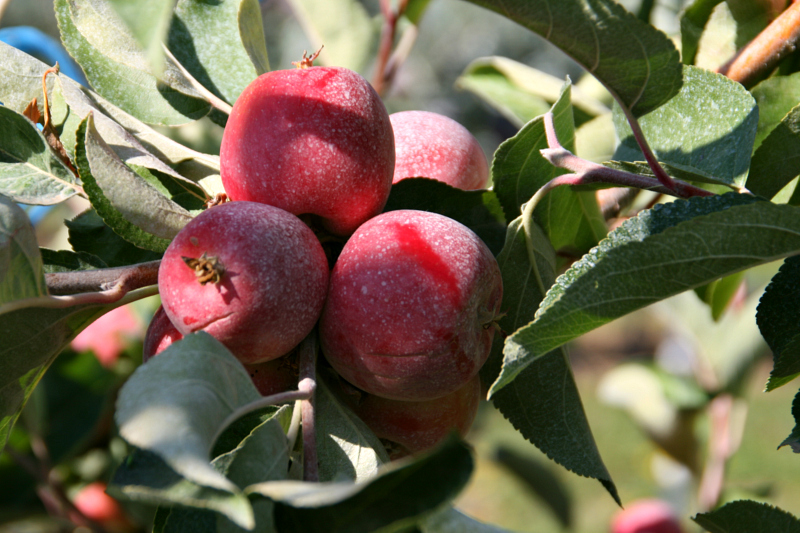 The fruit and leaves have a dusty appearance, despite the lack of dust in the air here. It's from a substance called Surround Kaolin Clay Spray, a tool used by organic orchardists to prevent fruit sunburn. It also repels some pests. It's a chalky, white dust with extremely fine particles that is sprayed on the trees, and easily rubbed off with your fingers if you eat a just-picked apple in the orchard, or washed off with water during the bagging process.
What should you do with your Organic Crimson Golds?
They're a perfect lunchbox or snacking apple. In fact, my kids took them two or three at a time for lunch. Cute is great when it comes to lunchbox food, and these are cute to the 10th degree.
Jean Albano is known for making a wonderful apple jelly out of them. Although she couldn't scare up her exact recipe while we were there, she said her proportions are 3 parts apple juice to 1 part sugar. "I don't use pectin, because it requires you to use more sugar, and the less sugar you use, the more fruit flavor," she said. If you've ever made jelly before, try her proportions.
You can bake them into a crisp.
Stay tuned to Shockingly Delicious to see what recipes I come up with for them.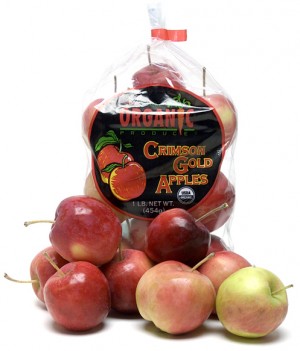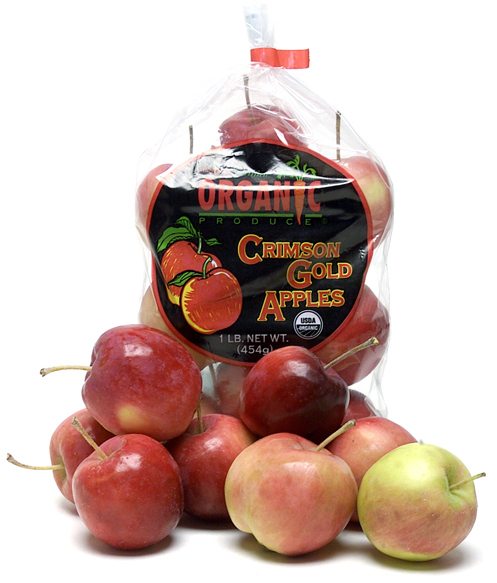 In the store
Much of the Cuyama Orchards apple crop will go to upscale chains such as Whole Foods, Gelson's and Bristol Farms. They'll be labeled as Melissa's Organic Crimson Gold Apples, in 1-pound bags, and sold for $3.49-$3.99 a bag. In California, we will see them in stores by Oct. 26, and the rest of the country will see them by Halloween. The season goes until late December/early January, so get them while you see them.