Print This Post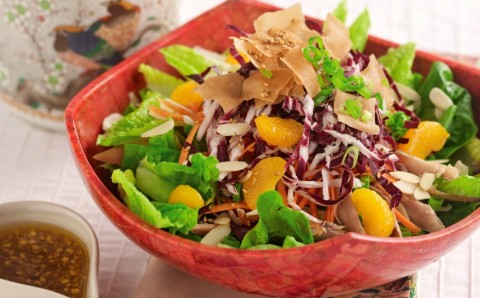 Light, healthy and filed with a fantastic variety of textures, this Classic Chinese Chicken Salad is tossed in a yummy ginger-sesame dressing and makes a great lunch or dinner.
The best cookbooks not only provide delicious recipes, but tell a story about the food and its origins, painting a picture of the cook, perhaps the family, or the country that inspired it all.
Chef Katie Chin's book, "Katie Chin's Everyday Chinese Cookbook: 101 Delicious Recipes from My Mother's Kitchen," does all of that, and offers a history lesson in what it meant to be Chinese-American in mid-century America.
The cookbook honors her mother, well known restaurateur Leeann Chin, who ran a battalion of restaurants in Minneapolis and who was one of the seminal influences in bringing an appreciation for Chinese food to this country.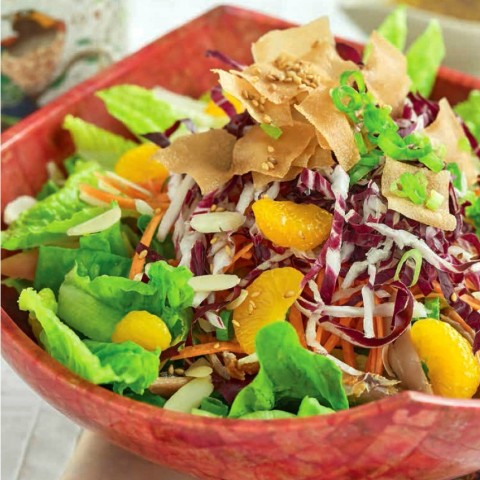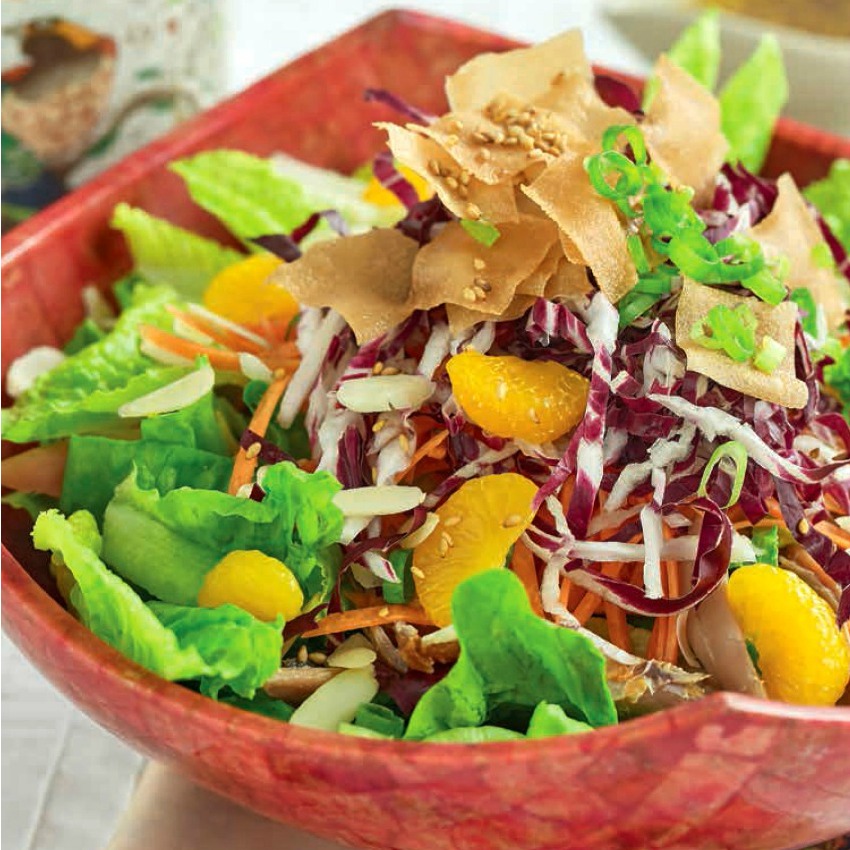 When Leeann arrived here as an immigrant in 1956, it was difficult to even find fresh ginger at the grocery store, so she resorted to growing her own bok choy, Chinese long beans and Asian eggplant in her small Minnesota garden. Eager to have her family fit in, she brought her children to Sons of Norway events by day, yet every night prepared for them gourmet Chinese meals.
Leeann was a talented seamstress, but her professional cooking career took off after she threw a luncheon for her sewing clients, serving them Cantonese egg rolls, egg-drop soup, lemon chicken and three-flavor lo mein with homemade egg noodles. They went wild for the unfamiliar food, and Leeann began teaching classes and catering.
A young Katie and her siblings spent their days after school in the family's basement, which had become a bustling catering kitchen, producing tray after try of shu mai, crab wontons, sesame noodles and sweet-and-sour pork. "In the Chinese-American tradition of child labor, we'd come home from school, put down our backpacks and start frying," she writes. At one point, the empire included more than 30 restaurants with 1,000 employees, run by her strict yet nurturing mother.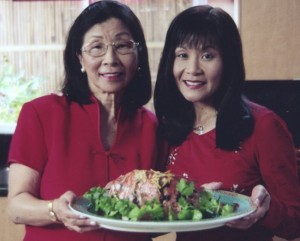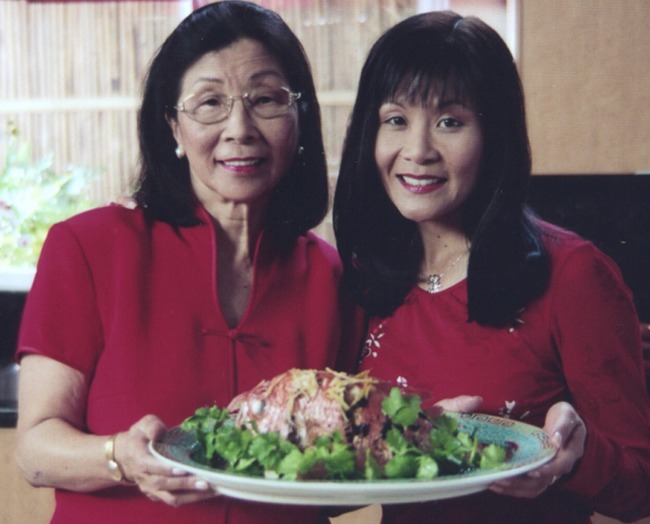 Katie's love, affection and appreciation for her remarkable mother seeps through on every page of this beautiful 2016 book. In fact, Katie left her own successful career as a film and TV marketing exec some 15 years ago to eventually follow in her mother's footsteps.
"I was so busy trying to make my mother proud by succeeding in my marketing career that I had actually done the opposite by forgetting how to cook," she writes. A series of dinner parties reignited her own cooking passion, and she quit her job, wrote a Chinese cookbook with her mother, and together they began a Pan-Asian catering business. They co-hosted a Food Network special from China, were frequent guests on the "Today" show, and eventually co-hosted a national PBS cooking series called "Double Happiness."
Katie's own "double happiness" – her twins Dylan and Becca – inherited the family gene, says Katie. "Their favorite foods are dumplings and noodles; instead of baking cookies, they'd rather be folding potstickers."
Katie wrote this book to honor her pioneering mother, who demystified Chinese cooking and simplified it for the home cook.
"Carrying her torch, I hope I can show you how easy Chinese cooking can truly be. If I can do it, you can do it," writes Katie.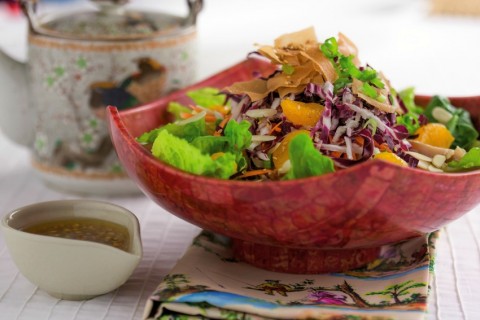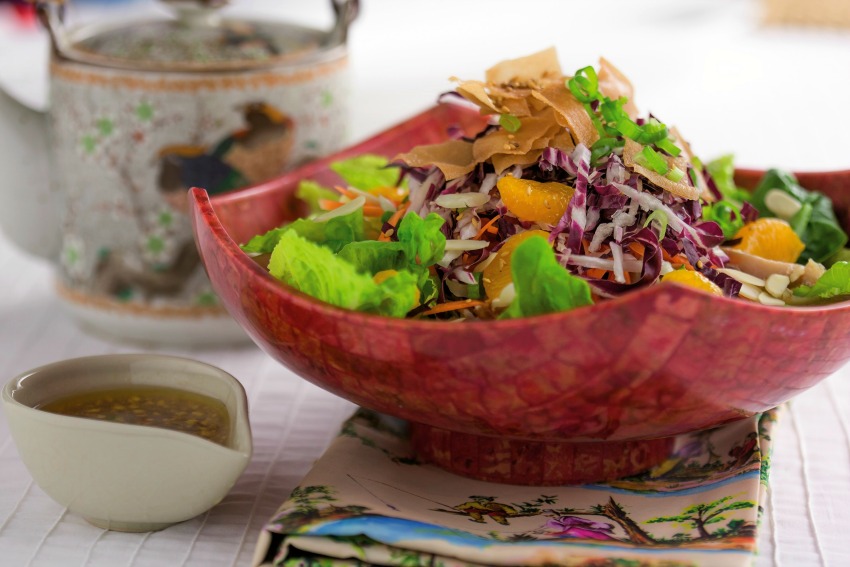 Let's have her show us how to make a Classic Chinese Chicken Salad, which is a ubiquitous menu item on every restaurant these days.
Here's what Katie Chin says about it:
"Legend has it that Chinese Chicken Salad was invented in Los Angeles in the 1960s, when Madame Wu served it to Cary Grant at her eponymous restaurant in Santa Monica (Calif.). He flipped for it, and the rest is history. Chinese Chicken Salads in the U.S. really run the gamut. The one I'm sharing with you is light, healthy and filled with a fantastic variety of textures, from the red cabbage (loaded with vitamins, nutrients and anti-oxidants, by the way) and carrots to the sliced almonds and crunchy wonton chips, all tossed in a yummy ginger-sesame dressing."
Classic Chinese Chicken Salad
Light, healthy and filed with a fantastic variety of textures, this Classic Chinese Chicken Salad is tossed in a yummy ginger-sesame dressing and makes a great lunch or dinner.
Ingredients
Dressing

1/3 cup (80 ml) unseasoned rice wine vinegar or white vinegar
1 clove garlic, minced
1 teaspoon peeled and minced fresh ginger
2 tablespoons brown sugar
1 1/2 tablespoons chili garlic sauce or sambal oelek
2 tablespoons extra-virgin olive or canola oil
1 teaspoon dark sesame oil
.

Salad

6 cups (300 g) romaine lettuce, torn into bite-sized pieces
1/4 head red cabbage, shredded
1 large carrot, shredded
2 green onions (scallions), green and white parts, finely chopped
1/2 cup (50 g) sliced almonds, plus more for garnish
1 (11-ounce) (340 g) can mandarin oranges in water, drained
2 cups (300 g) shredded store-bought rotisserie chicken meat (or grilled chicken breast slices)
1/2 cup (20 g) fried wonton strips, plus more for garnish
2 tablespoons toasted sesame seeds, plus more for garnish
Directions
Make the dressing:

In a small bowl, whisk together the vinegar, garlic, ginger, brown sugar and chili garlic sauce. Gradually whisk int he olive or canola oil and the sesame oil.

Make the salad:

In a large bowl, combine the romaine lettuce, red cabbage, carrot, green onion, sliced almonds, mandarin oranges, shredded chicken, wonton strips and toasted sesame seeds. Pour dressing over and toss to combine.
Garnish with additional sliced almonds, wonton strips and sesame seeds. Serve immediately.
Serves 4 for lunch.
Notes
https://www.shockinglydelicious.com/classic-chinese-chicken-salad/
Copyright Dorothy Reinhold | ShockinglyDelicious.com. All rights reserved.
Filled with gorgeous photography and easy-to-understand recipes, this cookbook deserves a place on your kitchen shelf. I had the chance to try several of the dishes at a recent luncheon for the book, sponsored by Melissa's Produce, and we ate like royalty!
My favorites were…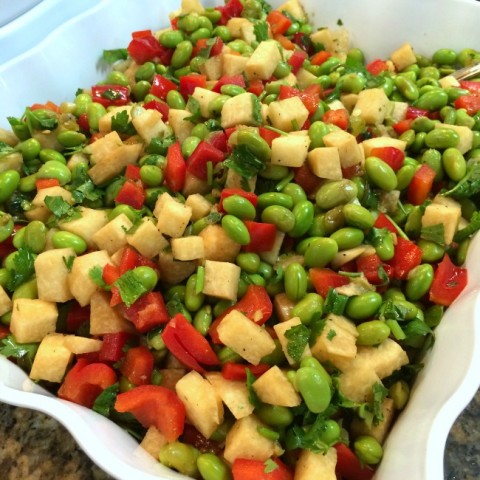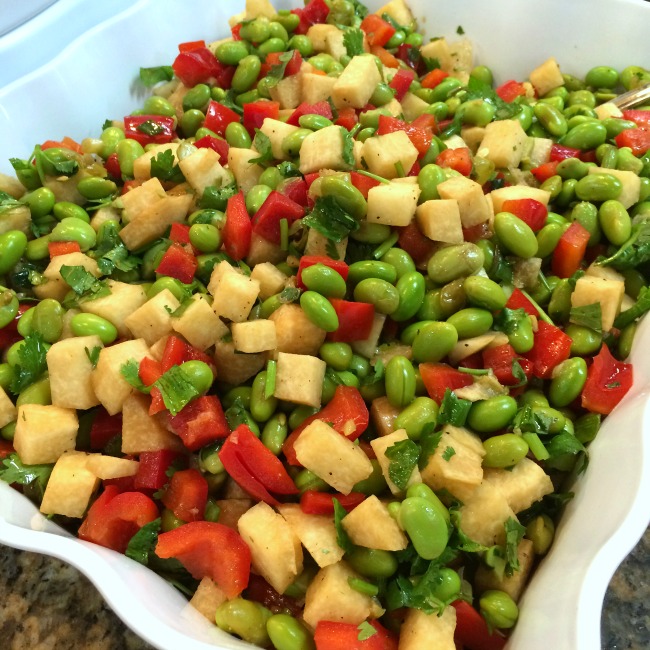 Soy Ginger Edamame Salad. So light, fresh and crunchy, it makes a perfect lunch.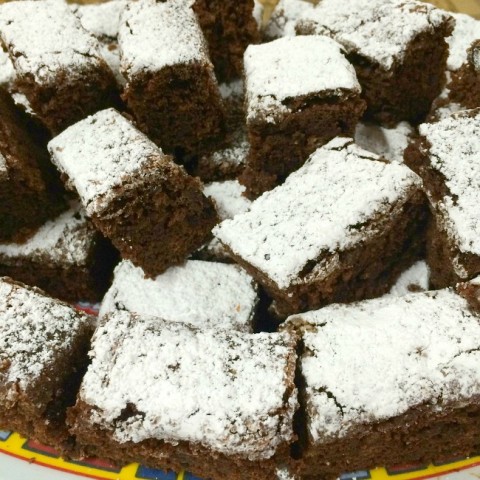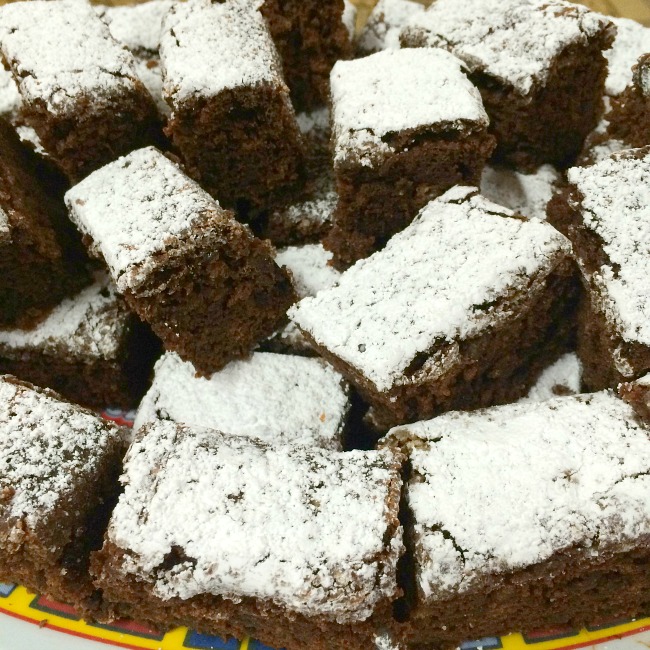 Five Spice Chocolate Cake. I went absolutely crazy over this sophisticated snack cake. It is neither overly chocolatey nor overly five-spicy, if you know what I mean. A simple dusting of powdered sugar is all it needs.
If you'd like to save this Classic Chinese Chicken Salad recipe, pin it to your Pinterest board, using the image below.

Disclosure: The book —"Katie Chin's Everyday Chinese Cookbook: 101 Delicious Recipes from My Mother's Kitchen," by Katie Chin (Tuttle; $24.95) — was provided by the publisher for review. Chicken Salad photos by Masano Kawana.
This post was originally published Sept. 20, 2016 and has been refreshed and republished today.