Print This Post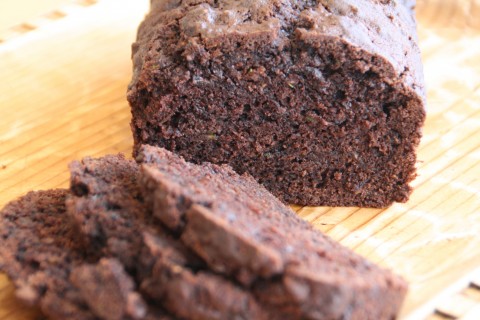 Once your zucchini plant in the garden starts producing for the summer, it can be hard to keep up with the output. One delicious way is to use it in quick breads. You won't be able to tell there is any zuke in here, and there are no telltale green shreds showing, but the squash helps to keep the bread moist.
This is a deeply chocolaty bread, and the coffee gives that a little oomph, backed up by the chips and perfume of vanilla. It's not overly sweet, either.
No, I'm not even going to bother claiming there is any superior nutritional reason to put zucchini in bread. I just think if you grow it, you should use it. And it's delicious. Isn't that enough?
 Chocolate-Coffee Zucchini Quick Bread
1 cup grated unpeeled zucchini* (see directions below)
1/2 cup unsalted butter, at room temperature
3/4 cup granulated sugar
2 eggs
2 teaspoons vanilla extract
4 tablespoons high-quality cocoa
1 teaspoon instant coffee powder (decaf if you like)
1/2 teaspoon salt
1/2 teaspoon baking soda
1/2 cup semisweet mini chocolate chips
1 1/2 cups all purpose flour
Heat oven to 350 degrees. Grease a 9- by 5-inch baking dish with the wrapper from the butter (or mist with non-stick spray). Set dish aside.
Prepare zucchini. See hints below.
In the bowl of an electric mixer, cream the butter and sugar until light and fluffy. Add eggs, vanilla, cocoa, coffee powder, salt and baking soda, and beat until combined. By hand, stir in zucchini and chocolate chips. Again by hand, gently stir in flour just until moistened; do not over stir flour into batter or bread will be tough.
Spoon batter into prepared dish. Bake for 55-60 minutes or until a toothpick inserted near the center comes out clean. (Remember that you have chocolate chips in the bread and they will melt, so you might see melted chips on the tester.)
Remove from oven, cool for 15 minutes in dish, and then remove bread from dish to a wire rack to continue cooling completely.
Makes 12 slices.
*Grating zucchini the easy way:
Place box grater on a paper plate, and grate zucchini (with the skin on) using the large holes. If zucchini has been freshly picked, it will be very wet. Place zucchini shreds on a paper towel, roll up towel to enclose and squeeze over the sink, to remove excess water. Just give it a little squeeze; you don't have to dry it completely. Unroll paper towel and scrape zucchini shreds into a measuring cup to see how much you have. Grate more if you need it, and repeat the squeezing process. You may squeeze with your bare hands and no paper towel if you like, but the towel contains the shreds better. When done, discard paper plate.