Print This Post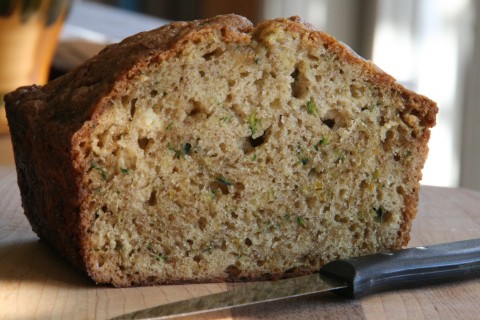 The instructional aide in my son's class last school year is a wonderful baker.
Yes, Corinne Le, we're talking about YOU!
She made a fabulous Spiced Zucchini Bread that had him talking for weeks about whether I could get the recipe from her.
Mom, are you getting that recipe?
Mom, did you call Mrs. Le yet for the recipe?
Mom, do you have her e-mail address…maybe you could e-mail her for the recipe?
Mom, did you ever get that recipe for that bread I liked?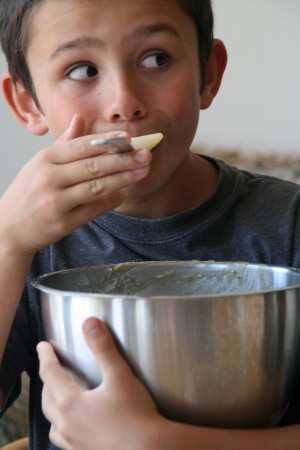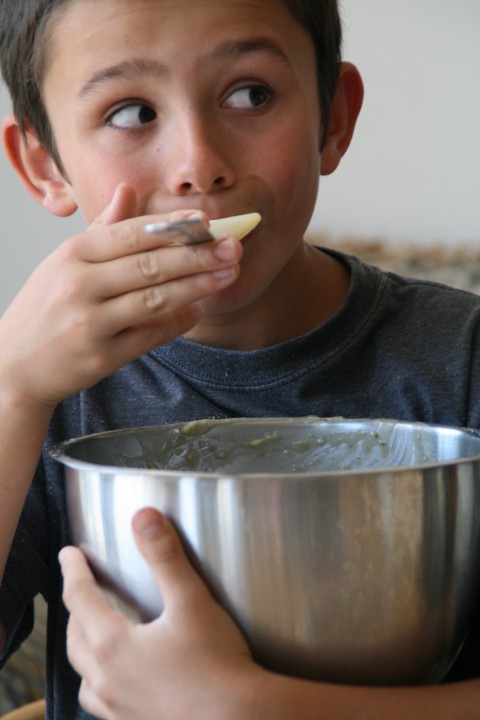 Yes, I did, darling boy, and she was kind enough to share it with all of us!
It's wonderful, and is a great way to deploy some of the zucchini clogging your garden right about how.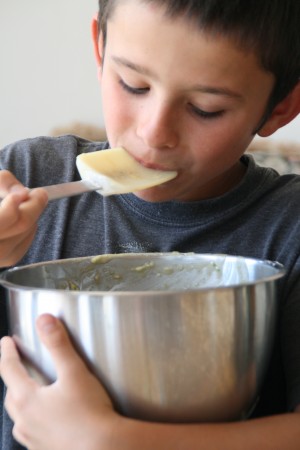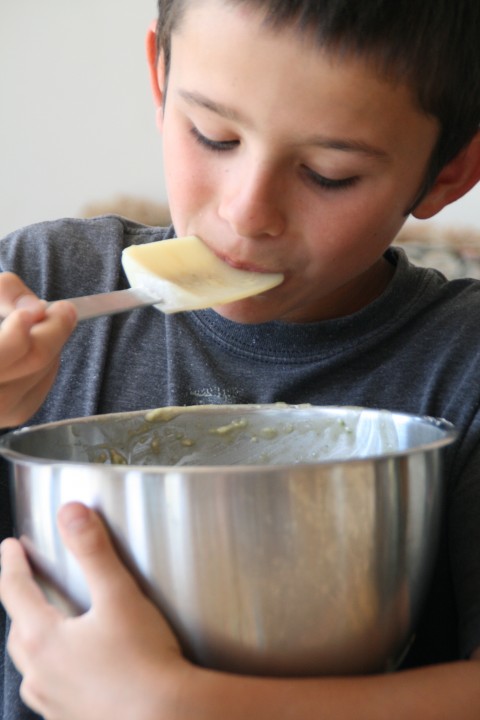 Read all about the great Mrs. Le, baking with your kids and how it teaches important life lessons in my column over at Malibu Patch.
Meanwhile, turn on the oven and grab a zucchini or two from the back yard.
Recipe: Spiced Zucchini Bread
Summary: A perfectly spiced loaf of zucchini bread will help you use your summer glut of zucchini, and make a wonderful snack or breakfast treat.
Ingredients
1 1/2 cups all purpose flour
2 tablespoons ground flax

(I added this for extra nutrition)

1 teaspoon ground cinnamon

(I used Penzeys Vietnamese Cinnamon, a very strong version)

1/2 teaspoon baking soda
1/4 teaspoon baking powder
1/4 teaspoon salt
1/4 teaspoon ground nutmeg
1 cup sugar

(I used 7/8 cup sugar)

1 cup finely shredded, unpeeled zucchini

(I did not squeeze it dry after shredding)

1/4 cup cooking oil
1 egg
1/4 teaspoon finely shredded lemon peel

(I used 1 teaspoon out of personal preference)

1/2 cup shopped walnuts or pecans

(Omitted at the request of my son)
Instructions
Heat oven to 350 degrees. Grease bottom and 1/2 inch up sides of an 8- by 4-inch loaf pan; set aside.
In a medium mixing bowl combine the flour, flax, cinnamon, baking soda, baking powder, salt and nutmeg; set aside. In another medium mixing bowl combine sugar, shredded zucchini, cooking oil, egg and lemon peel; mix well. Add dry mixture to zucchini mixture. Stir just until moistened (batter should be lumpy). Fold in walnuts or pecans, if using.
Spoon batter into the prepared pan. Bake for 55-60 minutes or until a wooden toothpick inserted near the center comes out clean. Cool in the pan on a wire rack for 10 minutes. Remove loaf from pan and cool completely on the wire rack. Wrap and store overnight.
Makes 1 loaf; 12 servings.
Source
Recipe from home cook Corinne Le. My slight tweaks are in blue and parentheses.
Variations
Apple Bread Variation: Prepare as above, except substitute 1 cup finely shredded, peeled apple for the shredded zucchini. Continue as directed.
Preparation time: 15 minutes
Cooking time: 1 hour
Diet type: Vegetarian
Number of servings (yield): 10-12
Culinary tradition: USA (General)
My rating 5 stars:  ★★★★★