Print This Post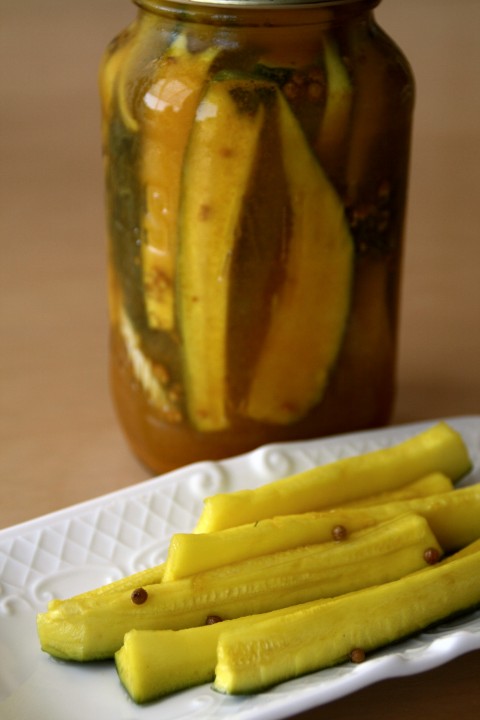 I love pickles, but I don't love the labor and heat of canning.
I love cucumbers, although I don't have any in my garden. But I have two zucchini plants that are as big as my 3rd grader, and as prolific as all the jokes say they are.
What should I do with all that zucchini? Of necessity was born the latest creation – zucchini refrigerator pickles!
These things are great and even zucchini haters will like them. You most likely won't be able to tell it isn't a cuke.
If you aren't an urban farmer and don't have a zuke plant of your own, you will find abundant locally grown zucchinis at farmers markets. Or put the word out to a couple of neighbors, and before you know it, the green things will be appearing on your doorstep, gifts from the zucchini fairy.
Update: My recipe was featured in the July 2010 Grow Your Own roundup.
Sweet Zucchini Refrigerator Pickles
2-2 1/4 pounds small zucchini, scrubbed and cut into spears, skin left on
1 onion, peeled and sliced
Fresh dill sprigs
3 coin-sized slices fresh ginger, slivered
1 large garlic clove, peeled and slivered
Peppercorns
2 teaspoons mustard seed
Coriander berries or seeds (if you have any)
Brine
3 cups rice vinegar (or use apple cider vinegar or a combo of the two)
1 cup + 2 tablespoons water
1 7/8 cups cup sugar
1 1/2 tablespoons kosher salt
1 1/2 teaspoons dry mustard
1 1/2 teaspoons turmeric
3/4 teaspoon celery seed
Make brine: In a small saucepan, bring all brine ingredients to a boil. Remove from heat and allow to cool.
Pack jars: While brine is cooling, pack zucchini spears, onion slices, dill sprigs and slivered ginger and garlic into clean jars that have "shoulders" to hold the veggies beneath the brine. Sprinkle 1/2-1 teaspoon peppercorns into each jar, and sprinkle each jar with mustard seed and coriander berries, if you have any. (You may omit peppercorns, mustard seed and coriander berries, but it will be more authentically pickley if you use them.)
When brine is cooled, stir it and pour it into each jar to the top. Discard any extra brine. Place lids on and refrigerate 4-5 days. Be sure to agitate the jar at least once a day when you open the refrigerator.
These will last until you eat them all. Then make more! You may use the same brine again, and simply insert more sliced zucchini into the brine. Toss the wilted dill and replace with new.
Size note: You may also slice the zucchini crosswise, 1/8- to 1/4-inch thick, if you prefer your pickles round like silver dollars.
What jars to use? Old pickle jars or Classico spaghetti sauce jars work well, as will 1-quart wide-mouth types such as Mason jars. If you use plastic containers, make sure they are old because the turmeric will likely stain them yellow, and you won't want to stain your good Tupperware.
Warning about turmeric: And speaking of turmeric, it will also stain your clothing and your white Corian countertop or your grout, so take care when you are pouring the brine into the jars, or even measuring out the dry turmeric powder.