Print This Post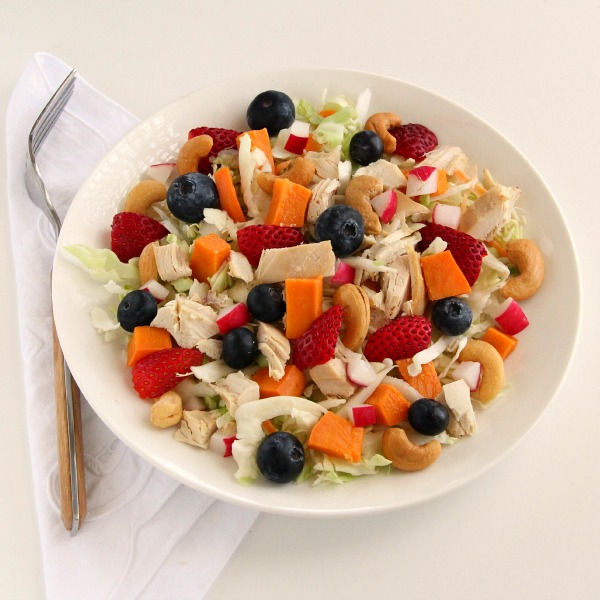 This is a sponsored post written by me on behalf of Pompeian. All opinions are 100% mine.
It seems like Salad Month every month in Southern California, because we never stop eating it, year-round.
But it is actually National Salad Month and National Vinegar Month (the two seem to fit together nicely, eh?), and in honor of that I've created a new entrée salad for you. 
I'm #dressingitup with a perky, deeply flavored vinaigrette made with Pompeian Balsamic Vinegar and Pompeian Extra Light Tasting Olive Oil. The vinegar is naturally gluten-free, and works great in a vinaigrette, marinade, dressing or sauce.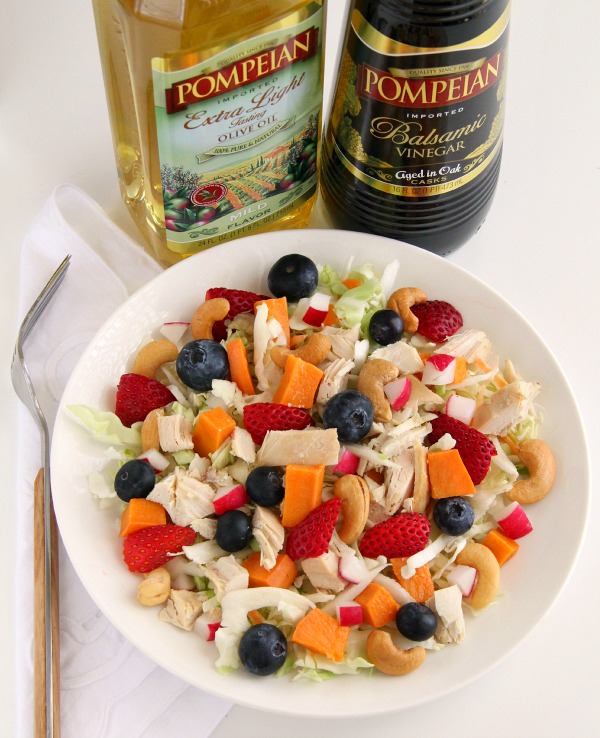 Pompeian Balsamic Vinegar is the number one selling balsamic vinegar in the U.S. If you've never strayed beyond red wine vinegar for your homemade dressings, you are in for a delightful surprise with this balsamic that imparts a rich, dark, Mediterranean flavor.
Are you hungry for lunch yet?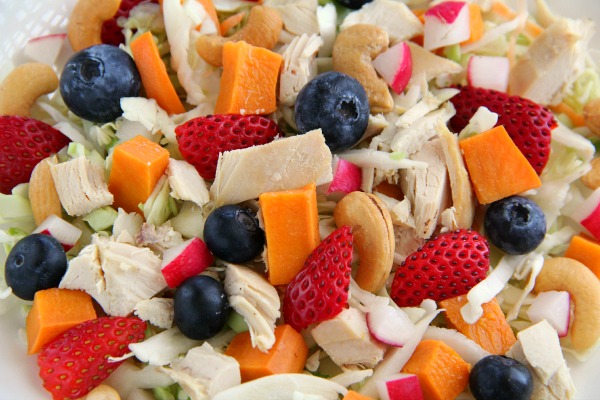 Recipe: Chicken Salad with Fruit, Nuts and Sweet Potato
Summary: A hearty chicken salad with sweet flavors from fruit and sweet potato, the crunch of radish and cashews, and a perky balsamic vinaigrette.
Ingredients
Salad
Shredded cabbage or cole slaw mix
Cooked diced sweet potato
Rotisserie chicken, diced
Cashews
1 radish, diced
Blueberries
Strawberries
Dressing
3 tablespoons cranberry juice
3 tablespoons Pompeian Balsamic Vinegar
4 tablespoons Pompeian Extra Light Tasting Olive Oil
1 ½ teaspoons grated orange zest
1 ½ teaspoons Dijon mustard
Pinch kosher salt
Freshly ground black pepper
Instructions
For salad: Place a large handful of cabbage mix in a salad bowl or on a plate. Top with a handful of cooked sweet potato, some chicken, a sprinkling of cashews, radish, a few blueberries and several strawberries, (quartered if large).
For dressing: Mix all dressing ingredients in a small jar and shake well. Dress salad lightly. Store extra dressing in the refrigerator.
Serves 1.
Preparation time: 15 minutes
Diet tags: Gluten free
Number of servings (yield): 1
Culinary tradition: USA (General)