Print This Post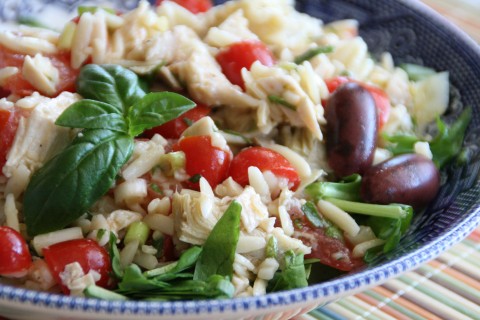 Grab one of those cooked supermarket chickens, a little basket of cherry or sweet grape tomatoes, a small jar of marinated artichoke hearts, and go to town on this uncomplicated but elegant salad.
I feel like a lady who lunches when I eat it, but it's not fussy; my whole family enjoys it.
I make it ahead of time and pull it out for cool dinners on these warm Southern California evenings. We've eaten it for sit-down weekend lunches, but it would also be perfectly lovely on a brunch table; it serves easily.
It is also great as leftovers a day or two later, should you be so lucky as to have leftovers. Not at this house.
Recipe: Chicken Orzo Artichoke Salad
Summary: A simple, refreshing chicken orzo salad with Mediterranean flavors is an elegant warm-weather dinner over a bed of fresh spinach. Fruit salad alongside completes the meal.
Ingredients
3 cups diced cooked chicken
1/2 cup orzo pasta, cooked according to package directions
1 cup cherry or sweet grape tomatoes, halved
3 green onions, thinly sliced
2 tablespoons chopped fresh Italian parsley
1 (6-ounce) jar marinated artichoke hearts, drained and chopped


Dressing:
6 tablespoons olive oil
3 tablespoons white wine vinegar
1 1/2 teaspoons lemon juice
1 1/2 teaspoons Dijon mustard
Salt and pepper to taste


For serving: Fresh spinach, cut into a chiffonade
Garnishes: halved Kalamata olives, grated Parmesan cheese, shredded fresh basil
Instructions
Using an immersion blender or a whisk, in a small bowl whisk together all dressing ingredients; season with salt and pepper.
In a large mixing bowl, combine the chicken, cooked orzo, tomatoes, green onions, parsley and artichoke hearts; toss with dressing to combine.
Taste and season salad with salt and pepper to suit.
Serve salad over a bed of fresh spinach cut into a chiffonade (very thin strips).
Half our tasters preferred the salad as-is, and half liked it with optional garnishes, ranging from pitted and halved Kalamata olives to grated Parmesan and fresh basil shreds. Suit yourself.
Quick notes
Adapted from a recipe at Crisco.com. They wanted to use their vegetable oil, but this one screams for olive oil!
Preparation time: 20 minute(s)
Cooking time: 10 minute(s) (for orzo)
Number of servings (yield): 4
Culinary tradition: Italian
My rating 5 stars:  ★★★★★ 1 review(s)