Print This Post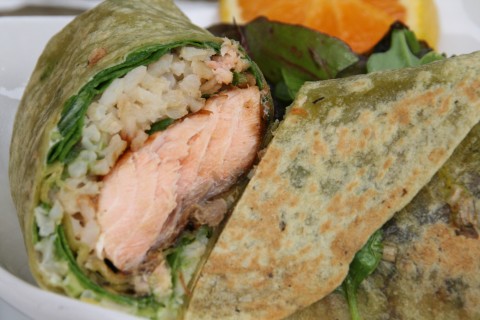 Certain menu items are roadblocks at certain restaurants.
The ribs at Houston's was an example. Once I had them there, I couldn't ever order anything else. Going to Houston's meant ordering the ribs. Maybe — just maybe —  there was something better on the menu, but I was never going to figure it out, because those ribs called my name too loudly.
It seems to be the same for me at The Godmother Cafe in Malibu (now closed since this post was first published). Once I had the Salmon Wrap — stuffed with freshly grilled salmon, brown rice, fresh spinach and gift-wrapped in a wasabi-slathered spinach tortilla, I couldn't see past it. Each time I returned, I ordered the Salmon Wrap.
It turns out I'm not alone. The Salmon Wrap was the second most popular item on the menu, says Godmother owner Dolores Rivellino, herself known as "The Godmother."
She was nice enough to share her recipe, so even if you don't live in or visit Malibu, you can savor it at home.
You can read even more about Dolores and The Godmother in my column over at Malibu Patch today.
Salmon never had it so good.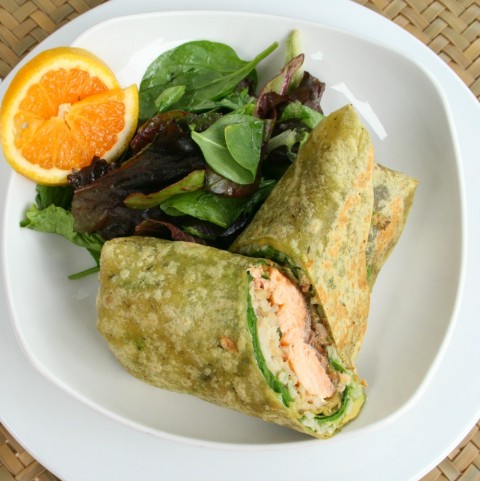 Recipe: The Godmother of Malibu Salmon Wrap
Summary: Zippy, lemony wasabi mayonnaise on a spinach tortilla stuffed with marinated, grilled salmon, fresh spinach and healthy brown rice makes an unforgettable and gorgeous wrap for lunch or dinner!
Ingredients
6-ounce salmon fillet marinated in Shoyu Sauce*
4 ounces Wasabi Sauce*
1 cup fresh spinach, washed and patted dry
2 spinach flour tortillas
1 cup cooked brown rice
SHOYU SAUCE*
2 teaspoons fresh minced ginger
1 tablespoon rice wine vinegar
2 tablespoons soy sauce
2 tablespoons sesame oil
WASABI SAUCE*
4 ounces Hellman's or Best Food Mayonnaise
1 teaspoon fresh lemon juice
1 teaspoon wasabi powder or paste
Instructions
Marinate fresh salmon fillet in Shoyu marinade for 1 hour. Place on hot flat top or hot medium-sized fry pan and grill for 3 minutes on each side.
Warm 2 flour spinach tortillas on grill or fry pan. Spread each tortilla with 2 ounces Wasabi Sauce. Cut grilled salmon fillet into 4 equal long strips.
Place 2 salmon strips along bottom quarter of each flour tortilla. Place 1/2 cup warm brown rice next to salmon strips on each tortilla. Divide the spinach between both tortillas and place it on top of salmon and rice. Roll tortilla up over salmon, rice and spinach in a "snug" manner. Place seam side down on plate and cut in half on an angle.
Makes 2 salmon wraps.
Quick notes
–To take a shortcut, you could use jarred wasabi mayonnaise. Enliven it with a squirt of lemon juice.
 –The Shoyu Sauce will make enough to marinate 1 pound of salmon, should you wish to double or triple the rest of the recipe to feed more.
Preparation time: 1 hour (marination)
Cooking time: 10 minutes
Diet type: Pescatarian
Number of servings (yield): 2
My rating 5 stars:  ★★★★★ 
If you like this recipe and want to save it, pin the image below to your Pinterest board.

More scenes from The Godmother Cafe. Don't you wish it were still open?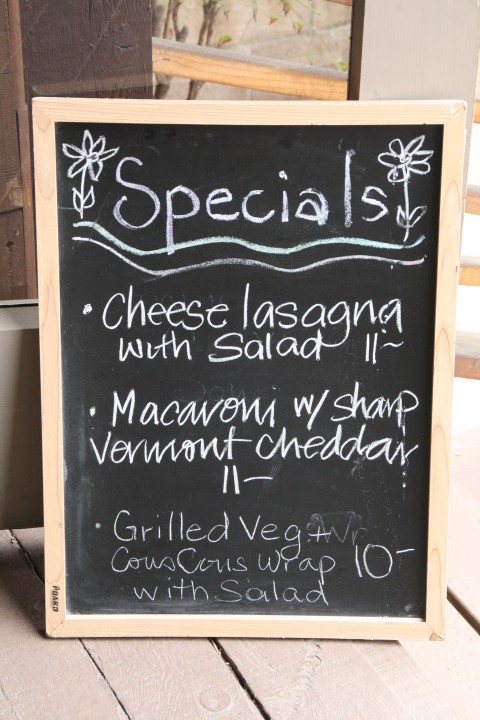 Save
Save
Save
Save