Print This Post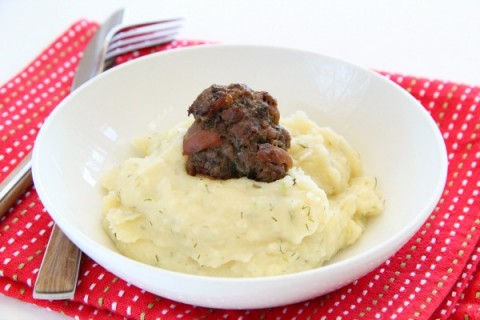 I'm on a meatball kick lately. Are you along for the ride with me?
If not, come aboard, because today's recipe will convince you that meatballs are not only fun, but can be a great weekday supper. Trust me, the family will want to gather around the table for this dinner.
Because they are relatively small in size, meatballs cook very quickly in the oven. Shaping them is easy by hand, and I often use an electric mixer to blend the ingredients on low speed. (OK, call me lazy.)
For my meatballs, I prefer organic, grass-fed ground beef in an 85/15 meat/fat ratio. There has to be enough fat for flavor, but not too much.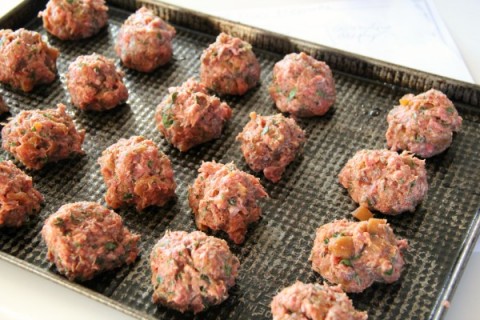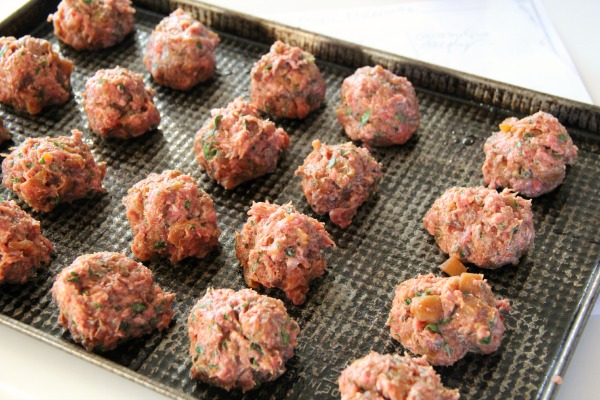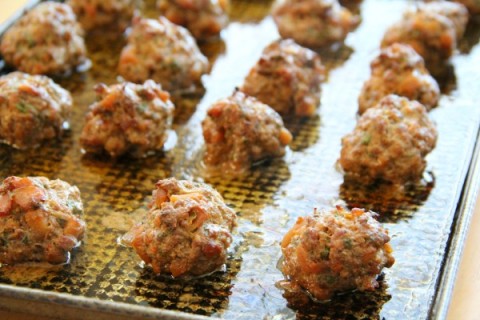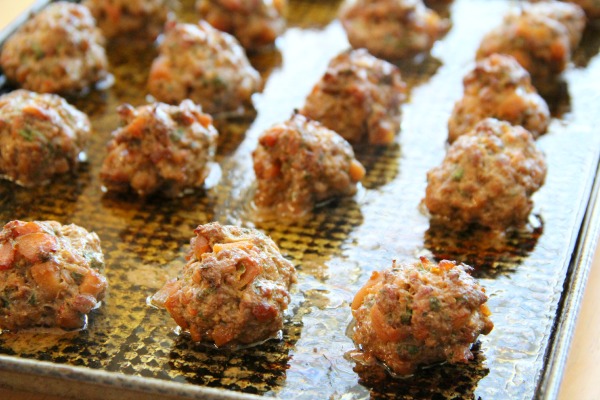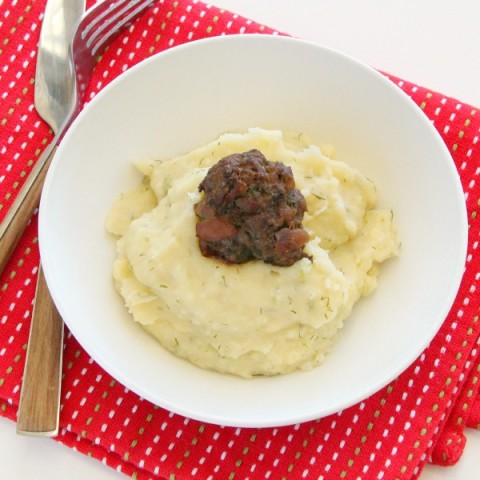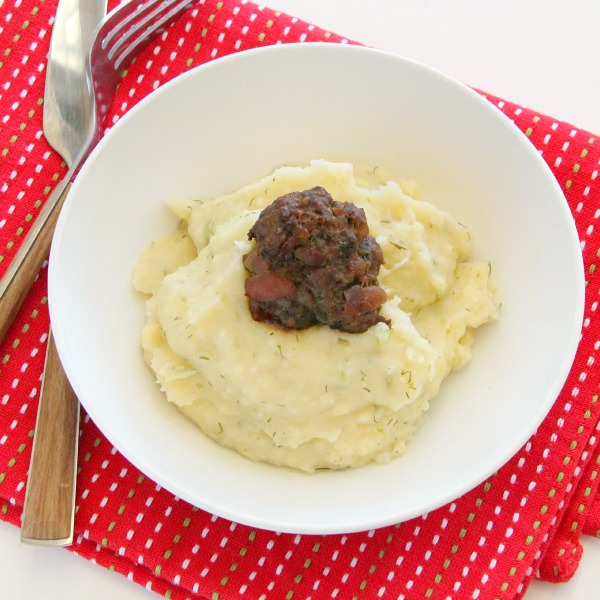 One hint: It does take a little bit of time to caramelize the onion and apple. Most often, I do this a day or two ahead, whenever I am in the kitchen, and then it is ready to go when I want to get the meatballs going. In fact, you could assemble this recipe in steps, over several days, if that is more convenient. You could do the apples-onions one day, shape and bake the meatballs another day, and simply reheat the following day for dinner. Voila!
Caramelized Onion-Apple Meatballs with Herbs
Deeply flavored caramelized onions and apples along with herbs give a nice Fall flavor to meatballs. Serve over mashed potatoes for a satisfying Weekday Supper.
Ingredients
1 tablespoon extra-virgin olive oil
1 large onion, finely sliced
2 large apples, cored, peeled and finely chopped
1 pound organic grass-fed ground beef (I like an 85/15 meat/fat ratio)
A few squirts hot sauce
2-3 pressed garlic cloves
1-2 tablespoons minced fresh basil
2 tablespoons finely minced fresh Italian parsley
4 tablespoons fresh bread crumbs
2 tablespoons homemade concentrated unsalted beef stock (or use water)
¼ teaspoon sea salt
Directions
In a large skillet, heat olive oil over medium heat. Sauté onions, stirring occasionally, until they begin to color, about 10 minutes. Add apples and continue cooking for another 10 minutes or so, until onions and apples are colored deep brown. Stir occasionally, and add 1 tablespoon of water at a time if they seem too dry or are scorching. Remove from heat and cool. This can be done a day or more ahead of time; simply store in the refrigerator.
When ready to make meatballs, turn oven on to 375F degrees.
Chop the apple-onion mixture very finely. You should have about 1 cup.
In the bowl of an electric mixer, add apple-onion mixture, ground beef and all other ingredients -- chili pepper, garlic, basil, parsley, bread crumbs, beef stock (or water) and salt. Mix on low until well combined, about 15-30 seconds.
Spray a short-sided baking sheet with non-stick spray. Using clean hands, shape 20 meatballs and place on baking sheet. It's OK to have some apple and onion chunks poking out. Can you see that in the photos, above?
Bake for 20 minutes. Remove from oven.
Serve over mashed potatoes, and call me for dinner!
Serves 4-6 (3, 4 or 5 meatballs each, depending on appetites).
Notes
Recipe source: Dorothy Reinhold | Shockingly Delicious
https://www.shockinglydelicious.com/caramelized-onion-apple-meatballs-with-herbs/
Copyright Dorothy Reinhold | ShockinglyDelicious.com. All rights reserved.
Our Weekday Supper cooks have lots of good suggestions for helping you get a healthy dinner on the table in a reasonable amount of time. See below for the week's menu, and choose something new to try out on your family or friends!
This week's easy Weekday Supper recipes are: