Print This Post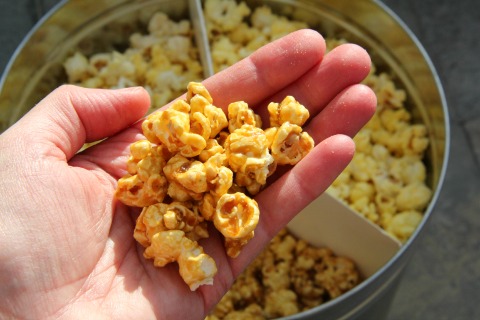 Update Jan. 24, 2014: Holly B. from Durham, NC is the winner! Congrats, Holly, and I hope you enjoy your flavored popcorn! Thanks to everyone for playing along, entering, and I will have more great giveaways soon, so stay tuned!
I'm so excited about this gourmet flavored popcorn that I talked Brooklyn Popcorn into giving away a big tub of it to one lucky ShockD reader!
There are 20something flavors of this addictive stuff, and I tried three — caramel popcorn, sour cream and chive (comforting like the inside of your baked potato!) and dill pickle. Wait…what? Yeah, the vinegary, sharp flavor of dill pickles in your popcorn will rock your world! The caramel corn disappeared first, but that's to be expected from the buttery, sweet. crunchy goodness.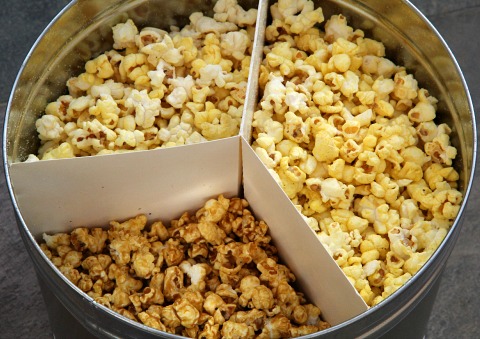 I recommend getting a tub with three different flavors so you can try a wild card — anyone up for BBQ popcorn or Jalapeno nacho flavor, or, whoa, chocolate popcorn (think for Valentine's Day)?
This yummy stuff is made to order and shipped out the same day it is popped. If you're lucky enough to live in or around the borough of Brooklyn, New York City, you might even be able to get some from their wandering truck, whose route you can follow on their website. 
Want to win your own 1-gallon tin of Brooklyn Popcorn?
Do these things
1. Follow Shockingly Delicious on Twitter and leave a comment below telling me you did this and what your Twitter handle is.
2. Like Shockingly Delicious on Facebook and leave a comment telling me you did.
3.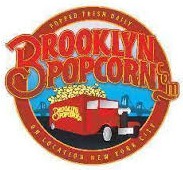 LIKE the Brooklyn Popcorn Facebook page and sign up for their newsletter on their Facebook tab and leave me a comment below telling me you did this and what your Facebook name is.
4. Deadline: Submissions close Jan. 24, noon Pacific Standard Time. Sweepstakes open only to U.S. residents 18 and over, with mailing addresses in the U.S.
5. Winners will be notified via email within 24 hours of the close of the giveaway, and given 48 hours to respond. If I do not receive a response in 48 hours, I'll need to draw new winners. There is more required legal fine print here.
Now scamper and enter, because trust me, you WANT this gourmet popcorn, and you want it now! 
Disclosure: Brooklyn Popcorn sent a sample of the product for review, and will supply the winner with a 1-gallon tub of popcorn. All opinions are my own.