Print This Post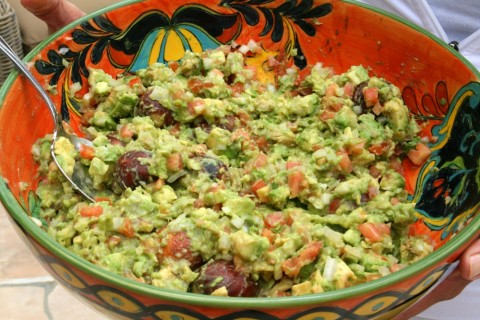 See that bowl of green goodness above?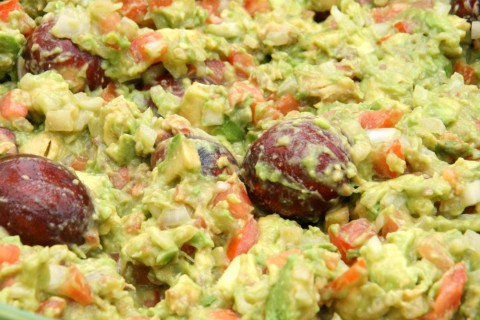 Let's get a little closer. Now where are those tortilla chips?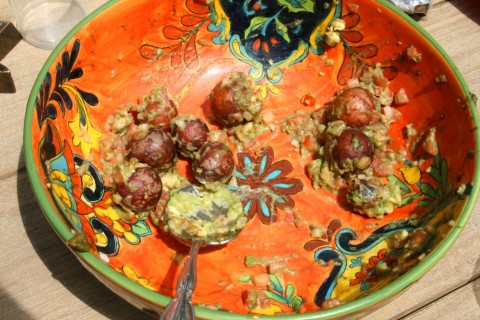 It was quickly reduced to this…and I might have done a lot of that damage myself. Oops, did I just say that out loud?
There is nothing sadder than a bowl of eaten guacamole. It just means you missed the fun!
Luckily, the creator of that bowl, Elizabeth Rafeedie, is sharing her recipe for Yummy Guacamole with us. It's her go-to potluck dish, and she brings it everywhere! People not only expect it from her, but crave it and fall upon it when they see the dish. She and her husband have been active for many years in local youth sports, and with 3 active boys of their own, there have been lots and lots of potlucks and reasons to bring the guac.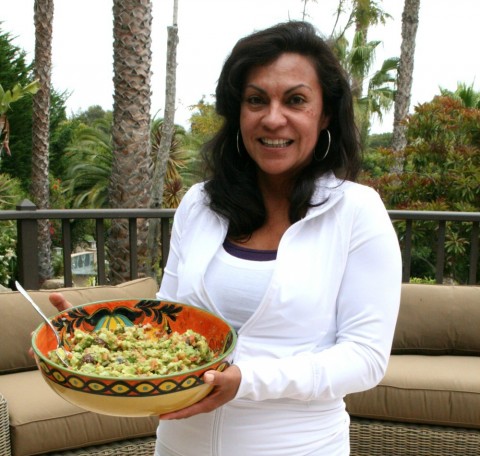 I tasted it at a season-ending baseball party for my son's Middles team, the Rockies. Rafeedie was one of the assistant coaches, and arrived at the party bearing a large bowl of avocado bliss.
"I always bring it because people like it, and I never come home with an empty bowl," she said. "Kids will always eat it too, which I like. It's a dish that is easy to make for me, and people seem to like it."
Rafeedie is often asked for the recipe, and while she is happy to share it, she's sheepish about it.
"I wish I could tell you I had a secret ingredient in mine, but really, it's pretty ordinary," she said. "I never think of it as spectacular. I think, 'Well, doesn't everyone make guacamole?' The secret is that it needs to be chunky, not mashed. It's really not so much a recipe, but the technique."
Ah, it's more a technique than a specific exact recipe. Now you tell us! And if you follow her lead, you'll have your own bowl of Best Guac to boast about.
(You can read even more about her in my column over on Malibu Patch. She's interesting!)
All right, let's get to the World's Best Guacamole. Your family and friends deserve it!
Recipe: Best Guacamole in the World
(Elizabeth Rafeedie's Yummy Guacamole)
Summary: Spectacular guacamole, simple and traditional. Follow the easy technique for best results!
Ingredients
1 medium white onion, diced
1 medium-large steak tomato, diced (Roma tomatoes also work well)
Cilantro, chopped finely (optional)
Serrano chile, chopped finely (optional)
4 ripe avocados
1/2 teaspoon Kosher salt (salt to taste)
1/2 a lemon or lime (for juice)
Instructions
In a bowl add onions and tomatoes (and cilantro and Serrano peppers if using). Cut avocados in half, remove and save pits. Cradling avocado half in the palm of your hand, cut vertical and horizontal slices (as described in her tips below). Using a spoon, spoon out avocado pieces and place in bowl with onions and tomatoes. Using a fork, mix gently to avoid mashing the avocado.
Add salt and squeeze lemon over the top of guacamole (avoid too much lemon so as not make guacamole runny), and use the fork to stir again gently to mix. Add pits for garnishing and authenticity. Chill or serve immediately.
To keep the guacamole from turning brown, cover the surface of the guacamole with Saran wrap. The Saran wrap should touch the guacamole to form a barrier against the air, and should extend all the way to the edge of the bowl. This helps to reduce the air exposure to the guacamole and prevent it from browning.
Elizabeth's tips on best guacamole technique
1. Chunks, not mashed
"You want the chunks of avocado to be 1/4-1/2 inch. I hold the avocado half in the palm of my hand, and, using a knife, I score it vertically first – I get about 5 lines there, and then horizontally. Then I get a tablespoon and scoop it from the top to the bottom, so I don't disturb or mash the pieces."
2. Personalize for adults or kids
If making it for adults, she likes to add finely chopped cilantro, and Serrano peppers, which she finds a bit spicier and with a thinner skin than Jalapenos. She will leave these two ingredients out if she is serving it to kids.
3. The tomatoes matter
She prefers firm steak tomatoes. "Any kind of tomato that is a little firm; you don't want it too ripe, you don't want the tomato mashed. You want to feel the crunchiness of the tomatoes. I won't make guacamole if the tomato is too mushy or is so ripe the juice squirts out too much!"
4. Use lemon juice sparingly
Don't put in too much lemon juice. "You should not have lemonade in there, definitely!"
5. Mix with a fork
When you mix it, do it with a fork. "If you use a big spoon, you will mash it too much. And use the fork just a little bit. It's like, if you think of a hair pick for your afro, that's the way to mix it," she said with a laugh."
Preparation time: 15 minutes
Diet type: Vegetarian, Vegan
Diet tags: Gluten free
Number of servings (yield): 12
Culinary tradition: Mexican
My rating 5 stars:  ★★★★★
Recipe source: Elizabeth Rafeedie of Malibu, Calif.

 If you like this recipe for Best Guacamole in the World and want to save it, pin the image below to your Pinterest board!

Save
Save
Save
Save
Save
Save
Save
Save
Save
Save