Print This Post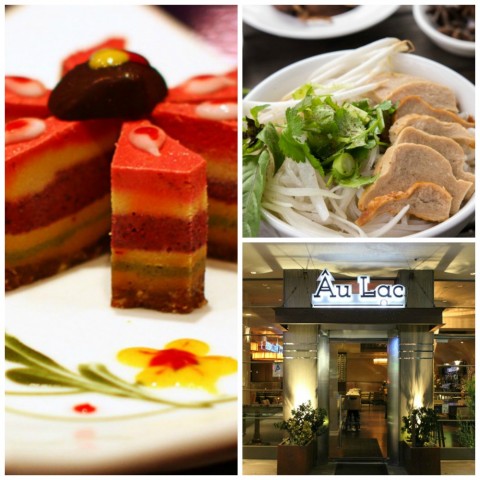 I'm an avid theater-goer, but downtown L.A. can be daunting to those of us who don't live nearby or work there.
How to get there, what offramp, which streets are one-way? Where to park? And most importantly, where to eat?
Before a recent matinee at the Ahmanson Theater in DTLA, we wanted lunch within walking distance. It's always a pleasure when you can park at the theater and walk a block or two to a wonderful small eatery.
Based on recommendations from friends (I highly recommend the crowd-sourced Facebook method, which has served me well on many occasions), we chose plant-based Au Lac, a stylish vegan Vietnamese restaurant in an unprepossessing strip mall across from the Disney Hall and catty-corner from the Ahmanson Theater.
We were happily surprised at how deliciously gourmet, clean-tasting, healthy and affordable it was. The creative menu offerings were so appealing it was hard to choose, but we finally settled on…
Salt & Peppered Tofu
Delicately battered and sauteed with jalapeno and cilantro on top. Pillowy soft within, and an ethereal light crust on the outside.  $10
Crimini Pesto
Stuffed mushroom with Thai basil, pine nuts, bell peppers and sprouts. A flavor explosion with that wonderful 'shroom umami undertone. $8
Eggrolls
An eggless wrap enclosing mushroom, carrot, jicama, taro, almond, served with lettuce, mint and dipping sauce. Perfectly crunchy, shareable. $6
Pho
A fragrant anise and clove broth ladled atop rice noodles, soy "meat," sawleaf herb, bean sprouts and Thai basil.  Don't miss this, and if you don't mind slurping together, share it. $12
Dessert: Rainbow in the Sky
Chilled layers of blueberry, raspberry, mango, coconut, spirulina, pecan, dates. So pretty, so beguiling. Try eating it one layer at a time, for a taste sensation. $9
You'll have to excuse my cruddy restaurant snapshots; it hadn't even occurred to me to write about it, until the next day, when I couldn't stop thinking about how delicious it was. So I dug out my quick snaps for this post. Next time I go, I'll try to take better pictures.
I highly recommend this spot. Vegan has never tasted so good.
We walked in at noon, just when they opened, without reservations. I would imagine if you were going to an evening performance and wanted dinner before, you might be wise to reserve.
SECRET MENU! After I published this, a reader told me her Vietnamese vegan friend loves this place, and says they have a SECRET MENU and you have to ask the wait staff! Next time I'll ask my server what's cookin' on the secret menu.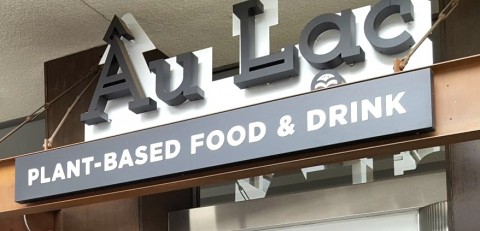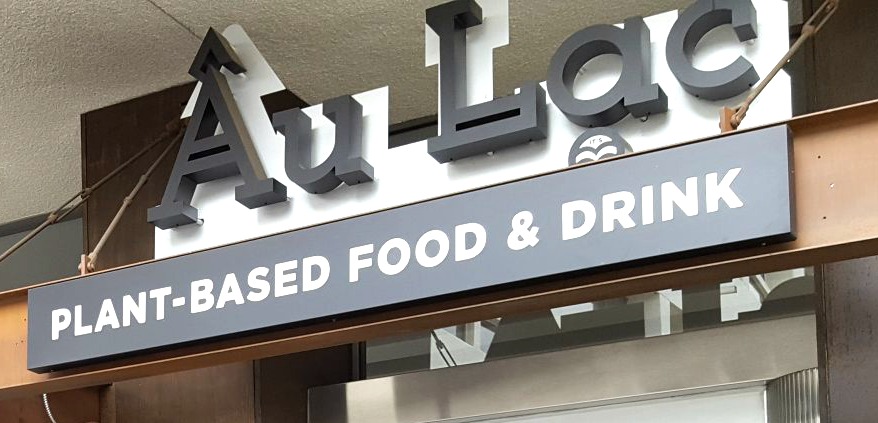 Au Lac
710 W. 1st St.
Los Angeles, CA 90012
Parking: Park at the Music Center, OR validated parking entrance to the restaurant on 1st Street (1st hour free, 2nd hour $1 with validation; $7 for the day, OR meters on 1st Street, OR self parking on 1st and Beaudry, a 7-minute walk)
213 617-2533
Opens at noon.
Convenient walk to: Music Center (Ahmanson Theatre, Mark Taper Forum, Dorothy Chandler Pavilion), Walt Disney Concert Hall, The Broad Contemporary Museum, MOCA (The Museum of Contemporary Art).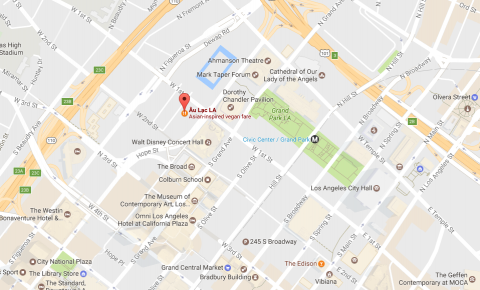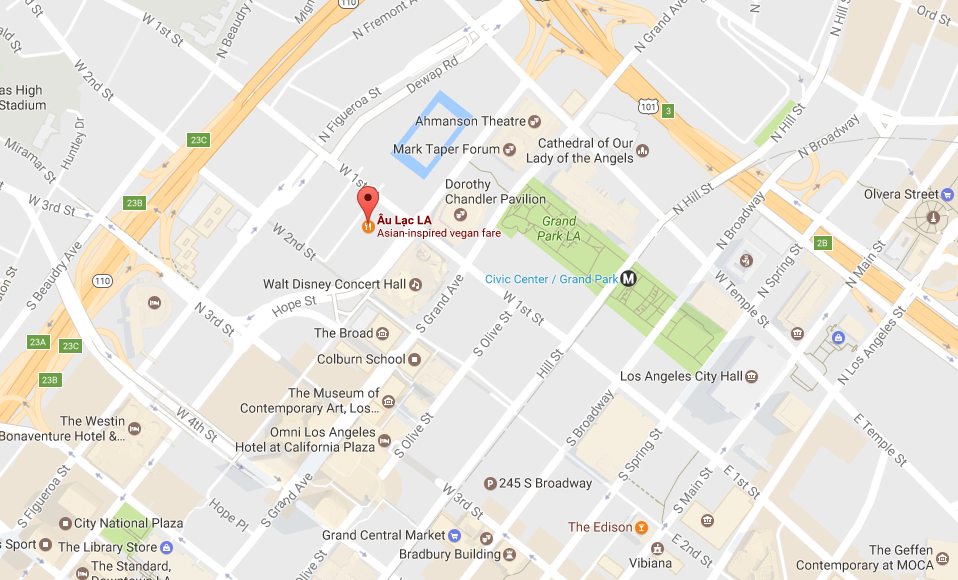 If you'd like to remember this restaurant, pin the image below to your Pinterest board.

Save
Save
Save
Save
Save
Save