Print This Post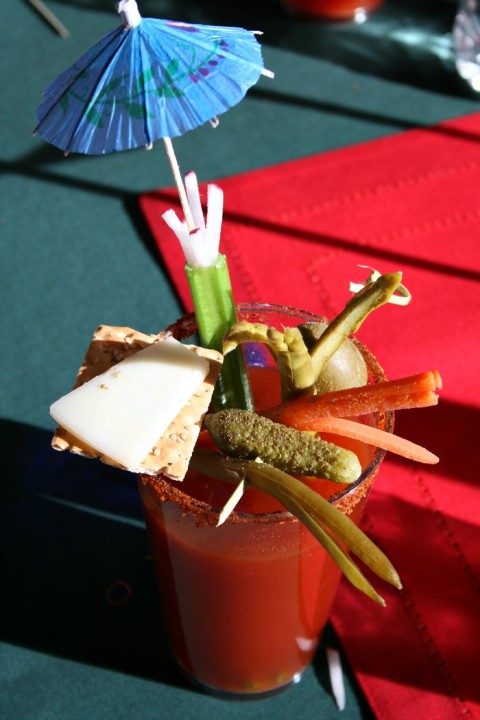 During Camp Blogaway recently, not only did I win the Golden Pine Cone Award (yeah, I'm still talking about that!), but my table of creative souls won a gift certificate for the Bloody Mary we submitted in a camp contest.
Called the Beach Bloody Mary, this was a brainchild of Barbara McGlone of Barbara Cooks, a sweet, sassy blogger who makes a mean Bloody, and has a flair for inventive decoration.
Her Beach Bloody Mary won over our table, and then won the competition in the whole room against all the other tables. Check out the fire crackers (radish sticks) coming out of the celery straw, and the beach blanket (the cracker with cheese on top). Funny!
Now I want you to help her win again. Please go vote for Barbara Cooks on the Duda Farm Fresh Foods page, where they are having a contest for the best-dressed Bloody Mary. It is hers, of course, don't you think?
Let's help her win!  If she prevails, she will get her tuition paid to Camp Blogaway next year. That is totally worth it, as is this delicious drink!
Recipe: Barbara's Beach Bloody Mary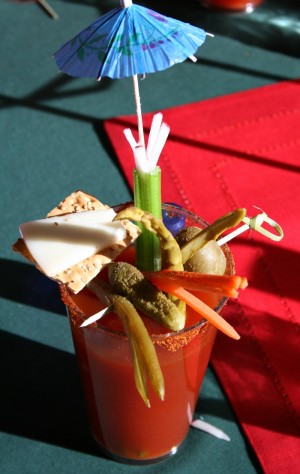 Summary: A zesty, inventive and creatively decorated Bloody Mary that won the Duda Farm Fresh Foods competition at Camp Blogaway.
Ingredients
3/4 shot cucumber flavored vodka
3/4 shot lime flavored vodka
3 dashes Tabasco®
3 dashes Worcestershire sauce
1 teaspoon olive juice
1 teaspoon lime juice
Tomato juice
FOR GARNISH:
Chili lime salt for rim
1 Dandy® Celery Straw
3-4 Dandy® Radish MiniSticks
1 drink umbrella
1 each of cheese stuffed olive, pickle, pickled
Green bean, carrot & asparagus
1 cracker with cheese slice
Dash of celery salt
Instructions
Wet the rim of a 12-ounce glass with lime juice. Dip rim into the chili lime salt. Fill glass with ice if desired.
Combine the vodkas, Tabasco®, Worcestershire, olive juice, lime juice and tomato juice in the glass and stir.
Stuff the Dandy® Celery Straw with radish sticks and the umbrella and place in the glass. Place the olive, pickle, pickled green bean, carrot and asparagus on a skewer and balance on the glass. Garnish with the cheese and cracker. Sprinkle the whole shebang with celery salt.
Now enjoy your day at the beach!
Makes 1.
Celery Straws
Duda Farm Fresh Foods (under the Dandy brand) has introduced the amazing "celery straws" in Canada. This is a naturally occurring mutation of wild celery that has a hollow core, making it ideal as a straw for a Bloody Mary. Don't you wish they sold them here in the U.S.? I plan to bug my local produce guy. Can we get a movement afoot to bring celery straws to America?
Want to see MY Bloody Mary?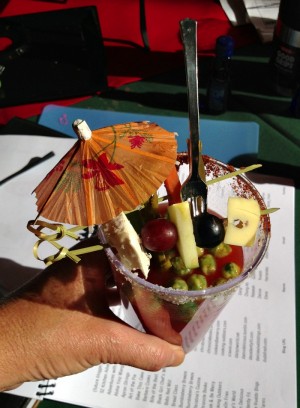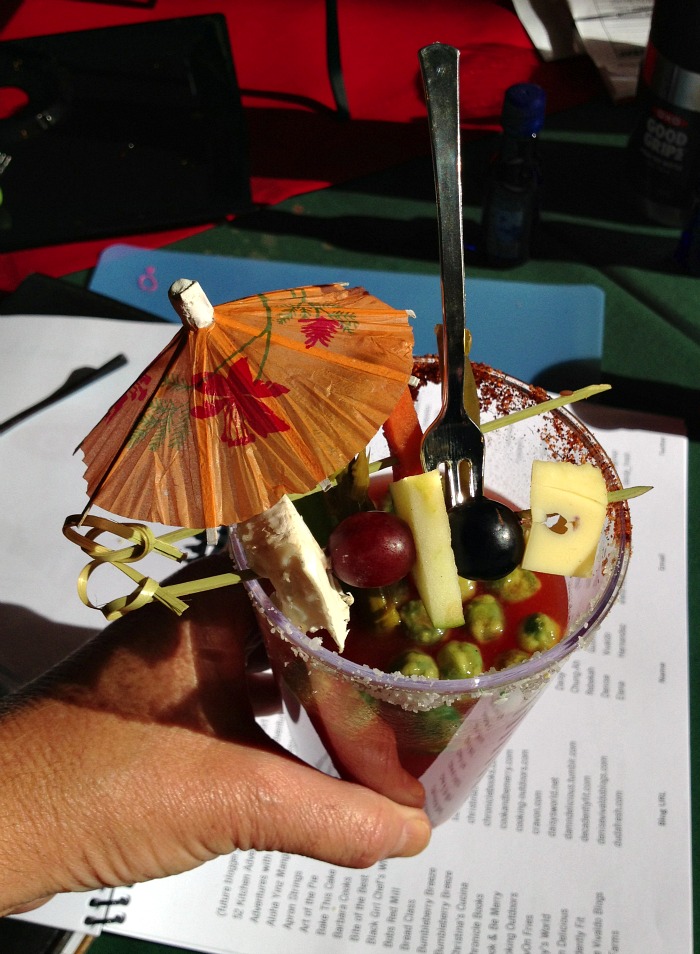 We nicknamed mine "Everything But the Kitchen Sink." With that cute little fork stuck in the olive, it really looks like a meal, doesn't it? Chunks of cheese, a grape, and olive are skewered in front, and a pickled carrot, green bean and pickle are skewered behind. Those are wasabi peas floating on top. And it is half-rimmed with chili salt and half-rimmed with lime salt. Yeah.
Preparation time: 5 minutes
Diet type: Vegetarian
Number of servings (yield): 1
Culinary tradition: USA (Traditional)