Print This Post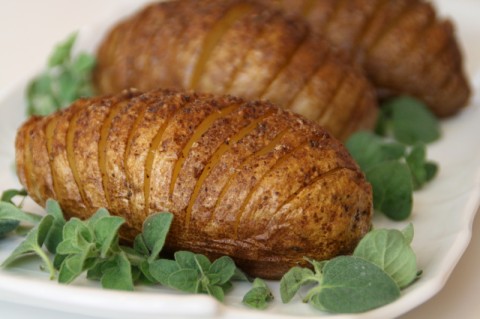 I always try to do a potato dish on St. Patrick's Day…just because. This year's winner has seen a lot of action since then because it was an immediate hit.
Here's my latest infatuation — a simple baked potato that gets its drama from being cut into an accordion before it hits the oven. As it bakes, the slices fan out slightly for a show-stopping presentation. This is as comfortable at a family dinner as it would be at a dinner party.
Don't tell anyone it's really just a baked potato dressed up for a night out.
Faith and Begorrah!
Baked Accordion Potatoes
6 potatoes, scrubbed but unpeeled (Idaho potatoes preferred)
Olive oil (or melted butter)
Salt (or seasoned salt)
Garnish: Chopped fresh herbs such as chives, Italian parsley and/or oregano
Heat oven to 350 degrees. Cut potatoes into 1/4 inch thick slices, crosswise, but do not cut through the bottom. (Cut to within 1/4 inch from the bottom.) Place in roasting pan. Drizzle with olive oil (or melted butter), making sure some gets in the potato cracks. Sprinkle with salt to taste.
Roast for about 60 minutes, basting again with the accumulated oil at about the halfway mark (a turkey baster works well for this). As potatoes bake, the slices will fan out a bit further.
Remove potatoes from oven. Using a tongs or spatula, place potatoes on plate and shower with chopped fresh herbs if you like. May also be served naked without herbs.
Serves 6.
Variation
Sprinkle potatoes with grated Parmesan cheese during the last 10-15 minutes of baking.
Another variation
You can get fancy with paprika, smoked paprika, any kind of a pepper or bbq rub, etc. to sprinkle on these babies. Sometimes, though, simpler is better. Suit yourself.
This was published in March 2010 in the San Gabriel Valley Tribune, Pasadena Star-News and Whittier Daily News.