Print This Post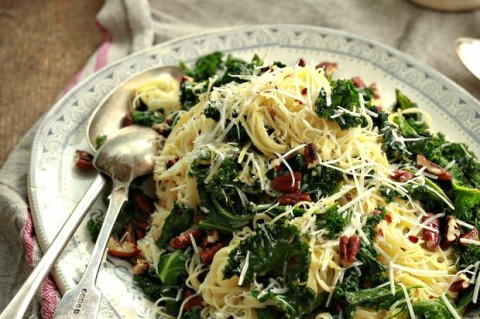 Kale aficionados, we're b-a-a-a-ck with another installment in our mission to use that leafy green in as many delicious dinners as possible.
This charming recipe for Angel Hair Pasta with Lemon, Kale and Pecans comes by way of a new cookbook, out this spring, that is so of-the-moment as to have been crafted just for us today.
It's called "The Quick Six Fix: 100 No-Fuss, Full-Flavor Recipes" by Stuart O'Keeffe. His idea is simple: six key ingredients, six minutes prep and six minutes cleanup, for every recipe in here. With that foundation of simplicity, it's easy to bookmark a quick dozen recipes that you'll want to try right away. On my list are an Asian Chicken and Mint Salad and a Tex-Mex Salad (both of which use rotisserie chicken), a one-skillet Chicken Breasts with Basil Lemon Sauce, his Crispy Fingerling Fries and Parmesan Broccolini, both done on a sheet pan in the oven.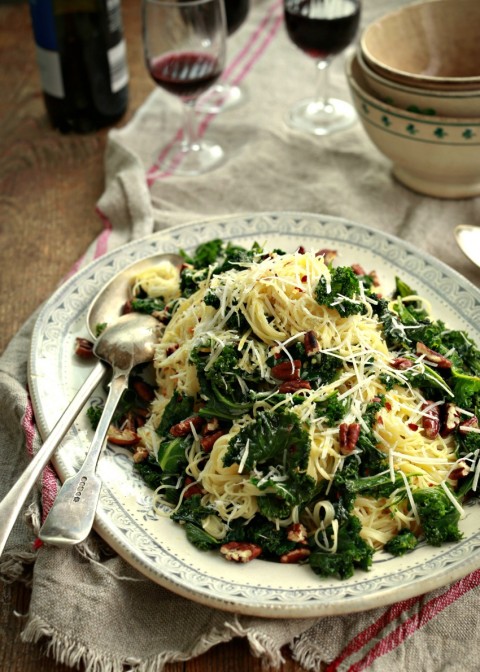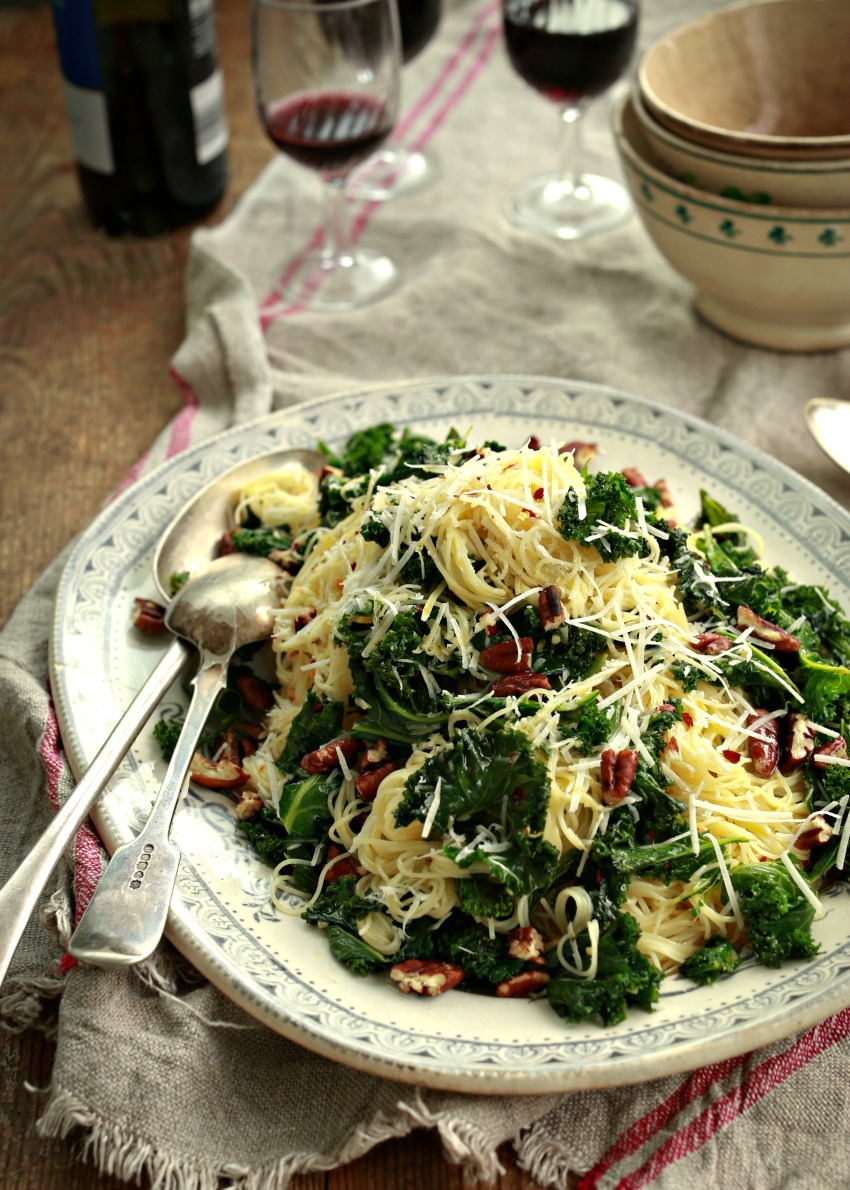 Irish-born Chef O'Keeffe now makes his home in Los Angeles, and his notion that there's folly in making too much of a fuss over anything — including cooking — fits right in with the easy Southern California vibe.
In fact, his philosophy has underpinnings that are easy to remember:
keep your pantry stocked with some go-to items
remember that fresh is best, whether it is fish, pasta, vegetables or herbs. With only a few ingredients in each dish, quality is important
read each recipe three times before you attempt it
clean up as you go (he will remind you in each recipe where you have time to wipe the cutting board, soak a pan, stick the bowls in the dishwasher, and use your time efficiently)
About this delicious dinner, he says, "When kale started to take over the food world, I noticed it was juiced, made into chips, put into smoothies, and even sneaked into chocolate bars. So why not put it in a pasta dish? The nuts in this recipe give the dish another layer of flavor and a nice crunchy texture. The bitter, citrus, crunch, and chili all combine for a unique pasta."
Are you drooling yet? Let's make dinner!
Angel Hair Pasta with Lemon, Kale and Pecans

Slightly bitter kale, bright lemon, crunchy pecans and spicy chili all combine in a pasta dish right at home in Southern California.

Ingredients

1/2 cup

pecans

1 pound angel hair pasta
1/2 cup extra virgin olive oil, divided use
4 cloves garlic, minced
1/2 teaspoon dried chili flakes
1/2 pound

kale

, stems discarded and leaves chopped
Zest of 1 lemon
Juice of 1 lemon
8

basil

leaves, torn
2 teaspoons kosher salt

(Note from Dorothy: I used far less)

2 teaspoons freshly ground black pepper
4 tablespoons grated Parmesan

Directions

Toast pecans in a dry nonstick skillet over medium heat for 3 minutes until fragrant. Remove from skillet and chop. Set aside.
Add 1 teaspoon of salt to a pot of water and bring to a boil. Cook the pasta for 1 minute less than the package instructs.
While the pasta is cooking, heat 1/4 cup olive oil over medium-high heat in a large nonstick skillet until shimmering. Add the garlic and chili flakes and stir for 30 seconds until fragrant.
Add kale and lemon zest and cook for 2 minutes more. Stir carefully so that the kale will not fall out of the pan.
Add the cooked and drained pasta, remaining olive oil, lemon juice, basil, salt, and pepper. Toss until everything is coated.
Portion pasta onto plates or wide, shallow bowls. Sprinkle with the pecans and Parmesan cheese.
Serves 4-6.

Notes

The key ingredients are in bold.

Notes from the chef: --Angel hair pasta is very thin and cooks very quickly. --Toasting nuts releases their natural oils and flavors.

Recipe source: "The Quick Six Fix: 100 No-Fuss, Full-Flavor Recipes" by Stuart O'Keeffe (William Morrow/HarperCollins Publishers; $27.99)

https://www.shockinglydelicious.com/angel-hair-pasta-with-lemon-kale-and-pecans/

Copyright Dorothy Reinhold | ShockinglyDelicious.com. All rights reserved.



If you like this recipe and want to remember it, pin the element below to your Pinterest board.

Disclosure: William Morrow/HarperCollins sent the book for review and granted permission for use of the recipe and photos.