Print This Post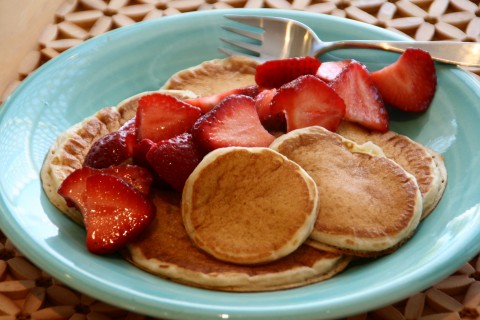 I want to say "ban the Bisquick," but in truth, sometimes we all rely on it. But it's just as easy and five times as tasty to make your own buttermilk pancakes. Just stir together flour, buttermilk and a few other common ingredients (you have to measure and stir the Bisquick pancakes, don't you, so it is really no more work), and you are good to go.
Here's a bit of a pancake tutorial, in case you need the confidence to be a Sunday (or Monday holiday) breakfast hero.
For variety and to secure your place in the Mommy Hall of Fame, toss on some mini chocolate chips if your family likes to start the day out with a chocolate jolt.
Basic Boffo Buttermilk Pancakes
1 1/2 cups buttermilk
1 egg
1/4 cup vegetable oil
2 tablespoons sugar
1 teaspoon baking powder
1 teaspoon baking soda
1 teaspoon vanilla extract
1/4 teaspoon salt
1 1/4 cups all-purpose flour
Topping: Sliced banana, strawberries, other berries, maple syrup
Heat a large frying pan or griddle over low-medium heat.
In a large bowl, whisk or stir together buttermilk, egg, oil, sugar, baking powder, baking soda, vanilla and salt. Gently whisk in flour until relatively smooth (do not over beat or you will develop the gluten and make the pancakes tough).
When griddle is hot, coat it with butter or nonstick cooking spray if necessary. Sometimes, with a new-ish nonstick griddle, you may find you don't need any grease.
Pour 1/4-cup portions of batter into the pan, spacing appropriately (they spread out to about 4 inches across). Cook the pancakes 1-2 minutes per side or until golden brown. It is also fun to make pancakes of different sizes, so to charm the children, consider making some smaller ones, as well. You can make them larger, but consider the size of your spatula before making them humongous. You want them to be easy to flip over.
Place pancakes on plate, top with sliced fruit, and serve with maple syrup on the side.
Serves 3 to 4 (14-16 pancakes).
Chocolate Chip Pancakes
Sprinkle a few mini chocolate chips into the batter for chocolate chip pancakes. Or if some people want pancakes plain and some want chocolate chip, sprinkle a few chips right onto the batter after it goes onto the griddle.
Almond Pancakes
Add 1/4-1/2 teaspoon almond extract to the batter.
Nutella Pancakes
Instead of maple syrup, spread hot pancakes with Nutella. Can we just say, "Yum?" (Nutella is a chocolate-hazelnut spread found in the jelly and jam aisle.)