Print This Post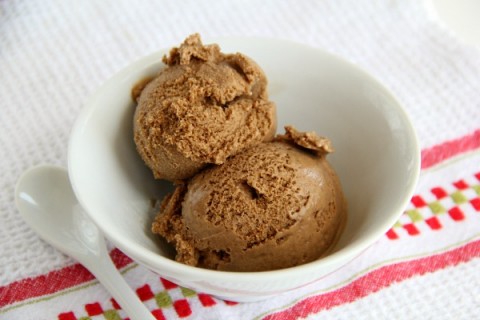 I went to over to the dark side and I made a vegan ice cream. Say what? The butter and cream girl eschewed both, and liked it?
It all started last summer, when my kids were making fun soda drinks. They hit upon a wonderful combination: root beer and coconut syrup.
It might sound odd, but it is so good! They graduated from the soda drinks to making sno cones with those flavors. We must have gone through several large bottles of coconut syrup before we moved on to other treats.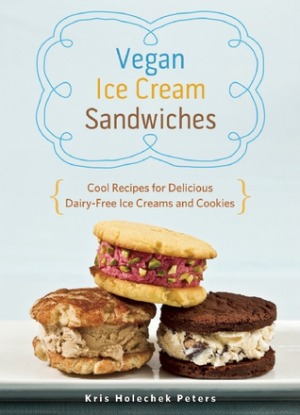 So when OXO sent a box of ice cream tools and gadgets, the first thing I thought of was trying to ice cream-ize those flavors. Just my luck, I also had a new cookbook up my sleeve — "Vegan Ice Cream Sandwiches," by Kris Holechek Peters – and wouldn't you know it, she had already developed such a recipe. She suggests serving the ice cream sandwiched between Very Vanilla Cookies, which sounds like a great idea, but I opted just to make her ice cream today. 

So, using the well-designed OXO tools, I quickly threw together the ice cream base. Their 2-cup Angled Measuring Cup is my go-to measuring tool in the kitchen since I discovered it years ago. Every kitchen needs at least two of these. The 4-Piece Mini Measuring Beaker Set is the cutest, most fun way to measure small amounts of extracts and liquids. You almost feel like a scientist. And my family voted the Solid Stainless Steel Ice Cream Scoop the best they have used, and promptly removed the other scoops from the gadget drawer. It has a slightly pointed tip that gets even hard ice cream, and is perfectly weighted, handled and angled. The Medium Square LockTop container fit a quart of ice cream well, and was a great way to store the finished ice cream in the freezer. In case you don't have a Small Silicone Spatula, may I recommend you get one immediately? It worked like a charm to get the ice cream out of the ice cream maker bowl without scratching the finish, and I find myself reaching for it for many things, from spreading jam to scraping the last bit of something out of a jar. The Mini-Chopper is quick and efficient for chopping small amounts of nuts, and cleans up easily. I put sprinkles in the Sugar Dispenser – all the easier to toss a few onto my bowl o' frozen goodness.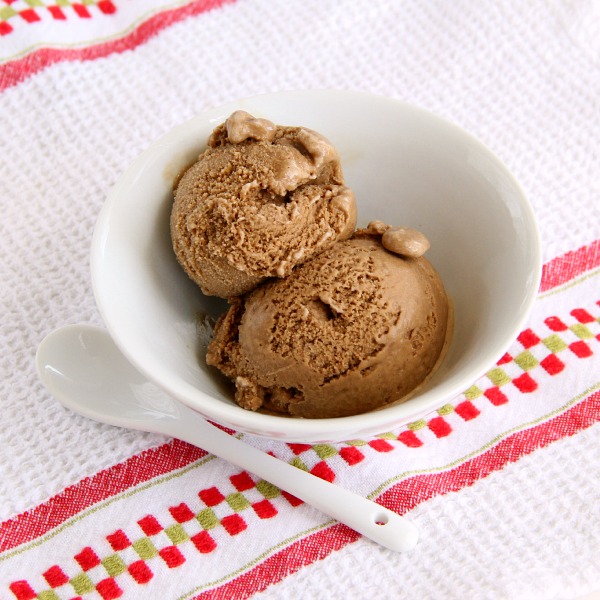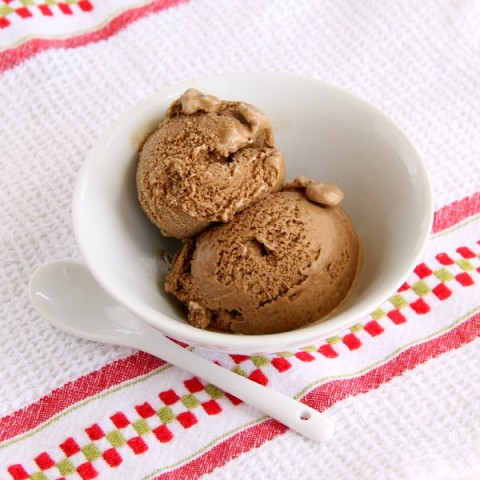 The finished ice cream reminded me of my beloved root beer floats! When right out of the maker, it had a sticky, gelato-like quality (this is a good thing, in my opinion). After ripening in the freezer for a few hours, it was creamy, with the perfect mouth-feel. The flavor is outstanding.
This is the last day of Ice Cream Month. Now's your time to celebrate in style! What flavor will YOU make?
Vegan Root Beer Coconut Ice Cream
Reminiscent of a root beer float, this Root Beer Coconut Ice Cream is a wonderful combination of two iconic flavors.
Ingredients
1 (13.5- 14-ounce) can full-fat coconut milk (not the light version)
1 cup nondairy milk

(I used whole milk, which de-veganized it...oops)

¾ cup vanilla sugar

(can use your preferred sugar version)

2 teaspoons root beer extract
1 teaspoon vanilla extract

(I used Heilala Vanilla Extract)
Directions
In a large saucepan, combine the coconut and nondairy milk, add sugar and stir to combine. Over medium heat, bring the mixture to a boil, stirring often. Once it boils, turn heat down to low and stir until sugar dissolves. This should only take a minute. Remove from the heat, add the root beer and vanilla extracts, stir and allow to cool completely. Pour into a lidded container and refrigerate until cold, a few hours or overnight.
When ready to make ice cream, pour mixture into your container and churn according to the machine's directions. When it turns to ice cream (15-20 minutes or so), scoop into a lidded container and freeze for at least 2-3 hours to firm up.
Makes 1 quart. Serves 8. No wait, serves 3. Or 2.
Notes
Recipe source: "Vegan Ice Cream Sandwiches," by Kris Holechek Peters (2014; Ulysses Press; $15.95)
https://www.shockinglydelicious.com/vegan-root-beer-coconut-ice-cream/
Copyright Dorothy Reinhold | ShockinglyDelicious.com. All rights reserved.
---
Disclosure: OXO sent the tools and gadgets pictured for the #IceCreamforOXO campaign. All opinions, as always, are my own. Thank you for supporting brands that I love.
Save
Save