Print This Post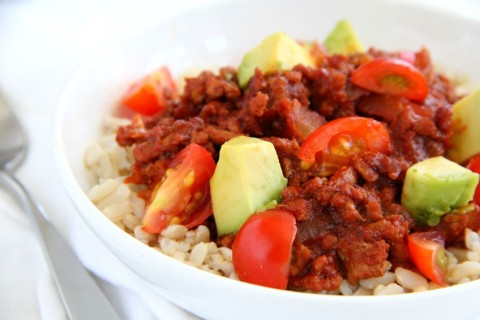 Hatch chile season is upon us, and to get us in the mood while we wait for the fresh Hatch to show up in our stores, I have a recipe that that uses dried Hatch in three forms, with an extra fourth form in a delicious spicy tangerine finishing sauce at the end.
Read on, chile heads, and please see the national schedule for public roastings here.  California, Kansas,  Maryland, Nebraska, Nevada, Ohio, New Jersey, New York, Pennsylvania, Texas, Virginia…check for a location in your state. If you see one near you, DEFINITELY go a buy a case of Hatch chiles, and have the store roast it for you (free!), and you will have Hatch chiles at the ready in your freezer for the rest of the year.
Want to know how to use your Hatch chiles once you have them? I have a couple of roundups with a ton of world-class recipes…
Ready, set, GO! on Hatch Chile season!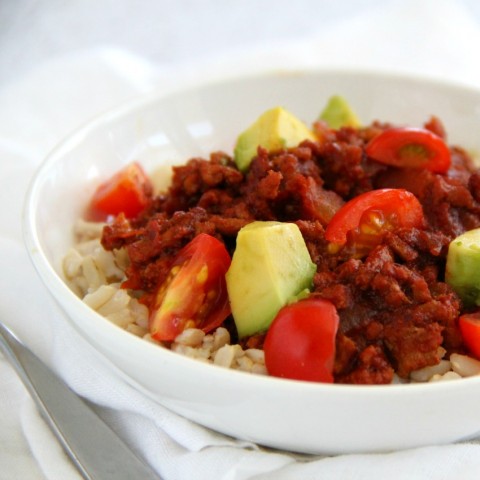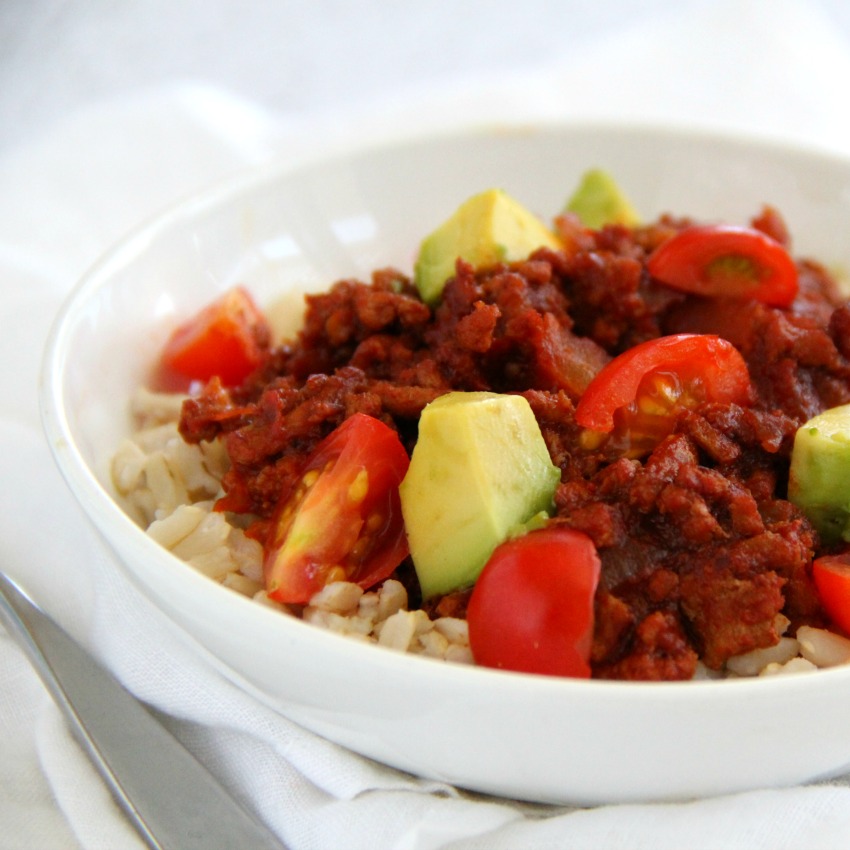 Triple Hatch Chile Turkey Bowl
Authentic chile-flavored turkey makes a deeply flavored dinner or lunch – Triple Hatch Turkey Bowl will have you ready for Hatch chile season.
Ingredients
10 dried Hatch chiles (I used Don Enrique Brand)
Kosher salt or sea salt
2 teaspoons olive oil
½ to 1 onion, peeled and sliced or diced
1 pound ground turkey
1 (12-ounce) jar Melissa's Hatch Salsa
Pinch sugar
.

For serving:

6 cups cooked brown rice

Garnishes and finishing sauce:

--chopped fresh tomatoes
--diced ripe avocado
Directions
Hydrate chiles:

Using a kitchen shears or knife, snip the stems off the tops of 10 dried Hatch chiles. Shake out the seeds and discard, if you like. Place 2 cups of water in a 4-cup measuring cup, and microwave on high until boiling, about 3 minutes. Remove cup from microwave oven and submerge dried chiles in water, pushing down to make sure they are all wet. Set aside to hydrate for at least 3-4 hours, and preferably overnight.

Prepare chile sauce:

When chiles are hydrated, remove them into a blender container, and pour in about half the soaking liquid and a pinch of salt. Whirl for 15-30 seconds, until it forms a thickened but pourable brick-red liquid. You can always add a bit more soaking liquid if you think the sauce seems too thick.
In a large skillet, heat olive oil. Add the onion and sauté for about 5-7 minutes, until onion is translucent; edges may begin to brown, which is fine. Add ground turkey and cook and stir for another 5-7 minutes, until turkey is cooked through. Add all the chile sauce from the blender, half a jar of the Hatch Salsa (save the rest for eating with chips!), a pinch of salt and a pinch of sugar, and cook and stir occasionally for another 5 or so minutes, until the turkey is bubbling and everything is combined.

To create bowls:

Place cooked rice in individual bowls. Top with Triple Hatch Turkey, and some bits of chopped tomato and avocado.
Pass the Hatch Chile Powder and the Tangerine Hatch Chile Not Ketchup at the table. Those who want the dish even hotter may like more Hatch powder; everyone will want a drizzle of slightly sweet (no sugar added), flavorful Tangerine Hatch Chile Not Ketchup on their bowl.
Serves 4.
Notes
Recipe source: Dorothy Reinhold | Shockingly Delicious
https://www.shockinglydelicious.com/triple-hatch-chile-turkey-bowl/
Copyright Dorothy Reinhold | ShockinglyDelicious.com. All rights reserved.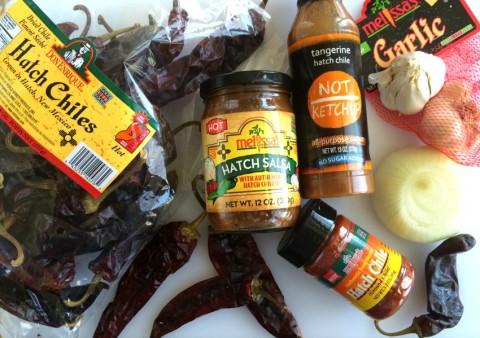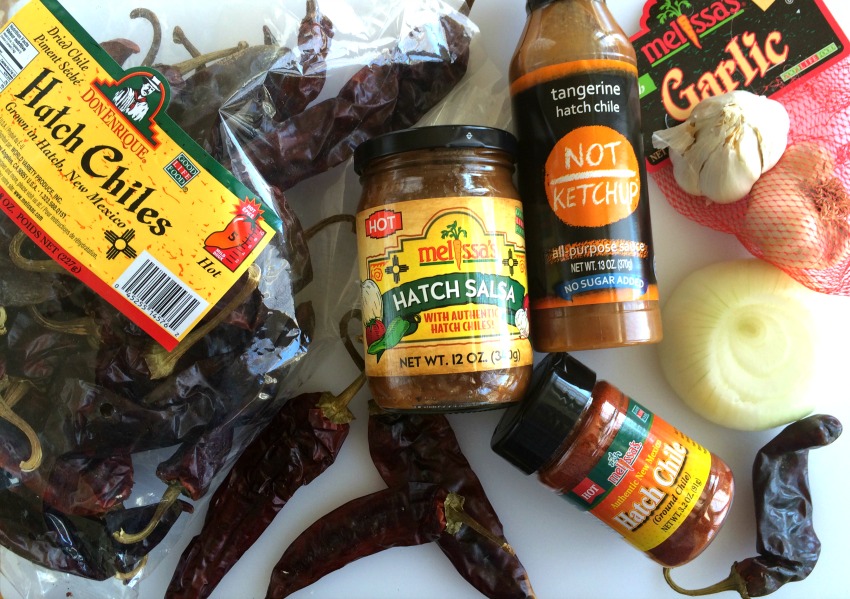 I'm a big fan of repurposing recipes.
Other ways to eat this Triple Hatch Chile Turkey:
Use in a burrito
Use in a taco
Use to stuff a baked potato
Use over shredded cabbage or lettuce for a lower-carb bowl
If you like this idea, pin this recipe to your Pinterest board using the photo below (or another photo from this post).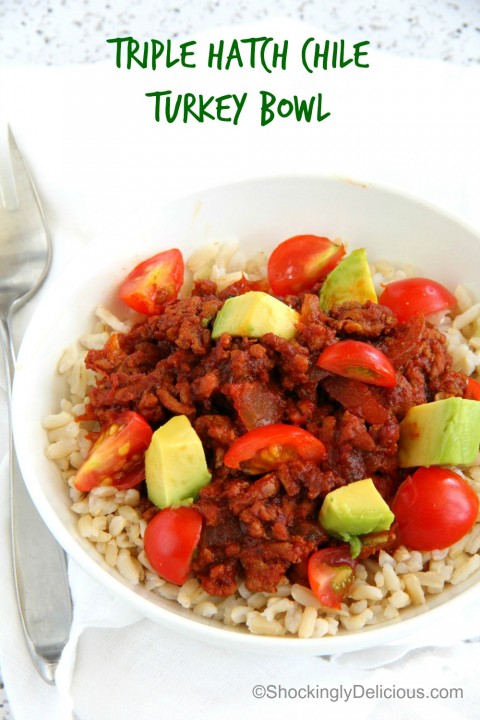 Disclosure: Melissa's Produce supplied the Hatch chiles, Hatch salsa and Hatch powder. Not Ketchup supplied the no-sugar-added Tangerine Hatch Chile Not Ketchup. Thank you for supporting the companies and brands that I work with, which keeps the lights on, the computers humming and the cameras clicking here at Shockingly Delicious HQ.