Print This Post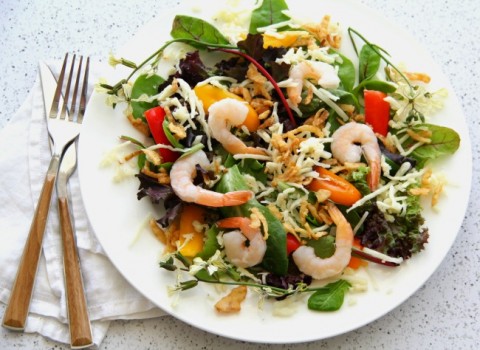 Do you always follow recipes for your salads, or do you throw things together on a whim?
Today, I'll show you how easy it is to build a summer salad, and then give you the actual recipe for the salad and the dressing in case you need written backup.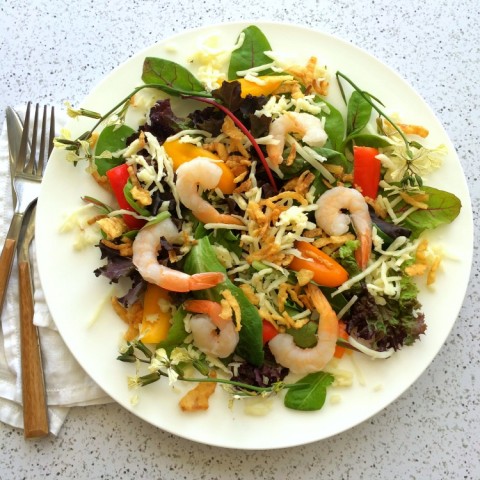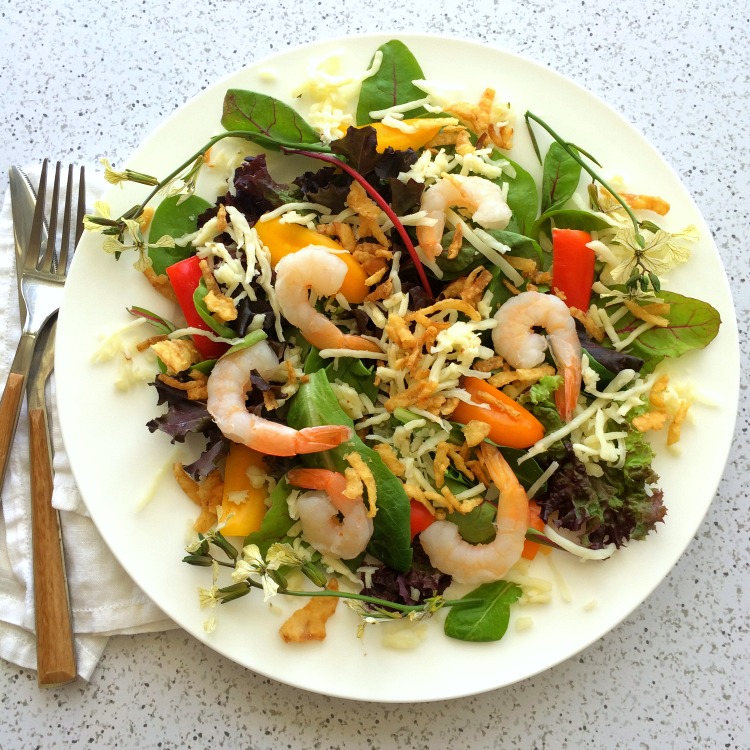 Start with greens
Today I'm using mixed greens, which the package calls organic baby spring mix — green leaf, mizuna, romaine, tango, spinach, arugula, frisee, tatsoi, mache, lolla rosa, red mustard, red leaf, radicchio, red oak …sheesh, what ISN'T in here? Use whatever variety you like, and don't forget the unique ones — baby bok choy, the chards (red, green, or rainbow), beet tops, etc. All of these can be eaten raw, and are quite delicious. I often will toss together a few handfuls of spring mix or a specialty green with shredded cabbage, which gives me something to chew on. And the greens varieties you use can change with the seasons, as some greens come into season and others go out.
Choose a protein
I'm doing cooked shrimp today, but consider roast chicken, grilled steak, cooked fish, raw sashimi fish, baked tofu, beans or chickpeas…whatever protein heft you like. Adding protein to your salad makes it a main dish, and will keep you full longer.
Cheese (or not)
I do like a sprinkle of cheese on my main dish salads. Today I'm using a new brand I found on sale at Ralph's, called Senor Gusto Spicy Blend (a shred of Oaxaca and Jalapeno queso). You could use shredded, chunks or even tiny balls, like mozzarella pearls. Don't forget crumbled feta or a goat cheese medallion as options. If you don't do dairy, omit the cheese, or sub a non-dairy cheese of your choosing.
Add some colorful vegetables
Summer boasts a plethora of sweet bell peppers, so today I'm taking advantage of the mini tri colored bells. You have so many options, ranging from sugar snap peas to jicama, chopped celery, carrot ribbons, broccoli, cauliflower…
Add some colorful fruit
Berries are a natural to add to salads in summer. (Oops, I forgot to add the blackberries before I took the photo! Just pretend they're there.) Raspberries, strawberries, blueberries — they all add their jewel-like quality to the dish. But don't overlook peaches, nectarines, plums or other stone fruit, including cherries. Pit them, halve or slice them, and lay them on attractively. Pro tip: Tomatoes are a fruit; don't forget the summer tomatoes!
Add some crunch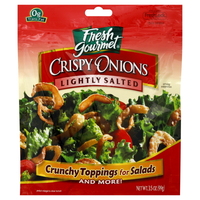 It could be roasted nuts, sunflower seeds, or my current obsession, Fresh Gourmet Lightly Salted Crispy Onions. I discovered these in the aisle near the croutons, and I am IN LOVE WITH THEM! They are truly just lightly salted, and the deep onion flavor is very satisfying on a salad. Croutons would be fine, as would a commercially packaged salad topper (which usually has nuts and dried fruits in it).  Just add some crunch!
Garnish
If I can find some edible flowers out in the garden, I will strew some on my salad, for eye appeal. Today my arugula was bolting in the garden, so I used a few sprigs of arugula flowers (you can see them around the edge of the plate). Purple chive flowers are also nice, as are nasturtiums or violas (tiny pansies). If you're going to pick out of your garden, just be sure you are not spraying insecticides. Grow things naturally if you can…a few bug holes never hurt anyone.
A great dressing
Summer screams basil, so today's dressing is a very fast blended fresh basil vinaigrette. You can buy the dressing, of course, but it is so easy to toss a couple of pantry ingredients in a shaker and make your own. Check below under the salad recipe for my quick basil dressing recipe. I had a basil plant in the window sill, and I used those fresh leaves.
Ready for your Summer Salad?
Let's go!
Summer Salad with Fresh Basil Vinaigrette
Summer Salad with Fresh Basil Vinaigrette is a light, main-dish salad that would make a nice lunch or dinner, and takes advantage of the colors of the season.
Ingredients
Mixed greens
Mini colored sweet bell peppers, quartered
Shredded cheese
Cooked shrimp (tail on or off, as you wish)
Crispy onions
Fresh blackberries
Garnish: edible flowers (I used arugula flowers from the garden)
Dressing: Fresh Basil Vinaigrette (see recipe below)
Directions
Lay fresh greens on a large plate. (I love BIG main dish salads!).
Nestle bell peppers in among the leaves.
Sprinkle on your choice of cheese. Don't use too much. Think of it as a flavor ingredient, not meant to add too much fat and weight to the salad.
Lay on some shrimp (shrimp are pink if they are cooked, and grey if they are raw; make sure they're cooked).
Sprinkle with crispy onions. Fling on a few blackberries. Sprinkle with some edible flowers if you have them handy.
Serve the dressing at the table and let each person drizzle it on their own salad. Dressing amounts are so personal!
Makes 1 salad.
Notes
Recipe source: Dorothy Reinhold | Shockingly Delicious.
https://www.shockinglydelicious.com/summer-salad-with-fresh-basil-vinaigrette/
Copyright Dorothy Reinhold | ShockinglyDelicious.com. All rights reserved.
If you like this strategy and recipe, pin it to your Pinterest board, using the image below.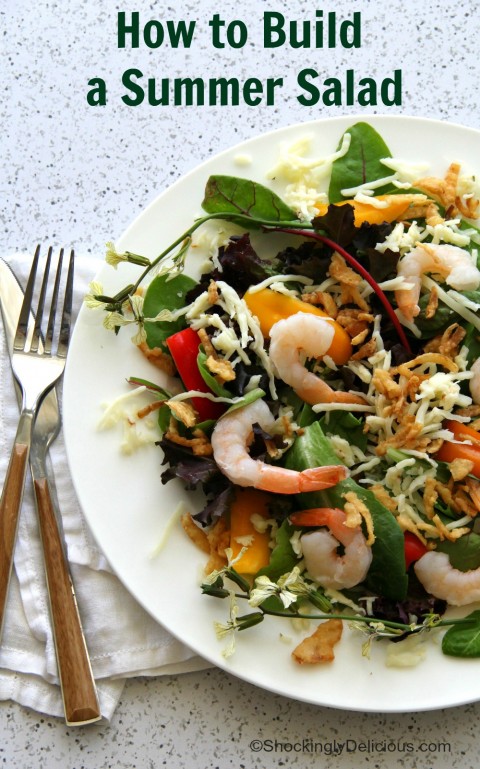 Because creating a salad is a personal thing, and because so many people these days have issues with various foods, I am suggesting you make a sort of salad bar. Set out the ingredients in bowls or containers, and each person can make a personal salad just to their taste. Those who are avoiding dairy don't have to use the cheese. My family piles on the shrimp; me not so much, so each can add as much or as little as s/he wants. I would use a dump truck to put the crispy onions on my salad, but others might not. And peppers? I want ALL THE PEPPERS!
The folks from OXO sent over a couple of things so I could show you how easy it is to make a summer salad bar:
o 8 Piece SNAP Glass Round Container Set
o 2-in-1 Salad Servers
o Little Salad Dressing Shaker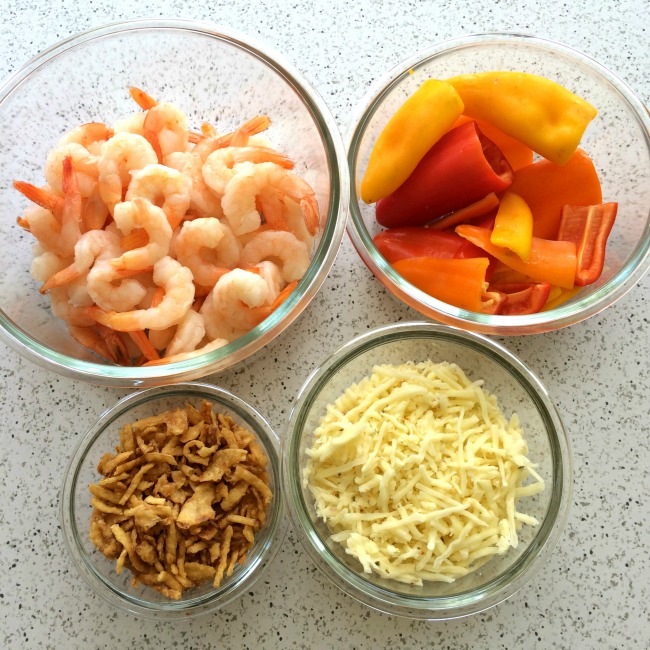 Not only are these bowls attractive, they're practical. You can use them for storage in the refrigerator, or take the lid off and it becomes a serving bowl. They're…
Made from BPA-free borosilicate glass, so can withstand extreme temperature changes without the risk of cracking or shattering. Incredibly, you can take it from the freezer directly to a hot oven, without shattering.
The SNAP lids have four locking tabs and a removable gasket which ensures a leakproof seal.
SNAP Glass Containers are both nestable and stackable, which means whether they're full or empty, it's easy to fit them in your cabinets.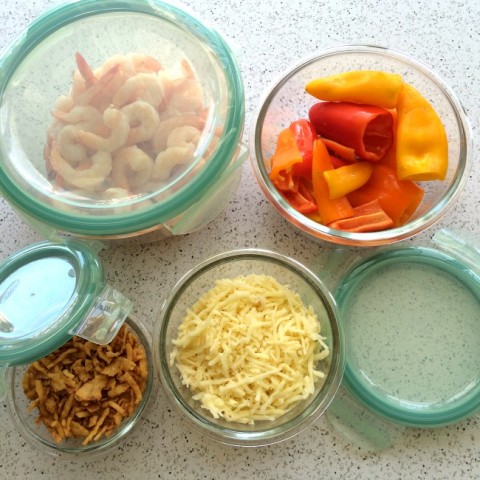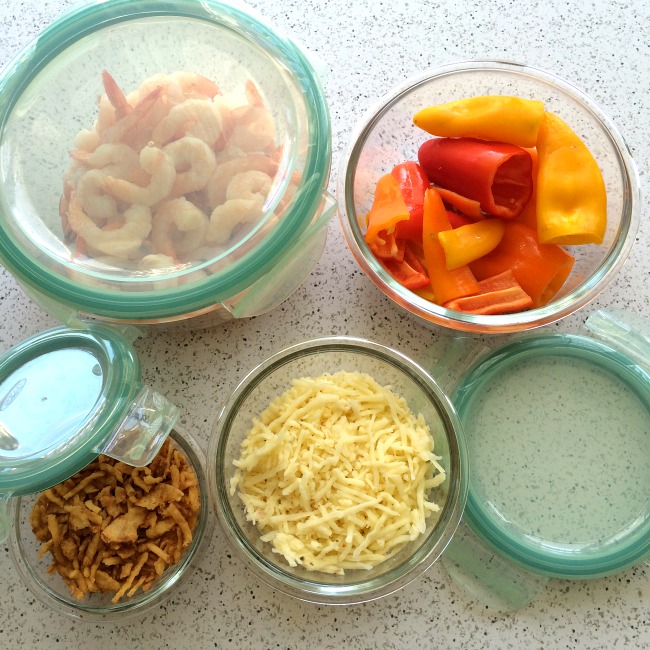 They're also perfect for meal prep ahead of time, or storage of leftovers afterwards. They'll go in the microwave and the dishwasher, too.
Ready for the salad dressing recipe?
Let's make it super easy, putting it in Little Salad Dressing Shaker, which is BPA-free, dishwasher safe, leakproof and has a handy open/close lever on top that flips back to pour and forward to seal. It is the cat's meow!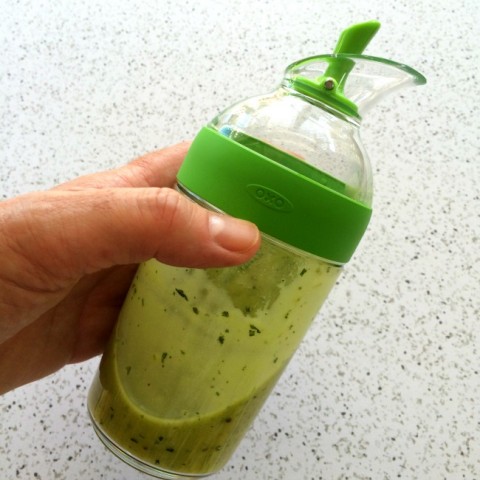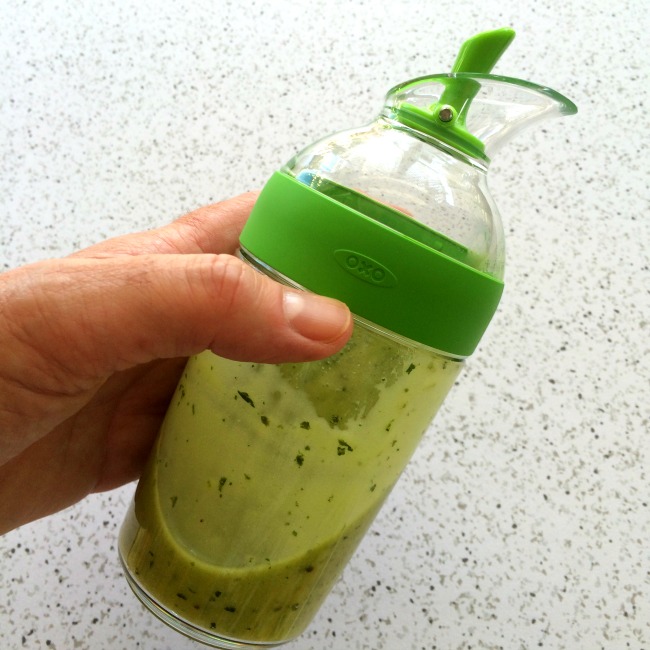 Fresh Basil Vinaigrette
4 tablespoons extra-virgin olive oil
2 tablespoons rice vinegar (or apple cider vinegar)
2 tablespoons water
1/2 teaspoon honey Dijon (I used Maille brand)
Black pepper — a few turns of the grinder
6-8 fresh basil leaves, chopped
Optional: 1/2 teaspoon agave (optional if you want it sweeter)
Place all ingredients in the OXO Little Salad Dressing Shaker and shake like the dickens. Taste and add a squirt of agave if you want it sweeter. (Sweet in dressing is highly personal…suit yourself. Remember, the honey Dijon is going to add sweetness.)
Alternatively, if you want a blended dressing as shown above, place all ingredients in a tall vessel and use an immersion blender to emulsify and blend. Pour into the OXO Little Salad Dressing Shaker for self-serving.
Recipe source: Dorothy Reinhold | Shockingly Delicious.
Disclosure: OXO sent the containers, salad tongs and dressing shaker for use in the blog post.