Print This Post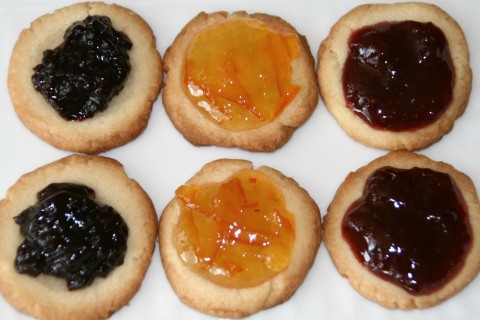 Did you forget tomorrow was National Pie Day?
How could you! NPD ought to be a national holiday. We should all get the day off work, stores should have big sales, and of course, all of us should have pie for dessert.
Well, I think we ought to have pie for dessert every night, but that's a different story.
This story is about the need for pie on National Pie Day. I need pie, but I don't need a whole pie staring at me, so I'm making what I like to call Teeny Tiny Pies. They're really a little cookie, but once you put the jam in, try to tell me that isn't a pie. Crust, fruit filling…that's a pie, my friends.
A delicious, bite-size, pie-let. A tiny pie. A mini pie. A piccolo pie. A pie-ini.
For your pie hole.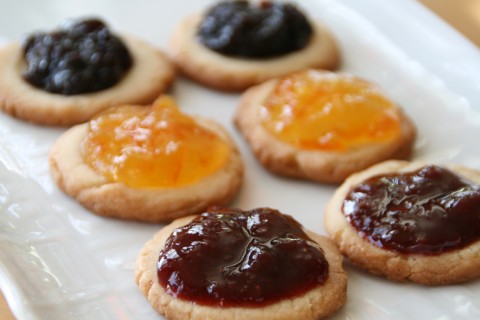 Teeny Tiny Pies
1/2 cup (2 ounces) confectioners' sugar
1/2 cup (4 ounces) room-temperature butter
1/4 teaspoon salt, extra-fine if you have it
1 teaspoon vanilla extract
1/4 teaspoon almond extract
1 cup (4 1/4 ounces yes) unbleached all-purpose flour (King Arthur brand preferred)
Topping
heaping 1/2 cup (6 ounces) jam or preserves
Preheat the oven to 375°F. Lightly grease a baking sheet, or line it with parchment paper. Combine the sugar, butter, salt, and vanilla and almond extracts, beating till smooth. Add the flour, again beating till smooth. Drop the dough in 1-inch balls onto the prepared baking sheet, leaving about 1 1/2 inches between them; a teaspoon cookie scoop works well here.
Using the flat bottom of a glass or measuring cup, flatten the balls gently, to about 1/4-inch thick.
Bake the cookies for 10 minutes, until their edges are just starting to brown. While they're baking, find a flat bottle lid or other round, flat object about 1 1/4 inches in diameter, to press indentations into the baked cookies.
Remove the cookies from the oven, and working quickly, firmly press straight down into their centers, to make a shallow indentation about 1 1/4 inches across. Try upending a bottle of vegetable oil and using the screwed-on cap to make the indentations.
Dollop 1 level measuring teaspoon of jam or preserves into the center of each cookie, spreading it to the edges of the indentation, if necessary.
Let the cookies cool completely right on the pan. Store any leftovers on a plate covered loosely with plastic wrap; or slide the plate into a bag, ballooning it up so the bag doesn't touch the jam. You can also store these cookies under a cake cover.
Yield: about 25 small (2-inch) cookies.
Note from the ShockD kitchen
We like to store these cookies unfilled, and just before serving, we dollop the jam. That way there can be no sogginess or messy jam smears in the cookie container.
Source: King Arthur Flour. They call them Jam Blossoms.
Happy National Pie Day, all you pie lovers!

Mac over at DishingintheKitchen interviewed me for National Pie Day. Take a walk over there and peruse her great questions! I like to yammer on about this Fresh Blueberry Pie, which is among my very favorite recipes.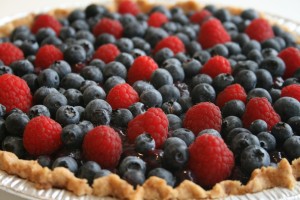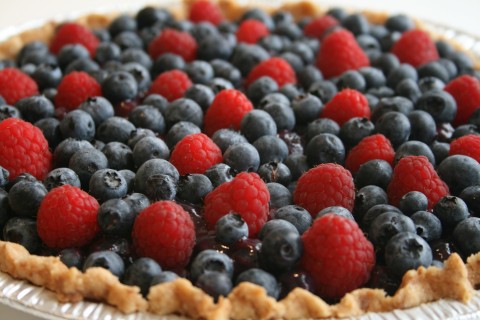 In fact, reader Diana L. of Los Angeles just said, "You know what I like about it? You can taste the vanilla, lemon and cinnamon in all that blueberry flavor and they are all present, accounted for, and in perfect balance. I was astonished. I thought, oh, maybe leave one of them out but no… they all have to be there, they all have a role in this pie. It's my new blueberry pie recipe. Well, my only one… it's really good." 
I couldn't agree more. Try it!