Print This Post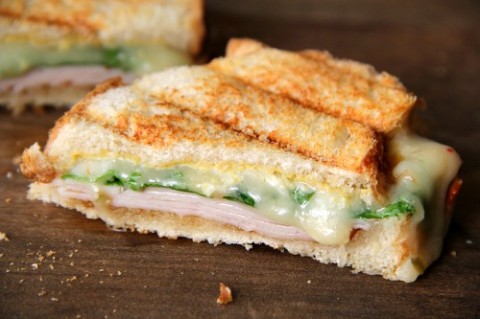 This is a sponsored post I wrote on behalf of Sargento Foods, Inc.. All opinions are 100% mine.
In my newspaper days, I most often had a hurried lunch, often eaten while working on a story with the phone cradled between my hunched shoulder and my cocked head, staring at my computer screen, trying not to drop crumbs in my keyboard or spill my drink on my notes.
Lunch break? What's that? Only a third of American workers say they actually take a lunch break and another third spend lunch at their desks, according to a survey by Right Management. Not much has changed since my days punching the clock.
But I'm here to encourage you to reclaim your lunch hour, or your lunch half-hour if that's your allotment. It's necessary time to refuel both your body AND your mind.
I still work on a computer all day, and if I'm not careful, I might tend to eat at the desk. But lately I have made a more concerted effort to make a decent lunch with fresh, whole foods, to take a moment to relax and let my mind wander, to actually get out a plate and a napkin and sit at the table instead of eating on the go or quickly over the sink.
Want to join me in taking a real lunch? The folks at Sargento Sliced Cheese have asked me to create a lunch recipe that convinces you to join the real lunch movement. Take a look at what I came up with, using their natural sliced cheeses.
Let's make a hand-crafted sandwich!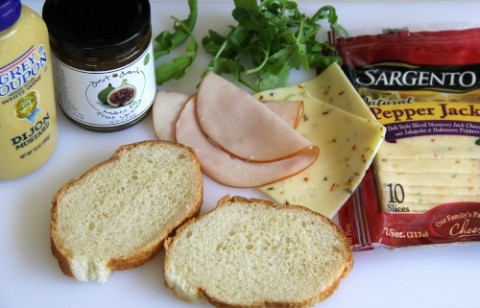 First, gather your ingredients. It only takes a few to make a tasty sandwich, but you must have good quality items to make an unforgettable sandwich.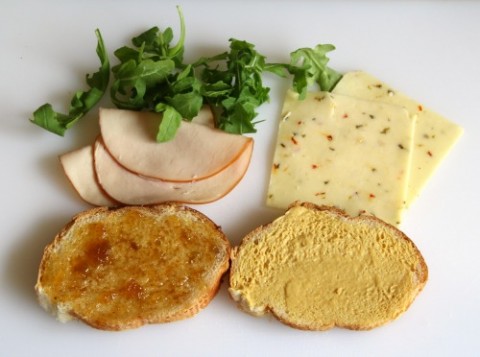 Spread fig jam on one slice, Dijon mustard on another.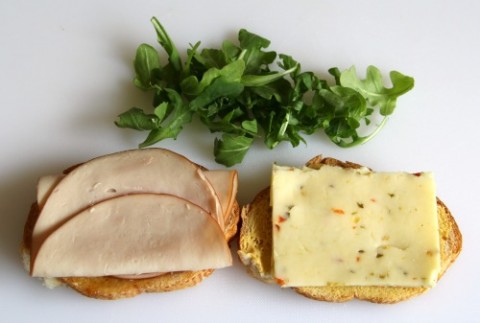 Mesquite turkey goes on one slice, cheese on another.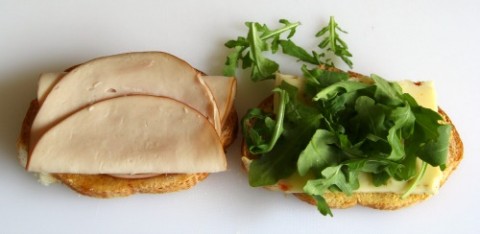 Peppery arugula is the last ingredient.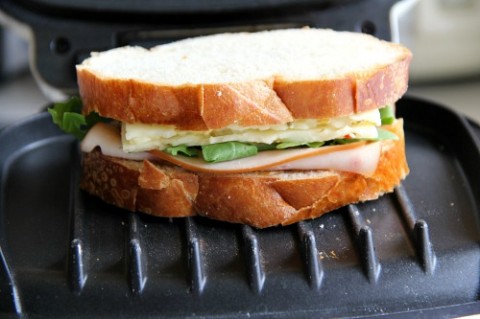 Slap it together and get ready for the George Foreman.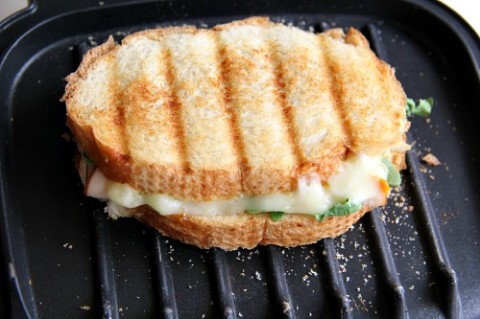 This is just perfect. However, if you decide to leave it in another minute or so just to get it even more melty….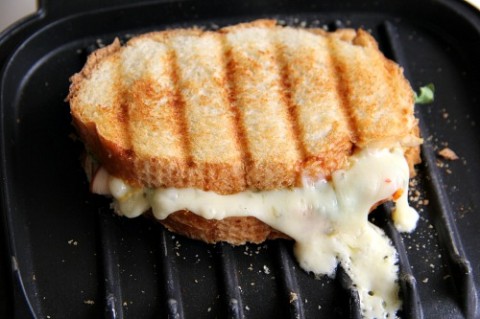 …you risk hot lava overflow.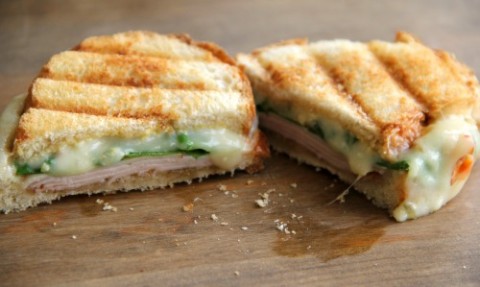 Doesn't matter. Scoop it up and carry on!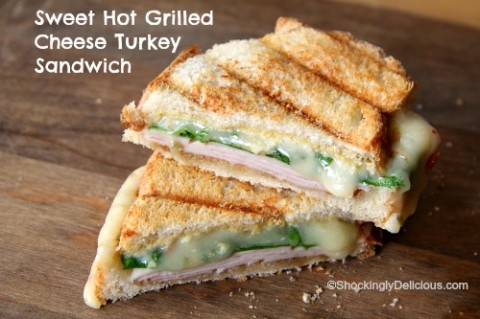 Relax and enjoy your time. You don't get it back.
Recipe: Sweet Hot Grilled Cheese Turkey Sandwich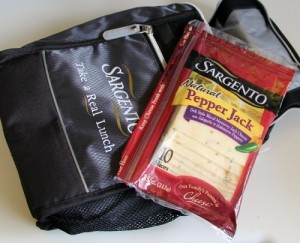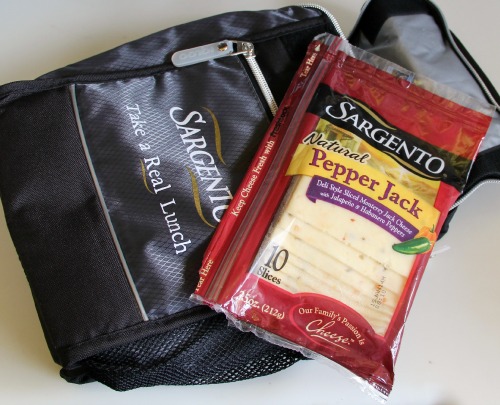 Summary: Sweet jam, zest mustard, spicy cheese, smoky turkey and peppery arugula combine in a symphony of flavors for a perfect grilled cheese lunch.
Ingredients
2 slices French bread (or use your favorite bread or slim roll)
1 ½ teaspoons fig jam
1 teaspoon Dijon mustard
1 slice Sargento Pepper Jack Natural Sliced Cheese
A few baby arugula leaves (optional)
2 slices roast mesquite-smoked turkey
Instructions
Heat countertop grill or panini press.
Spread fig jam on one slice and Dijon mustard on another. Lay cheese on bread (adjust cheese amount depending on how cheesy and spicy you want your sandwich). Arrange arugula on cheese, and top with turkey followed by second slice of bread.
Grill for a minute or two, until cheese is melted and bread is toasted.
Remove, allow to rest for 30 seconds, and slice in half.
Serves 1.
Preparation time: 6 minutes
Cooking time: 4 minutes
Number of servings (yield): 1
Culinary tradition: USA (General)
My rating 5 stars:  ★★★★★