Print This Post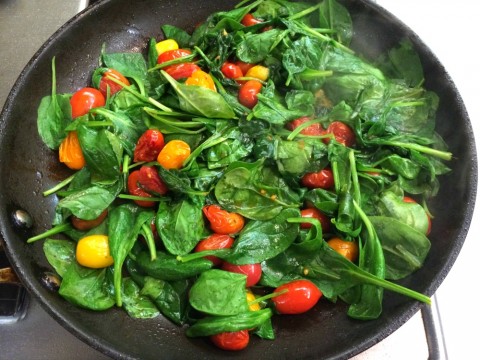 You know I'm all about encouraging you to eat more produce (fruits and vegetables), AND I'm all about encouraging you to just get in the kitchen and try stuff, whether it is with or without a recipe.
Today I want to show you just how easy it is combine both those efforts to make a quick vegetable side dish that can go with nearly anything you want to put on your plate — roasted meat, poultry or fish, scrambled eggs, feta chunks — whatever you want. Once you make it, you won't even need to refer to the recipe; that's how easy and intuitive this one is.
Grab 10 ounces of washed spinach, a pint of cherry tomatoes, your bottle of olive oil and some garlic, and meet me at the stove.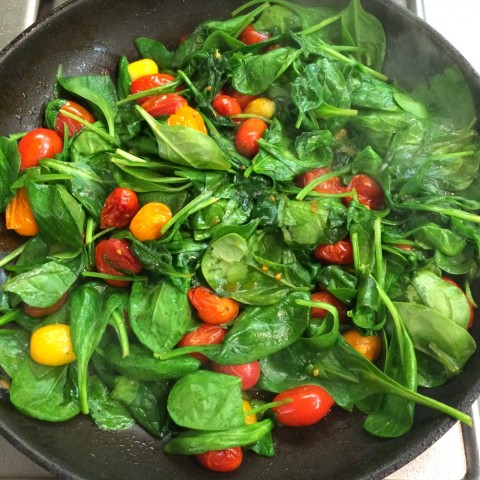 We'll be done in about 10 minutes total, including heating the pan and cleaning up.
Spinach and Cherry Tomato Saute
A quick three-ingredient Spinach and Cherry Tomato Saute is always welcome on the plate. Easy, fast and healthy is a great trio of attributes!
Ingredients
2 tablespoons olive oil
1 pint cherry tomatoes
Salt
Pepper
3 garlic cloves
10 ounces fresh spinach
Directions
Heat a 12-inch nonstick skillet over medium high heat. When hot, add olive oil. When oil is hot, add tomatoes and shake the pan back and forth to coat the tomatoes with oil. Season with a pinch of salt and a few grinds from the pepper mill.
Quickly cook the tomatoes in the hot skillet, shaking it frequently to roll them around. Their skin will blister and one or more of them might pop. Cook them for about 2 minutes. (There might be spattering from the pan, so use your spatter screen on the pan if you happen to have one.)
Using a garlic press, press garlic cloves into the skillet (or finely mince garlic if you like), and stir garlic into tomatoes. Cook for 30 seconds, and then quickly add spinach all at once (you will see why you needed a large skillet).
Using tongs or 2 wooden spoons, turn spinach as it wilts, so the spinach on the bottom comes to the top, and the top spinach goes to the bottom and has a chance to wilt. Spinach will wilt very quickly, in 1-2 minutes.
Remove pan from heat and serve.
Serves 3-4.
(See below for additions and leftovers ideas.)
Notes
Recipe source: Dorothy Reinhold | Shockingly Delicious
Additions: You can keep this simple, as the recipe shows, or season with anything else you like. Ideas would be:
--Parmesan cheese, grated.
--Italian herb blend (throw a few pinches in with the tomatoes), or YOUR favorite herb blend.
--Chopped fresh basil sprinkled on top.
--Season with a big pinch of dried oregano and sprinkle crumbled feta on top for a Greek feeling.
Leftovers: Use leftovers in your scrambled eggs the next morning! Or in your egg white omelet or frittata.
https://www.shockinglydelicious.com/spinach-and-cherry-tomato-saute/
Copyright Dorothy Reinhold | ShockinglyDelicious.com. All rights reserved.
Can you believe this only has three main ingredients, plus oil, salt and pepper? It packs a lot of goodness into one simple skillet.
If you like this recipe and want to save it, pin the image below to your Pinterest board.