Print This Post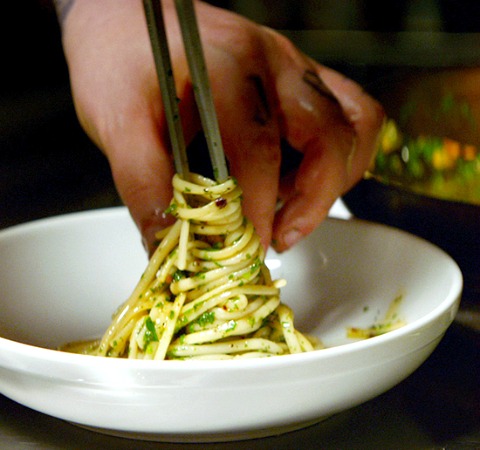 Do not, under any circumstances, be hungry when you see the movie "Chef."
You'll be ravenous just minutes into it, and by the middle of the film, the borborygmi (fancy word for growling and rumbling from your stomach) will be cacophonous and drown out the sound track. Soon your body sounds will disturb other movie watchers.
Loved the movie (not surprising, since it is about a high-octane chef who spectacularly flames out and culinarily reawakens as the owner of a Cuban-centric food truck he names El Jefe). Highly recommend you see it, since, if you're reading this, you love cooking / thinking / dreaming / fantasizing/ eating food. It's a great date movie, released in May 2014, and every time I flip by it on TV, I stop to watch. You can also watch it on streaming services.



Memorable food peppers the film, all of it developed by chef Roy Choi (who started the food truck craze with his wildly popular Kogi Korean taco truck in Los Angeles). You'll want it all, from the signature sandwich called Mojo Pork Cubanos to the Tostones with Chile Vinegar (fried green plaintain) and the Berries in Cream with Caramel Dust. Caramel dust? I am all in.
But what stayed on my mind long after I saw the movie is the simple classic Italian dish, a plate of pasta that Jon Favreau's chef character Casper serves to Scarlett Johansson's restaurant hostess/girlfriend character Molly. It's a clothing-on erotic scene to watch him prepare a skillet full of this pasta for his gorgeous girlfriend. When she closes her eyes, tastes it and moans in ecstasy at the sensual flavor of it, you imagine…well…we'll leave it to your own imagination.
Choi makes the dish (which he calls "transcendence through a handful of humble ingredients") every Sunday night at home, and Favreau asked for it specifically for the film so Casper could impress Molly. "He knew it would get her where he wanted her," says Choi.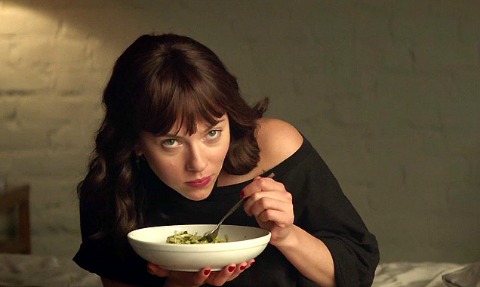 Let's have what SHE'S having for dinner.
Recipe: Pasta Aglio e Olio from the movie Chef
Summary: Pasta Aglio e Olio translates as spaghetti with garlic and oil in Italian). Traditional, simple, luxurious, easy-to-make meal with ingredients you always have on hand.
Ingredients
1 pound dried spaghetti
1 cup extra virgin olive oil
12 large garlic cloves, cut into thin slivers
1 tablespoon crushed red pepper flakes
Sea salt
Ground black pepper
1 cup fresh parsley, minced
1/2 cup Parmesan cheese, freshly grated
2 lemons
Instructions
Bring a large pot of salted water to boil and add the spaghetti, cooking until al dente, 8-10 minutes. Drain.
Heat olive oil in a large pan over medium heat. Add garlic and stir frequently until the garlic is golden brown. Add red pepper flakes, salt and pepper.
Add the drained spaghetti directly to the pan. Toss until spaghetti is thoroughly coated with the garlic oil.
Remove pan from heat, add the parsley and Parmesan and toss well. Check for flavor and adjust the salt if necessary. Squeeze lemons on to taste. Garnish with more Parmesan.
Serves 4.
Recipe source
This is a classic Italian recipe. This particular version is the official recipe created for and made in the film "Chef" by Chef Roy Choi. For more info, visit the movie website.
Other recipes from the movie 'Chef'
Six pivotal recipes from the movie are in a free e-cookbook available at Bakespace. Look for the "Chef the Film Cookbook: Recipes from El Jefe."
Preparation time: 5 minutes
Cooking time: 15 minutes
Diet type: Vegetarian
Number of servings (yield): 4
Culinary tradition: Italian
My rating 5 stars: ★★★★★
Pin the image below to your Pinterest board to save this recipe.

This was originally published on Shockingly Delicious June 27, 2014 and has been refreshed and republished today.