Print This Post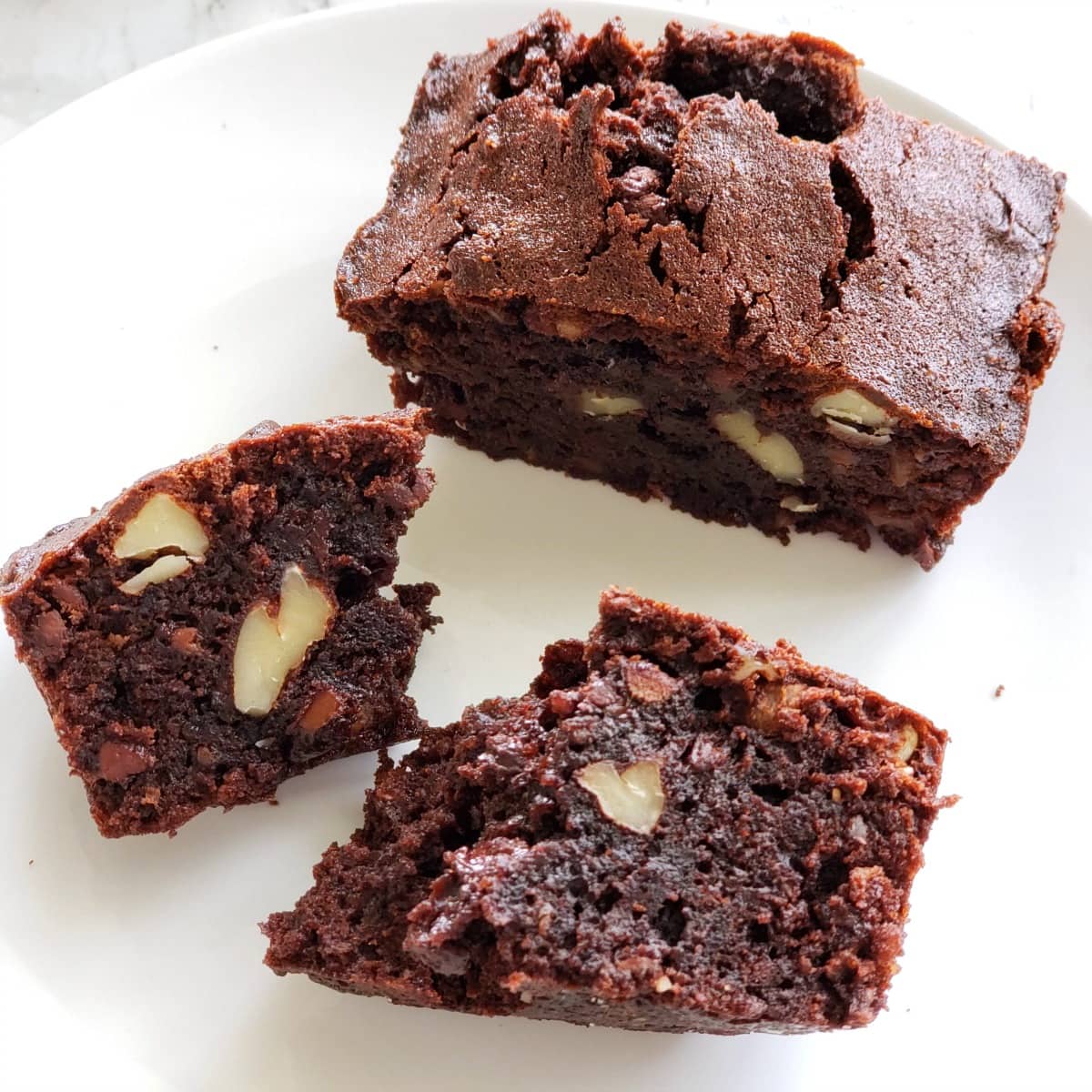 Delicious, chocolaty Small Batch Emergency Brownies come to the rescue when you really need a brownie and you need it right now. They're made quickly in the air fryer, too, for no fuss.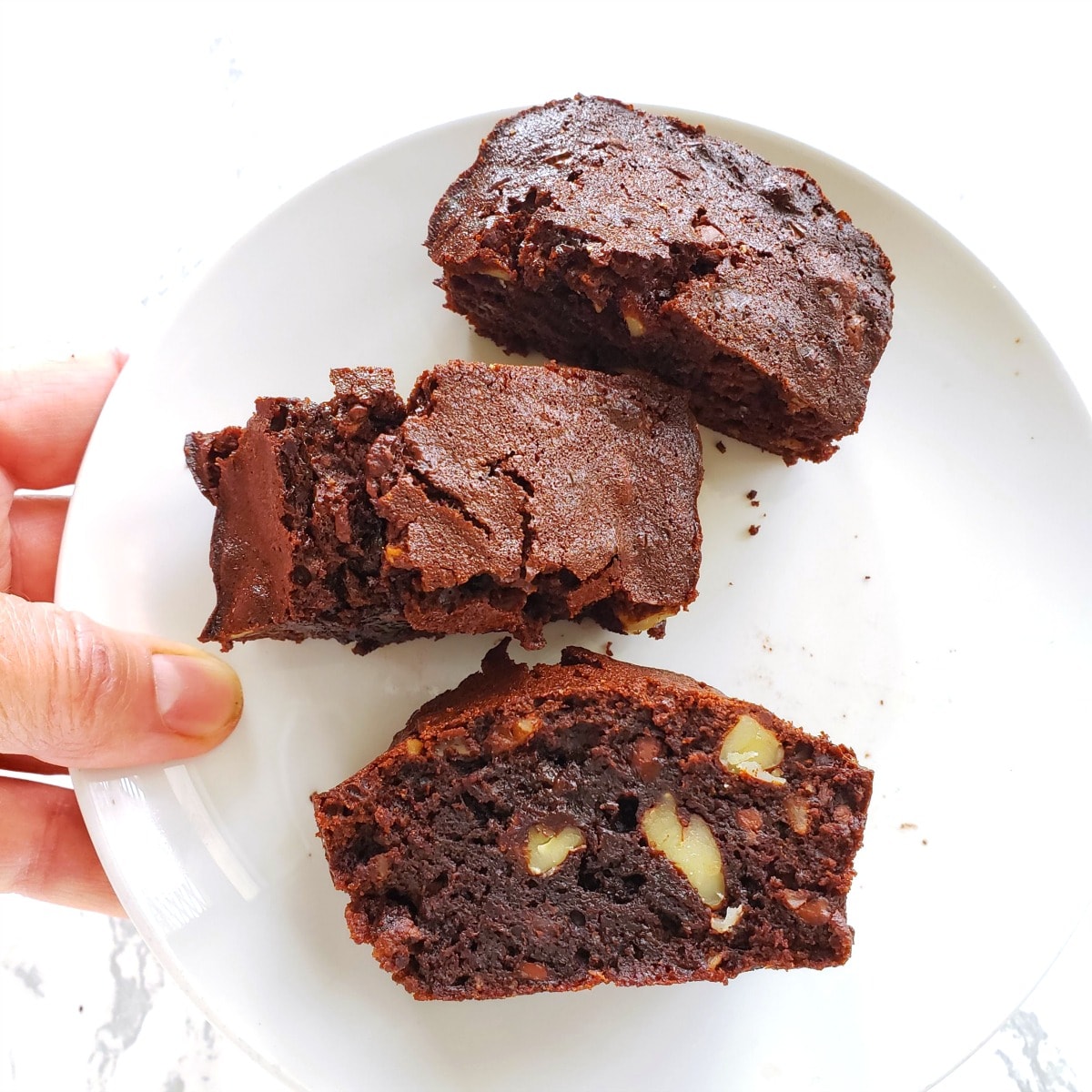 We've all had those days when we wanted something chocolate, and there was nothing in the house. Scratch that…we NEEDED something chocolate, we craved it, and were stopping at nothing until we had it. Luckily, there's a very fast, easy and simple brownie that you can stir together quickly, that makes a small batch (just enough for you and maybe one other person), and you can make them in your air fryer so you don't have to heat up the house.
How to make Small Batch Emergency Brownies in the Air Fryer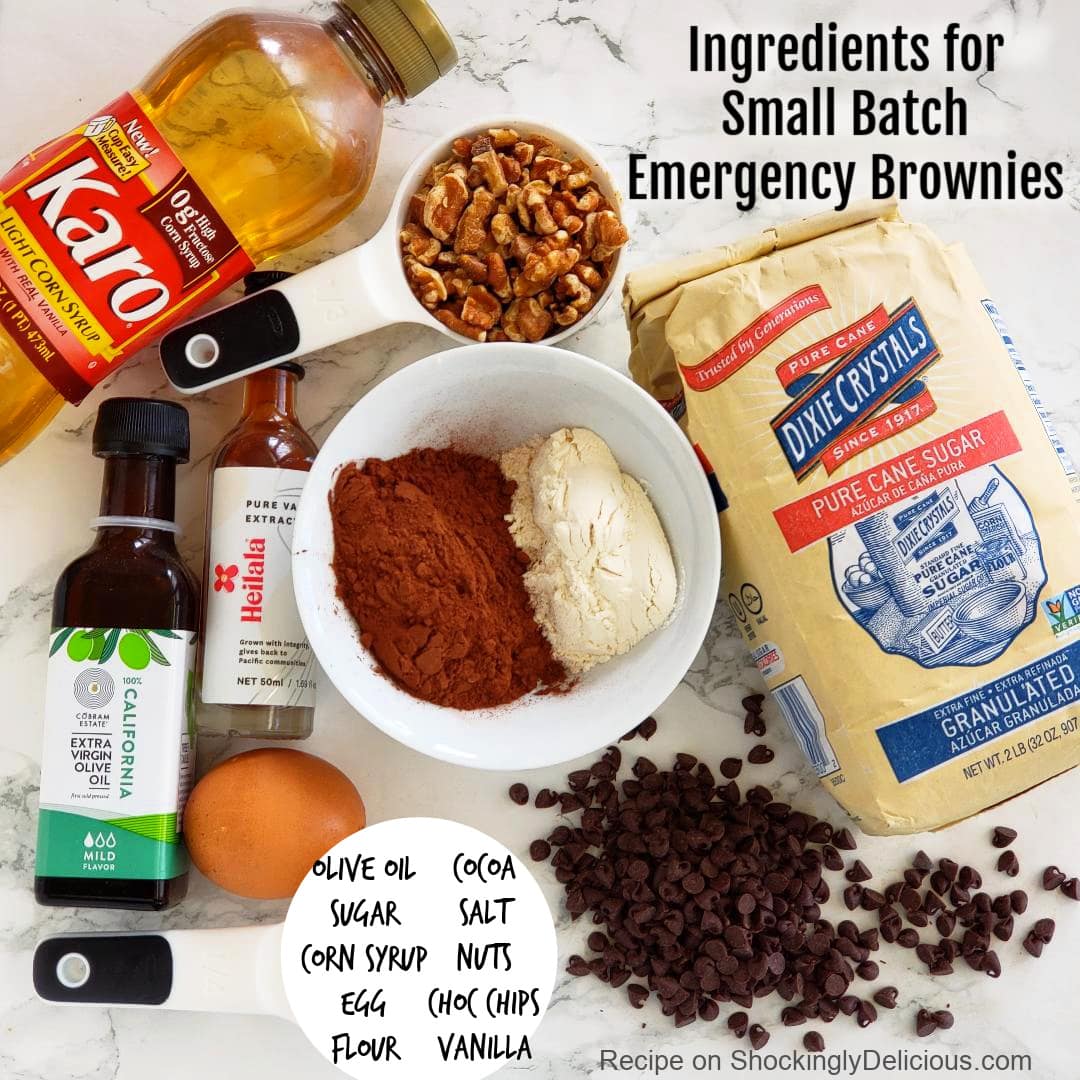 First, gather your ingredients. This recipe calls for
olive oil
sugar
light corn syrup (or maple syrup or golden syrup)
egg
vanilla extract
flour
cocoa
salt
nuts
mini chocolate chips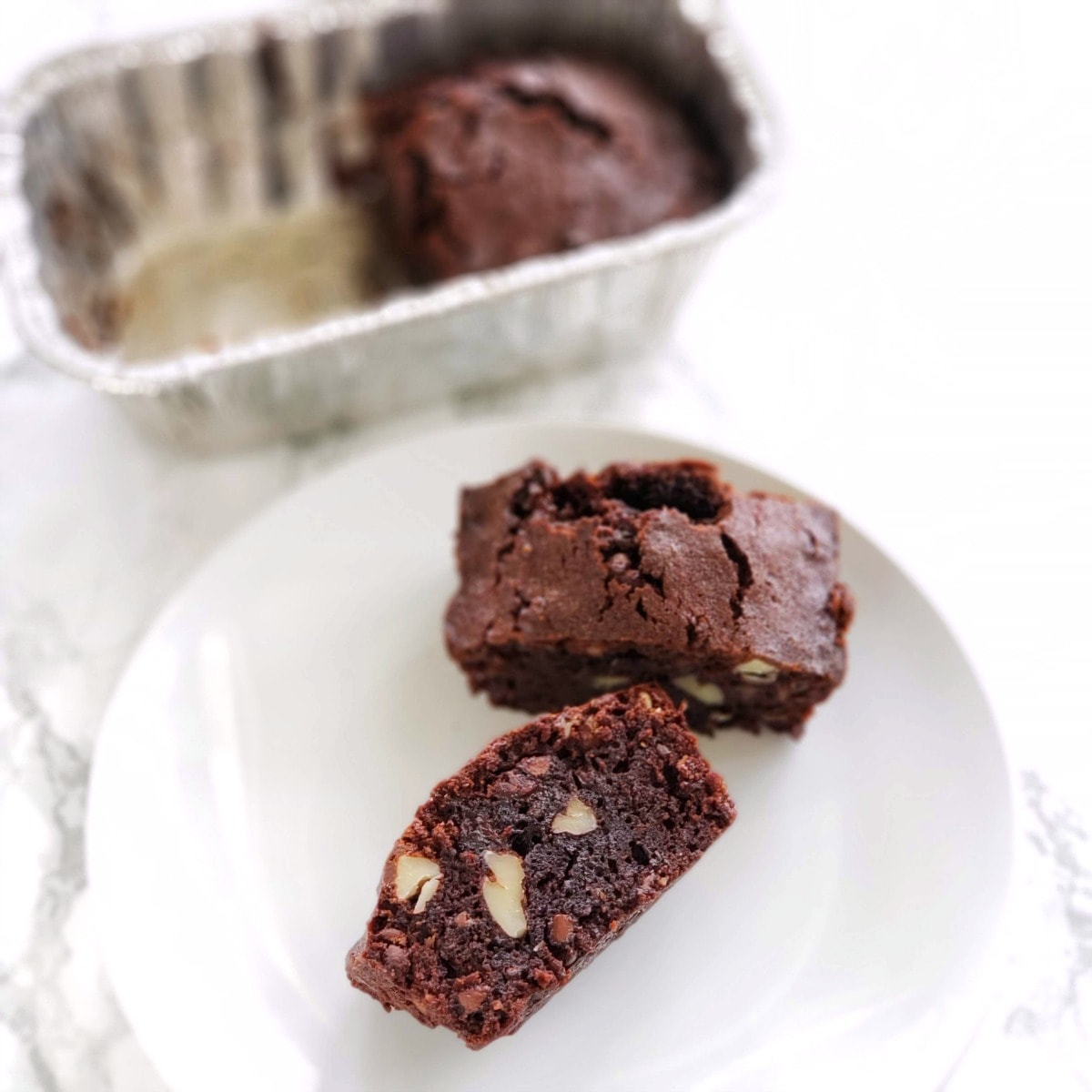 Reasons to make Small Batch Emergency Brownies
–Fast, easy, very few ingredients
–Makes 3-4 (depending on how you cut them), so eat them all yourself, or share with a pal
–Make them in a foil mini loaf pan
–Bake them in the air fryer so you don't heat up the kitchen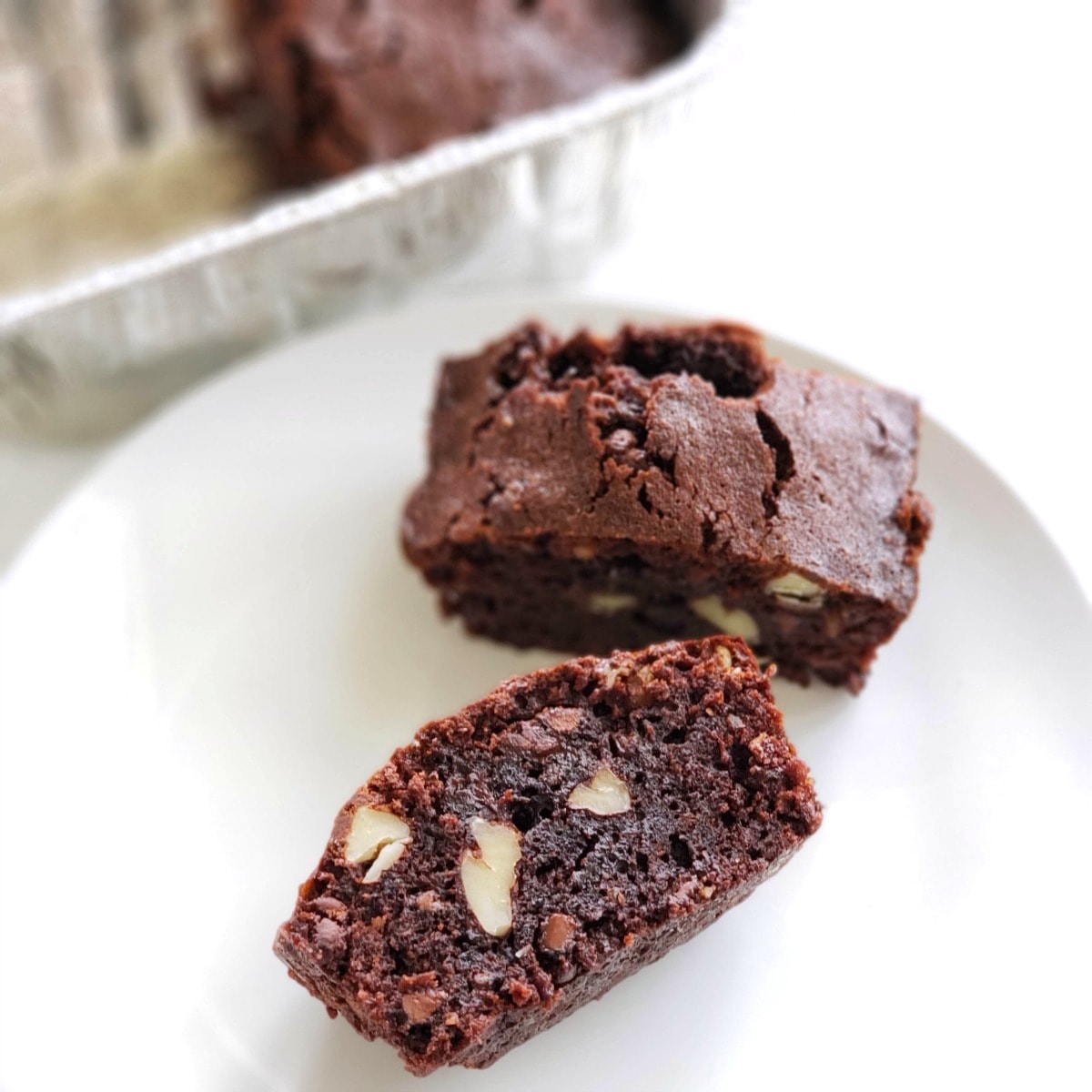 Small Batch Emergency Brownies in the Air Fryer
Delicious, chocolaty Small Batch Emergency Brownies made in the air fryer for when you really need a brownie and you need it right now.
Ingredients
2 tablespoons light-flavored olive oil (or other flavorless oil)
1/4 cup granulated sugar (or brown sugar, packed)
1 tablespoon light corn syrup or maple or golden syrup
1 large egg, at room temperature
1 teaspoon vanilla extract
1/4 teaspoon kosher salt
3 tablespoons all-purpose flour
3 tablespoons unsweetened cocoa
1/3 cup chopped pecans or walnuts
1/4 cup mini chocolate chips
Directions
In a small mixing bowl, add oil, sugar, corn syrup, egg, vanilla and salt and mix well.
Sprinkle in flour and cocoa and mix. Stir in nuts and chips just until combined.
Spray a mini loaf foil baking pan with nonstick spray, scrape batter in, and place pan in air fryer. Set at 320F degrees and bake for 25 minutes.
Stick a wooden pick into the center to check for doneness. If it is gooey, put it in for another 2 or so minutes. Remove pan from air fryer and set on heat-proof surface to cool. Cut when cool.
Makes 4 brownies. Share if you must.
Notes
Recipe source: Adapted from Emergency Brownies by Nigella Lawson in "At My Table."
https://www.shockinglydelicious.com/small-batch-emergency-brownies-air-fryer/
Copyright Dorothy Reinhold | ShockinglyDelicious.com. All rights reserved.
Pin the image below for Small Batch Emergency Brownies to your Pinterest board to save this recipe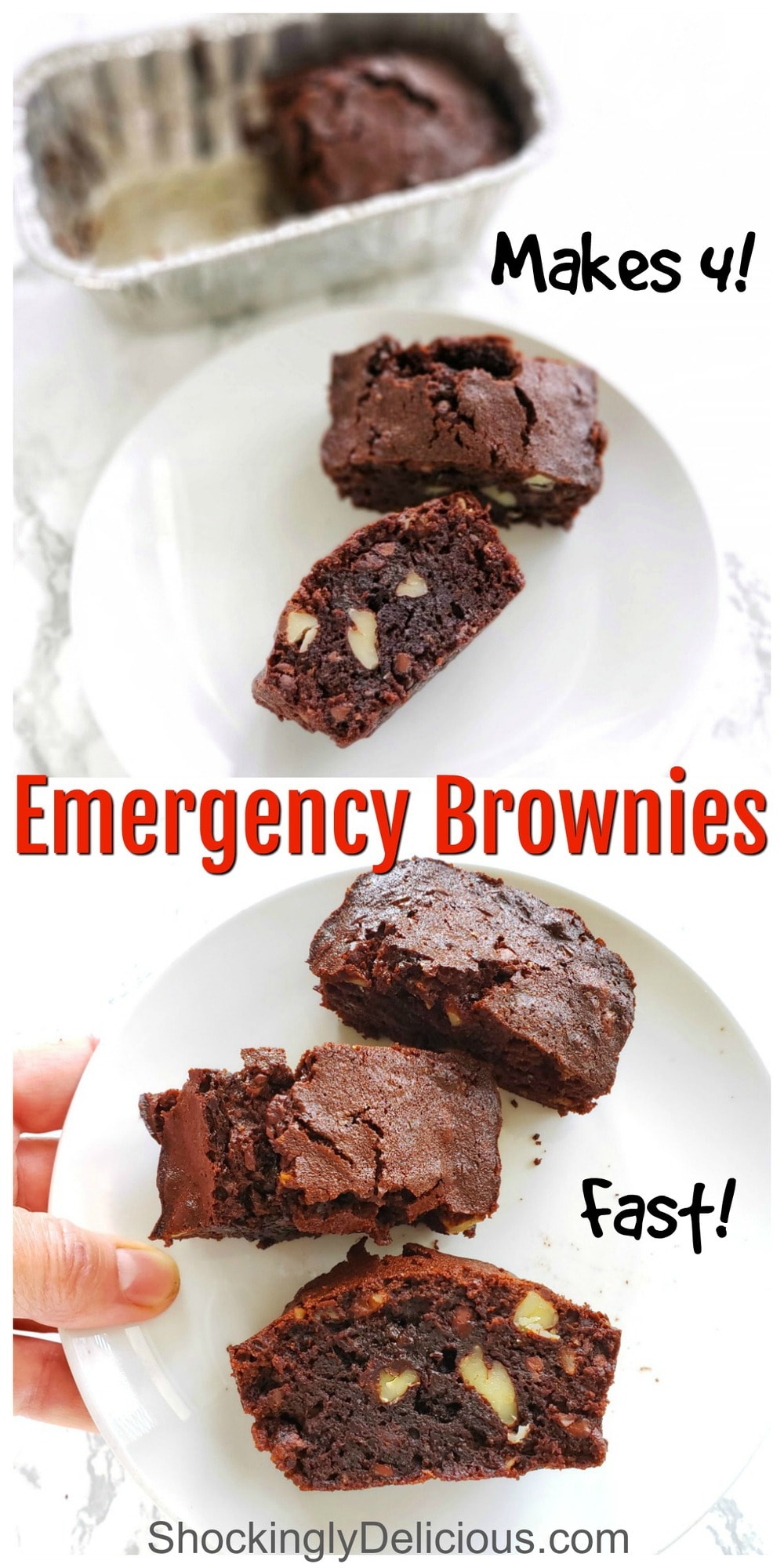 Want another brownie recipe?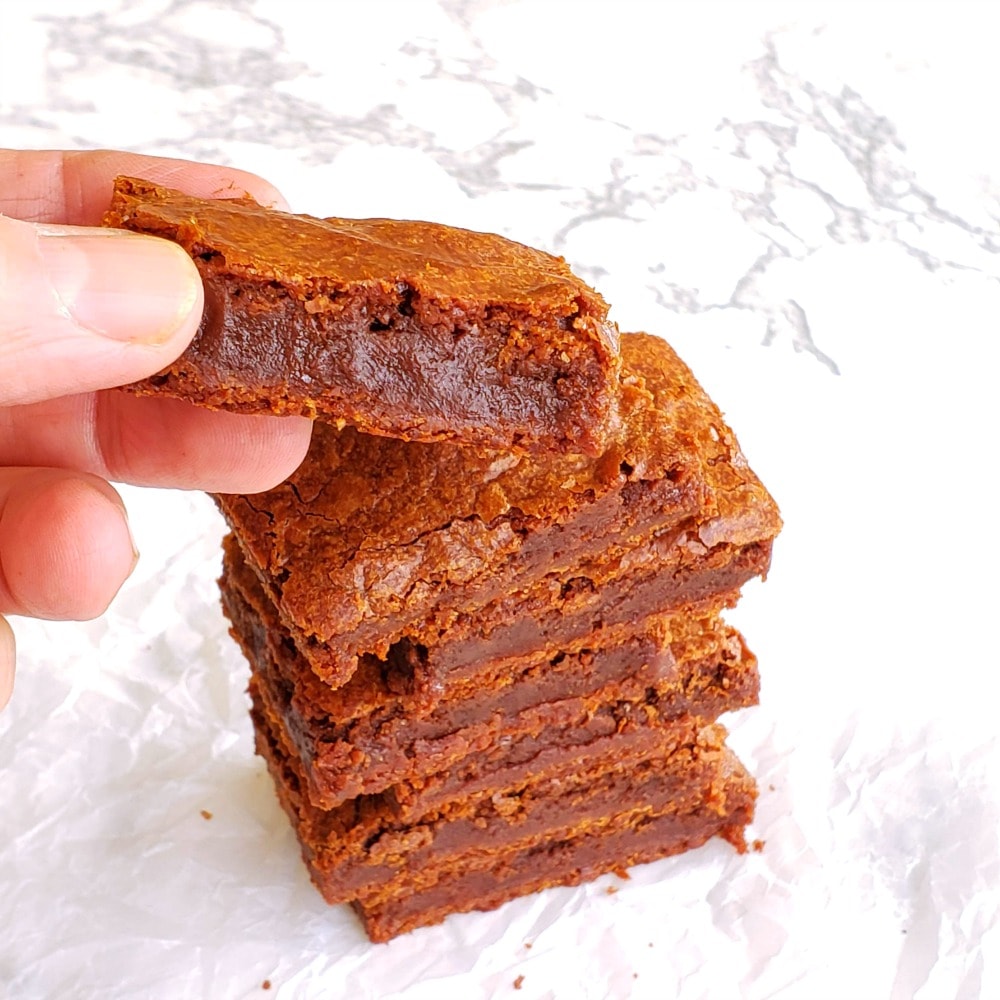 Fudgy Chocolate Brownies, baked in an oven. Sort of a cross between a brownie and fudge, these Dark Dense Fudgy Chocolate Brownies are for serious chocolate lovers. Use the best chocolate and butter you can afford!
Thanks for visiting…are you hungry for more? Follow Shockingly Delicious on…
FACEBOOK | PINTEREST | INSTAGRAM | TWITTER
…for all the latest recipes, ideas and updates!
This post may contain affiliate/referral links. It is a way for this site to earn advertising fees (at no cost to you) by advertising or linking to certain products and/or services that I approve and prefer. Thank you for using my affiliate link to shop, so I can continue to bring you shockingly delicious recipes!