Print This Post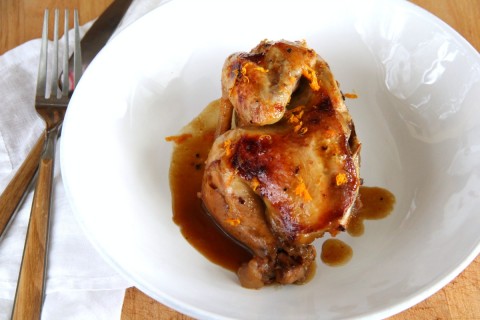 I am so excited about this new-to-me recipe that I have to share it with you the day after I made it. I can't wait another minute.
It's little Cornish Game Hens with Cointreau Orange Sauce, and it is succulent, fragrant and utterly delectable. It is inspired by a recipe originally created by Cynthia McCloud Woodman, of the blog What A Girl Eats. There's more about her right below the recipe card, so keep reading!
The hens are so small, they are suitable for a single serving (hearty appetites), or perfect to serve two. I served them to my husband and teenage son for Valentine's Day dinner, so between the three of us, we polished off two birds.
They also cook fairly quickly in the slow cooker, and then just need a quick run under the oven broiler to get the skin browned and appealing. (Slow cookers don't make crispy skin, as you probably know.)
Whether you want to impress your sweeties, like I did, or simply put a delicious and elegant poultry dinner on the table instead of eating out, this dish fits the bill.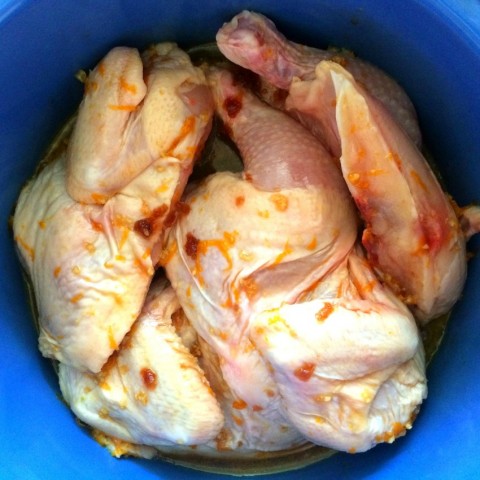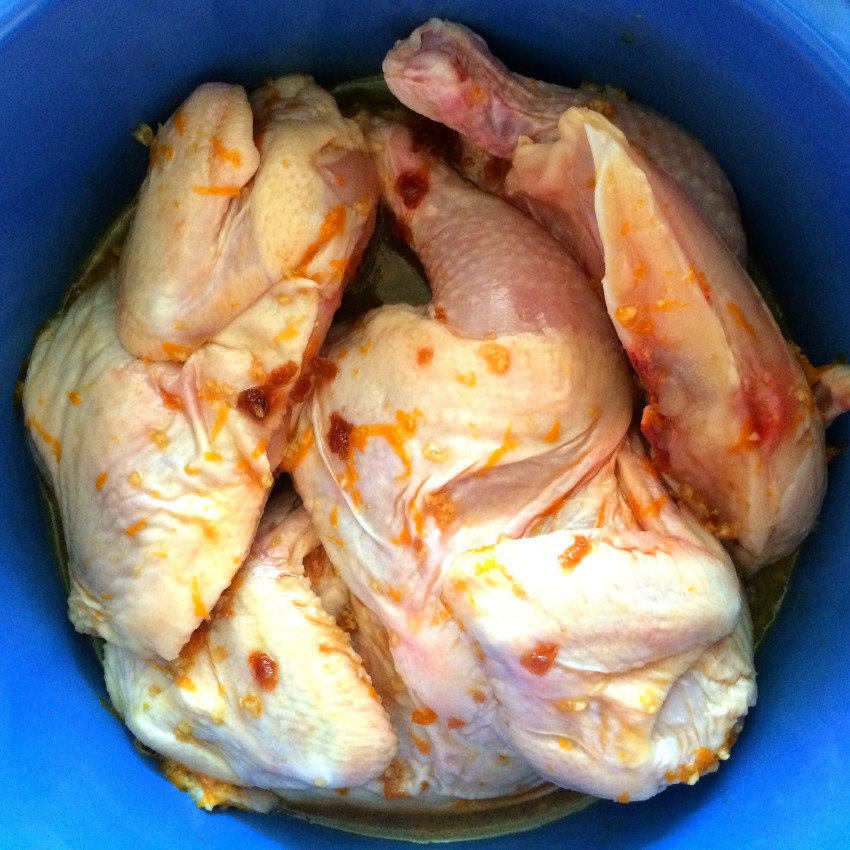 Turn on the slow cooker…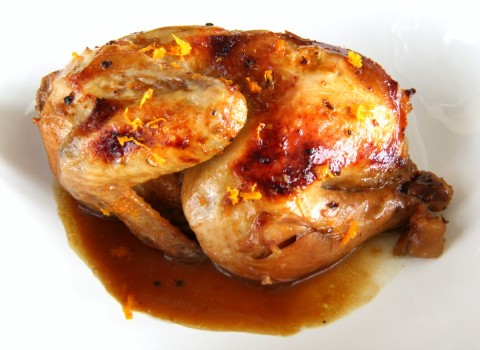 …and join me in poultry perfection!
Slow Cooker Cornish Game Hens with Cointreau Orange Sauce
Orange-sauced Cornish Game Hens make an elegant poultry dinner for a special night in, or when you want to impress your family or guests. Don't tell anyone the slow cooker made it easy.
Ingredients
2 Cornish game hens
Zest and juice of one orange (about 1/3 cup orange juice)
2 tablespoons low-sodium soy sauce
2 cloves garlic, finely minced or pressed
1 tablespoon brown sugar
Pinch kosher salt
2 tablespoons extra-virgin olive oil
2 tablespoons honey (or you can use agave or even maple syrup if you prefer)
2 tablespoons Cointreau orange liqueur
.

Sauce

Freshly ground black pepper
.

Garnish

Additional orange zest
Snipped chives if you have them (I forgot for the photos!)
Directions
Split the hens down the back, cutting through the bone (you can use a sturdy kitchen shears or a large chef's knife to do this), and put the flattened halves into the crock.
In a 1-cup measuring cup, add all remaining ingredients -- the zest and orange juice, soy sauce, garlic, brown sugar, salt, olive oil, honey or other sweetener, and Cointreau. Stir to dissolve sugar, and pour mixture over the hens in the crock.
Cover and cook on high for 3 hours. DO NOT open the lid and stir or baste during that time; there is no need and you will let out too much heat.) After 3 hours, remove birds from crock and place on a foil-lined baking sheet. Turn on the oven broiler.
As you wait for the broiler to heat, pour the juices from the crock into a 10-inch skillet, grind in some black pepper, and heat on the stove, stirring often, until thicker -- reduced by at least half, and perhaps more than that. (How much liquid you start with will depend on how much liquid came from the birds as they cooked.)
As the skillet bubbles with the reducing sauce, put the birds under the broiler for a couple of minutes, until the skin gets golden brown. When you remove the pan from under the broiler, be sure to pour any accumulated juice into the sauce skillet.
Serve a half bird to each person, and spoon sauce over each bird. Garnish with additional orange zest if you like.
Serves 4. (Or 2, if heartier appetites.)
Notes
https://www.shockinglydelicious.com/slow-cooker-cornish-game-hens-with-cointreau-orange-sauce/
Copyright Dorothy Reinhold | ShockinglyDelicious.com. All rights reserved.
As I mentioned above, I was inspired by my foodie friend Cynthia Woodman, who writes the food blog What A Girl Eats. She's a professionally trained chef, gifted with the ability to create delicious recipes, and has wonderful taste. She was on Facebook talking about her amazing Grand Marnier Game Hens, and I couldn't stand it. I went to the store and got some hens and got to work. As I do with many recipes, I tend to use what I have on hand, and tweak to suit my taste buds. So I used Cointreau instead of Grand Marnier, eliminated the butter in favor of a bit of olive oil, cut down on the sodium by decreasing the soy sauce, and upped the garlic. A little black pepper never hurt any sauce, either, in my opinion, but these are simply minor adjustments, and credit for the recipe goes to the originator, Cynthia. She also weaves a great story about it on her blog about her time living in England. It's fun to read about an experience so different than my own young adult years. To me, her dish is an outstanding chicken recipe; to Cynthia, it reminds her of a formative, magical time in her life.
Thank you, Cynthia, for inspiring me to make a delicious dinner for my menfolk!
Whether you make the version here, or head over to her blog for the original version, I think you should write "Cornish Game Hens" on your grocery list.
If you like this article and want to save it, pin the image below to your Pinterest board.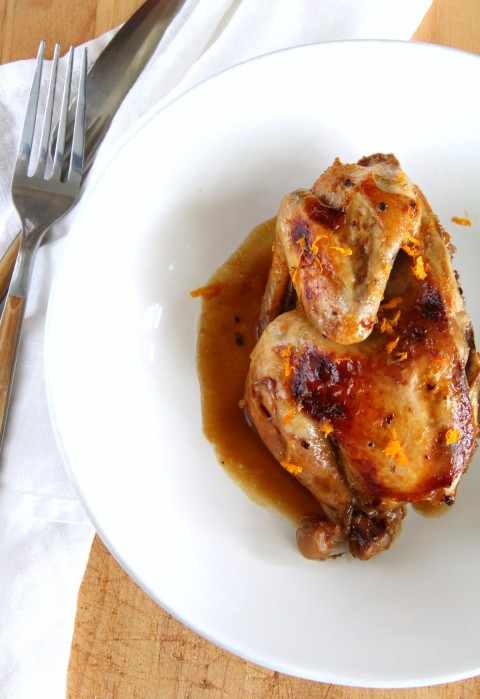 Save
Save
Save
Save
Save
Save
Save
Save
Save
Save
Save
Save
Save