Print This Post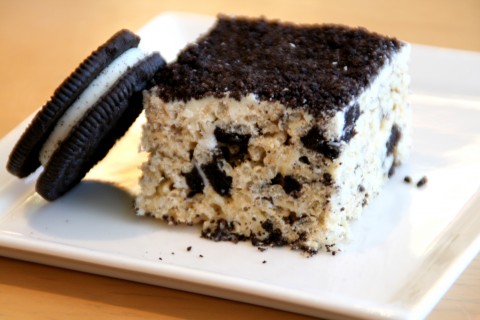 From this crack pie to these crack cookies, it's all about addiction these days. I made these for a bake sale being held in conjunction with a fundraising car wash, and they were a hit! My family was sorry to see them head out of the house on a platter, intended for OTHER PEOPLE. Oh, the horror of it all! Must. Make. More.
Recipe: Cookies and Cream Rice Krispies Treats
Summary: For those who love Rice Krispies Treats and Oreo Cookies (that includes 100% of the population), these Cookies and Cream Rice Krispies Treats are completely addicting. (In the best way.) 
Ingredients
Instructions
Grease the inside of a 13- by 9-inch baking dish with butter. Set aside.
In a large, heavy pot, melt butter over medium-low heat. It will first melt, then foam, then become clear golden and finally start to turn brown and smell nutty. As this transformation occurs, stir frequently, scraping up any tiny brown bits from the pot bottom. Don't walk away from the pot because once the butter begins to take on color, it browns quickly. Once it browns, it may burn in as little as a minute, so watch carefully.
As soon as the butter becomes nutty brown, add the marshmallows and turn the heat down to lowest. Stir and melt the marshmallows, which will become smooth and glossy. Turn heat off and working quickly but gently, stir in cereal and chopped cookies. Immediately scrape sticky contents out into prepared pan. Use your greased hand, an offset spatula or the back of a spoon to gently press the mixture evenly into the pan.
Melt the chips in a glass bowl in the microwave oven, stir until smooth, and frost the top of the cookies. Sprinkle on the Oreo dust and press it lightly to adhere it to the white chocolate.
Allow to cool on the counter for 5 minutes, then transfer to the refrigerator and chill it for 20-30 minutes. This will allow for cleaner cutting.
Cut into 24 squares (4 rows vertically and 6 rows horizontally).
Quick notes
This recipe has a lot of parents! Apparently it has taken a village to get this one raised. I adapted it after seeing it at Foodbeast, who got it from Baking Junkie, who adapted it from Annie's Eats, who adapted it from Cast Sugar , who said she adapted it from several recipes.
Preparation time: 10 minute(s) Cooking time: 5 minute(s) Number of servings (yield): 24 Culinary tradition: USA (General) My rating 5 stars:  ★★★★★ 
This is linked to Cast Party Wednesday!