Print This Post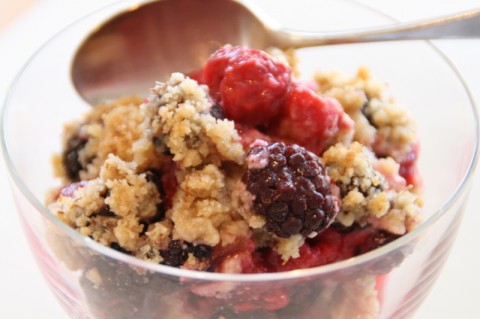 "Who ate the berries?" is the most common wail at our house these days, followed by an accusatory stomp around until the offender is revealed by his or her stained lips. Our family has been known to whip through a couple of berry baskets for dinner, and if I don't put a warning note on any remains, my kids can be found hiding with a stash all to themselves.
So when fresh berries show up in abundance at the farmer's market or grocery store, it is time to celebrate!
After you have had your fill of straight berries, try just a bit of gussying up. It's amazing what a little streusel can do to elevate a bowl of berries from simply delicious to Shockinglydelicious!
Maybe I shouldn't admit this, but last July, I recall eating this for dessert one night, and then again for breakfast the next morning – that's how compelling it is.
Tomorrow can't come too soon.
Quick Fresh Berry Streusel
Serve with vanilla-flavored whipped cream or vanilla ice cream to gild this lily.
4 (6-ounce) baskets fresh blackberries and raspberries (2 packages of each)
1 tablespoon fresh lemon juice
2/3 cup firmly packed brown sugar
1/2 cup all-purpose flour
1 tablespoon ground flax (optional)
1/4 teaspoon salt
1/4 teaspoon freshly ground nutmeg
4 tablespoons cold unsalted butter
3/4 teaspoon almond extract
Heat oven to 375 degrees. Lightly mist an 8-inch square baking dish with non-stick spray and set aside.
In a bowl, lightly mix berries with lemon juice. Pour into prepared baking dish.
Put sugar, flour, flax (if using), salt and nutmeg (use freshly grated if you can) into the bowl of an electric mixer. Mix on low. While mixer is running, cut butter into chunks and add chunks to the sugar mixture, letting the mixer cut it in until you have coarse crumbs. While mixer is running, add almond extract. Warning: Do not mix so long it heats up and turns into dough. (If you don't have an electric mixer, you may cut the butter in with a pastry cutter, fork or 2 butter knives.)
Sprinkle crumbs over berries.
Bake for 25 minutes; streusel will get lightly brown. Remove from oven and cool slightly. Serve warm with whipped cream or ice cream, if you like. Refrigerate leftovers.
Serves 6.