Print This Post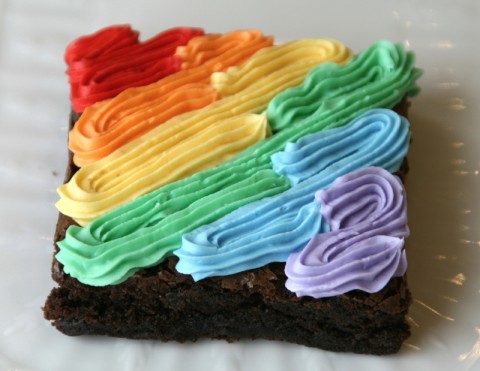 I'm all puffed up because I won a brownie decorating contest. My edible masterpiece was praised for "simplicity, creativity, and best use of Wilton products."
How unexpectedly fantastic is that!
There were 65 other contestants, all foodies from around the country, participating in Camp Blogaway, a weekend boot camp for food bloggers. The professional team from Wilton, which is the premiere cake decorating supplier on the planet, gave us a quick tutorial on how to use buttercream, an icing bag/pastry bag, how to fasten the metal tip on with a coupler, and the proper wrist, hand and arm action. It looks easy when they do it. It ain't rocket science, but there's a reason decorated cakes are pricy, and that reason is skill.
Which they had, and we didn't.
Picture a dining hall full of loopy amateurs, fumbling with our pastry bags, sucking the buttercream out of the icing tip, and attempting to access whatever waning creativity we could muster. What did those cakes look like on "Cake Boss," anyway? They seemed easy when he did them. Want a visual of me hard at work? Go here.
Armed with a "No. 18," ("If I was stranded on a desert island with only 1 tip, I would take the No. 18," advised Nancy Siler, VP of Consumer Affairs for Wilton Enterprises.) I trust Nancy. You might have seen her on the public TV show "Bake Decorate Celebrate!" While I haven't yet watched that show, you can bet I will now that I am a certified winner. Because winners don't rest on their laurels, do they? Winners go on to win more (think Lance Armstrong). Winners continue to grow, winners have "stretch goals," and winners never, ever quit, in pursuit of greatness. And with me, rest assured, there is plenty of room to improve.
I was ditzing around trying to decorate my cookie and my cupcake (oh yes, there were 3 items in the challenge), when I heard Nancy announce, "Time's almost up! Finish up!" I panicked, looked at the colors splayed out on the table, and mustered the only design I could in the remaining minute. A rainbow it is, but not in a traditional shape. Voila! I feel certain that you, too, could achieve kitchen greatness with a rainbow hippie brownie.
My prize is a simply amazing chest of decorating tools, called the Wilton Ultimate Decorating Set, with 177 pieces. Professional cake decorators probably own this, but the rest of us drool over stuff like it.
Based on my new pedigree, I'm pretty good with the No. 18. One down, 176 pieces left to master.
Thank you, Camp Blogaway, for a great weekend retreat with my food-obsessed colleagues, and thank you, Wilton, for recognizing the true and simple genius of the rainbow!